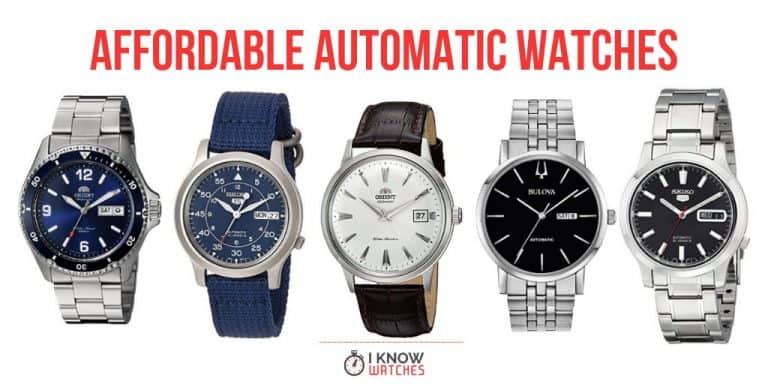 The Most Afforable Automatic Watches
When quartz watches flooded the market back in back in the 1970s, many people predicted the end of automatic watches. Or at the very least, failed to believe that automatic watches would be affordable enough to compete with quartz watches.
But today, with companies like Seiko leading the way, automatic watches have become very affordable and can often compete with their quartz counterparts.
In this post I am going to show you quite a few of the options you have available if you are looking to buy yourself an automatic (aka mechanical) watch and enter the true world of watch making.
When Seiko introduced the world to their Seiko 5 range, they brought high quality, affordable automatic watches to the fore. This SNK range is one of their true masterpieces, with it's simple and stylish dial that also has a day/date function.
It has all the hallmarks of the Seiko 5 range with an automatic movement, crown at 4-5 o'clock and enough water resistance to avoid any damage (30m).
Of course, this is an entry level model from Seiko, but it has everything you could want in a quality watch.
2. Seiko SNK803, SNK805, SNK807
Another example of a truly affordable automatic watch from Seiko, this range of field watches is one of their most popular – the SNK803 and its brothers.
It is more of an everyday carry kind of watch that is far less dress style than the one above. The case is thick, brushed and has obvious lugs. The face is a lot busier, with many of the markers you would expect on a field watch – prominent minute markers around the dial, an up arrow at 12 o'clock, and clear white on dark markings for easy reading. It also has a very rough and ready nylon strap that many choose to replace because it's just not that comfortable. But hey, what can you expect at this price?
This model comes in a variety of colors, from black, blue and green, to a lighter cream. I have included some of them down below.
It's perhaps not so surprising that another brand owned by Seiko, Orient, also produced super-affordable automatic watches. 
Their Mako dive watch is one of the most popular dive watches for those on a budget, and when you take a closer look at what is included, it's no wonder. Orient produce their very own automatic movements, in this case the Orient caliber F6922. It is not only automatic, but has hacking and hand-winding, which is something you almost never see in cheaper watches.
On top of this, it has 200m water resistance, so can really be used for diving. And with a screw-down crown and caseback, they are serious about this. Other dive-related features include the tapered crown guard to avoid accidentl changes, and a 120 click unidirectional bezel for timing your dive.
All in all this is a classic, affordable, renowned automatic dive watch that is loved by many. It also comes in a range of colors, and Orient also have a close sibling, the Ray you might also want to check out in this comparison post I wrote.
4. Invicta Men's 8926 Pro Diver
Invicta are also synonymous with affordability and their Pro Diver collection is huge. The only challenge is finding the ones that feature an automatic movement, because most of them are quartz!
This particular model is very similar to the Mako above, and also reflects many of the signature features of the good ol' Rolex Submariner. Large lumed pips for hour markers, the mercedes hour hand, a clear black dial and a large crown guard.
I am also surprised Invicta has managed to get 200m water resistance with this watch, which means you can really take it in the water for a prolonged amount of time. And somehow, they have sourced a Swiss automatic movement to make this baby tick!
Orient have another crowd favorite that features an automatic movement – the Bambino. I have reviewed the whole collection before, because it features so many variations and options.
But the long and short of it is, it's a stylish dress watch with in-house Orient automatic movement (again with hacking and hand-winding) and a matching alligator leather strap. A great dress watch that you will be proud to wear for years to come.
6. Bulova Automatic Dress Watch
Bulova also produce top-notch watches at reasonable prices, and many of them are automatic. This particular model is one of their simplest in design, which makes for a great dress watch.
The clean black dial with slim, rectangular hour markers and hands is all about subtlety. As is the narrow day/date window, which is still easy to read, without standing out. The rest of the watch is all about the stainless steel, which is everywhere from the case to the jubilee band. And Bulova have included a Swiss Automatic movement, which is a bargain at this price point.
If you like what Bulova has to offer, you can also dive deeper into their collection here.
7. Seiko Dive Automatic SKX009
It would not be right to ignore the SKX range from Seiko in this post. Sure, it is not their cheapest automatic watches, but it's pretty close. And, it's one of their most popular watches too. Especially if you like the diver look.
Like the Mako and Pro Divers above, this watch is very reminiscent of the Rolex Submariner, except that Seiko have thrown the crown to a more protected 4-5 o'clock position. Smart if you ask me, especially for divers.
The whole SKX range comes in two colors, this black version, and the perhaps more famous Pepsi SKX007. You can see a comparison here. There are also stainless steel bands or rubber, depending on your needs. The only downside of this watch of its competitors is that Seiko have not included hacking or hand-winding in their movement.
8. Swatch Automatic Watch
Swatch redefined what it means to produce quality, affordable and trendy watches, and are one of the reasons there are so many watches on the market today.
Normally that means that Swatch use quartz movements in their watches, after all, they are the cheapest option. But more recently they have been dabbling in a wider range of automatic movements from none other than the Swiss movement kings – ETA.
There are dozens of options in their collection, so if this one does not work for you, take a look.