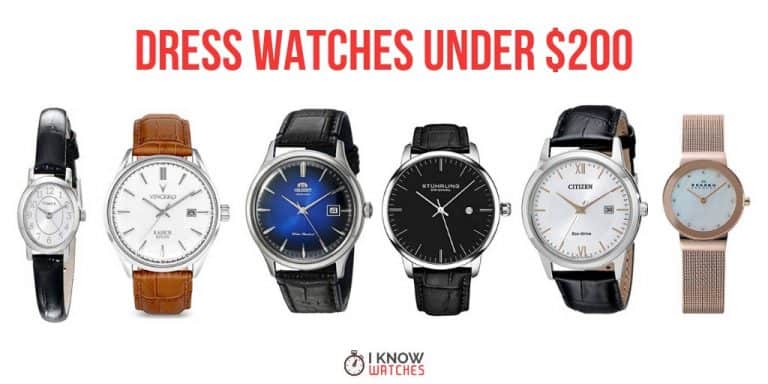 The Best Dress Watches For Under $200
Dress watches are synonymous with style, class and let's face it, money. Which is why finding a dress watch under $200 can be a bit of a challenge. After all, how can you find a worthwhile watch that is affordable without sacrificing quality?
That is why I have hunted high and low online to find you some of the best and most afforadble dress watches available right now. Watches that won't empty your bank account, but will still have you looking the part when you head to work, or out on the town!
When it comes to the best affordable dress watches, somehow, I just keep coming back to the Orient Bambino. I have reviewed it in detail in the past, because it is so timeless, but also because they have an almost infinite number of variations and colors.
This also means you have a lot of choice from a sub-200 dollar dress watch that is not only stunning to look at, but also comes with some features you would not expect at this price point. An in-house automatic movement, a nicely domed crystal glass, and a date window too.
As I mentioned above, you can choose from usually around 4 color styles for each model, and the models themselves range from the simple, like the one here. To the more elaborate ones with old-school Roman numerals.
2. Stuhrling Dress Casual 3997Z
Another brand that prides itself on quality at affordable prices is Stuhrling. I have covered the brand as a whole before here, in case you want to see what else they have to offer. But needless to say, the never disappoint.
This one is an ultra-slim model (at 7mm it's hard to get slimmer) with a super minimalistic appearance. Some would say it is almost reminiscent of the Bauhaus style with the straight hands and markers, and almost competely clean dial. The onion crown is a little throwback to the early 1900s too, which is a nice touch. And the alligator black leather band tops it all off.
And in case you don't like the all-black look, it also comes in a range of styles you can check out here.
3. Bulova Dress Watch 96B104
Bulova is one of the few USA based brands still around these days, so it's great to see them making affordable and stylish dress watches too.
This is a popular model, perhaps owing to its simple white dial, with applied long silver indicies, and the tiny date window at 3 o'clock.
The case is also a little thicker than standard for a dress watch, which will appeal to those of you looking for something a bit more modern. And the crown is almost  so small you can't see it. Which looks great, but may be a little annoying to set the time with. Especially for those with larger hands. However, it is a small watch at 37mm, so suits the smaller of hand in any case!
4. Citizen Eco-Drive Dress Watch AW1236-03A
Citizen are a brand that is always going toe to toe with Seiko. But somehow, they often end up with even more affordable dress watches, in this case the AW1236-03A.
This affordable watch differs a little from those above in appearance, favoring gold indicies, and Roman numerals at 6 and 12 o'clock, giving it a more classic look. The case is quite thick, with tapered edges, with a fairly vanilla looking crown.
But, where the Citizen stands out is with their Eco-drive. It is a solar powered technology (read more here) that keeps your watch running, almost forever (unless you keep it in the dark). Which is great if you hate the changing of batteries every few years, and the subsequent loss of water-resistance!
Vincero are one of the more recent additions to the watch world, but they have taken things up a notch and actually produced a good product. That is yes, still affordable.
 I have covered them before too. They are based in San Diego and pride themselves on individually sourced, quality materials that are assembled by them. Not in China!
Vincero watches look great too, which is how they have succeeded, and made it to this list of great dress watches! The Kairos model featured here ticks all the boxes for a dress watch, with a thin case (because of the Quartz movement), a simple dial (although they have added a fine minute train along the edge) and a clean overall look.  
And of course, it's completed with an alligator style leather band, as is common on dress watches.
6. Seiko Solar Calendar Dress Watch
Most Seiko dress watches are too expensive for this review, which is why I have featured most of them in my other dress watch review. But this model is clean enough to qualify, even if it is an all stainless steel affair, and not what I would normally class as dress.
It does have some nice features for the price though, with the ever-reliable solar movement, that comes with a day/date window to help you keep those appointments!
7. Timex Women's Dress Watch
Timex have been making super-affordable, yet reliable watches, for decades. You probably know them from their Weekender, which is on the wrist of countless people all over the world.
This model, however, has all the hallmarks of Timex, but in a more classy dress style. It's a very slim affair, which is commonly seen on women's dress watches. After all, it goes well with a slender wrist.
The overall look is a simple and affordable dress watch dial, with the addition of the inner silver ring, and the Roman numerals around the edge. Simple to read, unobtrusive and perfect for all occasions!
Skagen from Denmark are all about that minimalistic Skandinavien look. And if you take a quick peek at the watch, you can see that it certainly screams that! After all, it only has two hands, and small crystal markers for the hours. Aside from that, all you notice is the rose gold colored mesh band and thick case.
Again not 100% traditional dress without the leather band, but hey, we are twenty years into the 21st century, so why not break with tradition, right?