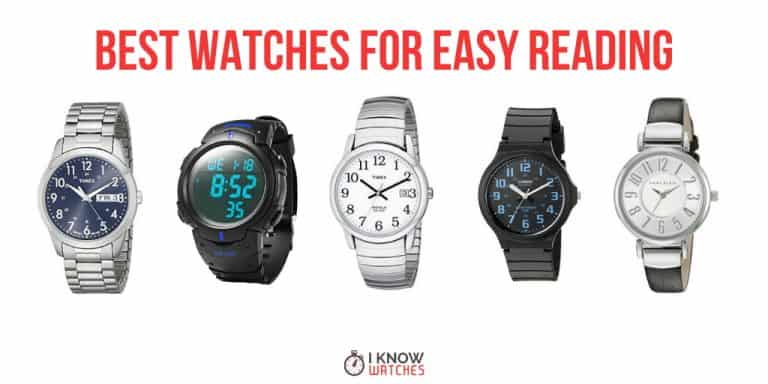 Best Easy To Read Watches for Seniors
There can be a lot to deal with when a person starts to get closer to their twilight years. Everything from finances, to friends and family passing, health problems, and vision fading can become an issue, but there should be no need to lose the quality of life. Something as simple as reading a regular watch face can be a struggle for some elderly people, and it can be a frustrating experience. Thankfully there are many watch designers on the market that keep this in mind and produce easy to read watches to help anyone quickly tell the time.
Finding the right watch for a person with visual disabilities can take some trial and error if you don't know what to look for. These days there are a monumental amount of brands, styles, and designs on the market and it can quickly get overwhelming for an elderly consumer. You can be grateful that not all is lost, there is help available, as a large portion of brands recognize the issue and have come up with some very nice designs at every price range.
Whether you are looking for something simplistic or flashy, expensive or on a budget, you are going to find an easy to read watch for seniors, or that is simply perfect for your situation. It is important to know exactly what you need before you start searching. Consider everything from price, quality, comfort, visibility, and the personal value you place on it before making a decision. Keep reading for ten of the best watches available, at a lower price range, that may help make your search much easier.
1. Timex Men's Easy Reader Date Expansion Band Watch
Timex has been known for quality watches for many years at an affordable price, and this men's easy reader watch is going to give you exactly that. It is very striking in appearance with the silver strap, bezel, and crown contrasting against the white and black of the face and hands. One of the more stylish watches for seniors.
A watch that looks like this may have you thinking big dollar signs, but you would be very surprised at the price. The black Arabic numerals make this a very easy to read watch, especially since they are highly contrasted by the white face. You also get a date window that has been enlarged to make for easier viewing as well.
The strap itself is made from very sturdy stainless steel and comes as an expansion band to make it a synch to put on and take off. It has a battery life of up to 10 years, which is huge for anyone who has ever had to replace a watch battery before. 
You also get an Indiglo backlight so you can view the time on your watch any time of day. When it comes to an affordable watch that is easy to read, you cannot go wrong with this offering from Timex.
2. Casio Easy To Read Watch in Black
In a similar price range to our previous entry, this easy to read watch for seniors offers something for the buyer looking for a more rugged look. This watch is more meant for the active elderly person who still enjoys things like jogging and swimming. It starts with a black resin strap with a buckle style clasp that is going to be ultra-comfortable on anyone's wrist. The bezel and face are also a solid black, with just a hint of silver on the crown and case to contrast perfectly. For a sporty look on a budget, you are going to get a great watch here from Casio.
The 3 hand analog is designed to be easy to read for seniors, with white and silver obelisk style hands that really stand out from the rest of the watch. The watch tells the time in a 24-hour format with the numbers being two different shades of blue to stand out from everything else. Everything on the watch face is larger than normal so any elderly watch wearer should have no problem quickly telling the time.
Acrylic crystal
Stainless steel case with a resin band
3-hand analog 'easy reader', buckle clasp
Water-resistant up to 50m (150ft)
Case diameter: 44mm x 10mm
3. Anne Klein Women's Easy to Read Watch
Moving on to a watch designed for women who may have trouble reading the time, we have a classic looking watch from Anne Klein. This easy to read watch for seniors is designed with elegance in mind from every single angle. The round face has a striking look with various shades of silver throughout. 
The case is made from silver-plated metal, along with the bezel, so it catches every ray of light just so right. The textured leather band with buckle clasp not only looks fabulous, but it is also as comfortable as you could ask for in this price range. 
When looking at the dial you can see it is textured on the top and bottom of the Arabic numbers along the outer edge. This serves two purposes, as it looks very classy but also helps to highlight the numbers for the wearer, which is perfect for any woman with vision problems. 
The alpha style hands are contained on the inside of this textured area so they do not interfere with the numbers themselves. If you are looking for a stylish watch to wear out on the town, this offering from Anne Klein may be just what you want.
4. Armitron Sport Women's Easy to Read
urning back to the sports watch category, we have a wonderful easy to read offering from a company called Armitron. This watch is designed to look sleek and sporty with a modern twist. 
The strap is made of silicone for comfort and flexibility, has a buckle clasp, and the color is just the lightest shade of purple. The color can almost be considered white, it is so faint, but the purple is just enough to show off everything else. The bezel features the same color purple and has a count-up feature from 0-60 in bold black lettering for easy visibility.
This Armitron women's watch can easily be worn for any casual outing and will be comfortable to wear all day. The face consists of Arabic numerals with the main hours in large black lettering and the rest in a vibrant purple that stand out for people with vision issues. The only silver you will see on the watch is the crown and buckle, which is a nice touch by the designers.
5. SKMEI Military Style Sports Watch
Moving in a slightly different direction, we are going to take a look at a digital watch that really falls into two different style categories. This sports watch from SKMEI has a very military feel to it, so you sort of get the best of both worlds. The strap, case, bezel, and crowns are all in a very dark black, which is a style that can go with a lot of different looks. You get a hint of color with blue vertical dashes marking the 12 and 6 on the bezel. 
When it comes to functionality it has a little bit of everything. You get a very large face with an equally large digital display. The time is in the military 24-hour style, and it has an automatic date setting, plus an LED backlight. 
For any elderly person who still wants a sporty look, but also read their watch, this offering from SKMEI is going to be both practical and affordable.
6. Timex Men's South Street Sport Watch
Timex is a brand known worldwide for its quality and dependability, so you can be assured that you will be making a good purchase every time. You might have heard of their most popular model the Weekender? 
The men's South Street edition sports watch is available in five different color patterns and designs, but we will focus on the silver/blue model. 
You will be able to find one that suits any occasion or personality, no problem. In particular, the silver/blue model is going to add a touch of class to any medical professional's outfit.
This watch for nurses has a strap, case, and bezel are all a brilliant silver-tone with a dark blue face that is the perfect background. Alpha style hands are silver and white to show brightly off the dark face, along with large silver Arabic numbers that do the same. 
The hands and numbers are large enough that just about anyone who has use of their vision should be able to read them. You are looking at a great watch that is affordable and will last a long time.
7. Timex Women's Easy Reader Watch
Timex will always make several appearances on any list of watches for nurses, this one included, and their easy read women's watch is a great example of their work. It is available in five different color choices, but the core of the watch stays the same. 
It can look either elegant or sporty depending on which one you choose, which gives the elderly female a lot of different options for dressing up.
The strap is made of genuine leather and has a comfortable and easy to use buckle clasp. Yet, the most important part of any watch on this list is the readability, and Timex has the ladies covered. 
The face of this easy to read analog watch is an off-white color with stark black, oversized Arabic numerals. This makes for extra easy reading in just about any light. The bezel, case, and strap colors are going to be your choice, but they all look great.
For the last watch of the day, we are going to go with something a little bit more high-tech. Smartwatches are the latest in watch technology, and Zagzog has a really great offering at a really great price. This particular model is available in six different color patterns, some for both men and women. 
While an elderly person may not need every function of a smartwatch, there are some features that really come in handy. It has a 1.54-inch screen with the time in vibrant large numbers on the right-hand side. This makes it one heck of an easy to read digital watch with a large face indeed.
On the left are two smaller areas showing the date and step counter. Perfect for any senior wanting to keep moving throughout the day.
One of the greatest features of a smartwatch for people with vision problems is going to be the audio it offers. You can set your watch so that it will audibly read the time for you when you turn it over to look at it. Even people who are completely blind will have no issues telling the time.