Audemars Piguet Royal Oak
Homages & Alternatives
When it comes to buying a super-expensive watch like the Swiss made Audemars Piguet Royal Oak – most of us almost choke on the price! After all, they cost anywhere between five and one hundred thousand dollars.
So, if you are on the hunt for an affordable alternative or homage then you have come to the right place. I have scoured the online forums, shops and second hand sites to find anything that matches the Royal Oak enough to make it worth putting on this list.
I have come up with eight options for you to choose from, and none of them are over 1k.
Bulova are known for producing quality watches with loads of features, all for very affordable prices. And this homage of the Royal Oak style is no exception.
It's an all stainless steel watch with both a chronograph and date complication, as well as diamonds for hour markers (yes, diamonds!). And all covered by a scratch-resistant sapphire crystal.
Like with all homages, there are always variations, and this model does not have the patterned dial that the original does. However, the stunning blue is still something I would love to have on my wrist.
2. Citizen Eco-Drive Signature Perpetual Calendar
Citizen are a brand many ignore for the more famous manufacturers like Seiko, but this homage may change your mind.
With a slightly rounded hexagonal bezel and a horizontal lined pattern inner dial, the homage features are all there. It does vary enough from the original though to make it a truly unique watch, which I always appreciate.
It incorporates Citizen's worldclass Eco-drive (aka Solar charged watch) so no more stress about charging or batteries. It also has a dual-coated anti-reflective sapphire glass crystal to help keep the shine on the glass. Lastly, there is a perpetual calendar, so you never need to worry about setting the date – even in leap years!
A little bit of an unknown in terms of brands here, but a huge selection of colors if that's what you were after.
D1 Milano have taken the Royal Oak as a homage to a whole line of watches and made them super-affordable too. Depending on the features, they range from one to four hundred dollars.
They have only taken the Royal Oak as an inspiration too, with the hexagonal bezel featuring a curved taper towards both the lugs and sides. No screws at the apexes though, if that is something you wanted, it's missing here.
The materials and movements vary from model to model, with automatic and quartz, as well as stainless steel and poly carbon. The water resistance is very small at only 50m, so no diving in the pool with these watches!
If it's the patterned dial you are after from the Royal Oak, then this model from Maurice Lacroix must just be the ticket. The bezel is not the hexagonal of the original, but does pay some homage to it with the wrap-around steel in six equally spaced locations on the bezel.
Being a Swiss Made watch, you are also entering the slightly pricier range here, but still under 1k. It does come with benefits though – with a Swiss made quartz movement and anti-reflective sapphire crystal as you would expect from such a watch. It is also quite thin on the wrist at 9mm, thanks to the well-designed quartz movement, so would work well as a dress watch under a shirt.
Yet another Chinese manufacturer that have taken the word homage and translated it as "copy". So, if you truly want a very affordable copy of the original Royal Oak, then this is the way to go.
There are quite a few options with Didun too, as they have "homaged" the original range as well. The only challenge is getting your hands on one, as they are not easy to come by from the standard online stores, you have to head to Ebay, which is not everyone's shop of choice.
6. Buler AstroMaster - Vintage 70s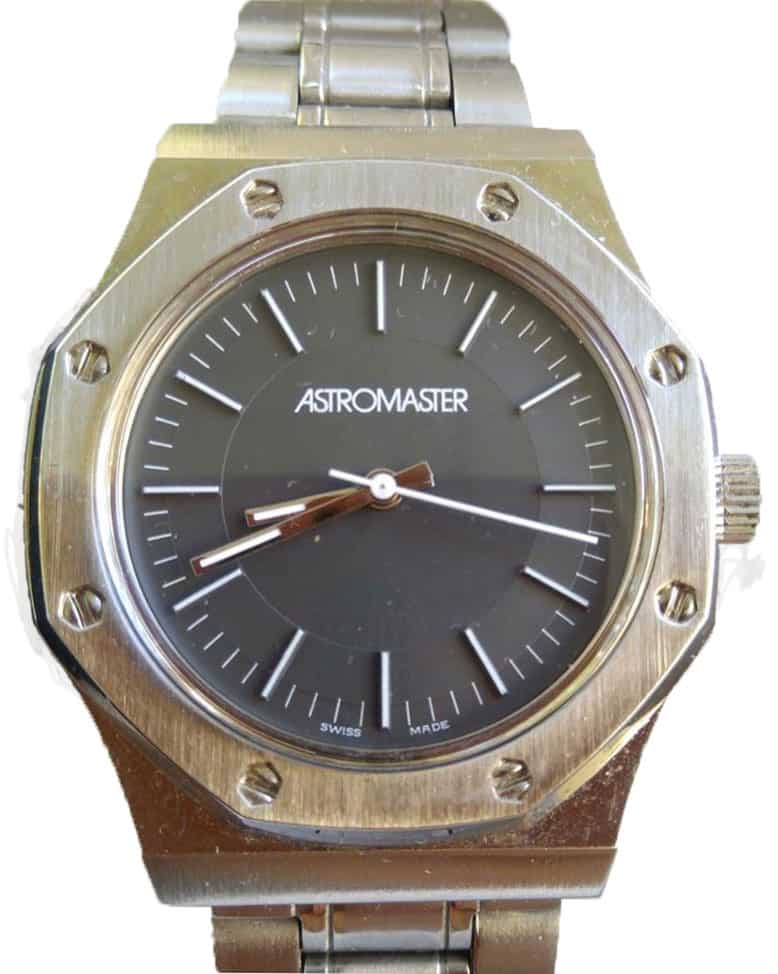 Another option for those who like a bit of a challenge is the Buler AstroMaster. It's a Swiss Made watch from the 70s, so the only way to find one is to head out to your local vintage watch store, or spend some time hunting on places like Ebay.
If you are not in a rush, then you will certainly find one, it just might take a while.
It's a hand-wound watch, which is very retro, and comes in all stainless steel. It's quite small compared to modern watches at 39mm excluding the crown. So, if you have a smaller wrist, it's also a great option.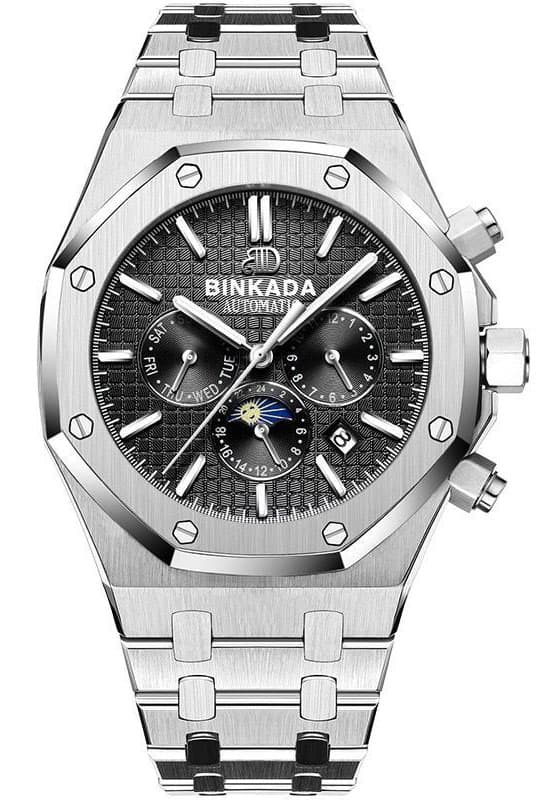 Another homage that is very true to the original (aka more or less a copy) is this one from a relative unknown out of China – Binkada. Of course, it is also very affordable, so that is a plus.
All the elements of the Audemars Piguet original are there – the hexagonal screwed bezel with the criss-cross patterned dial. This particular model also features a 3 sub-dial chronograph with a date window between 4-5 o'clock.
It's also hard to come by on the regular channels online, so you will have to head to Ebay to grab one.
7. Manchester Watch Works Iconik 4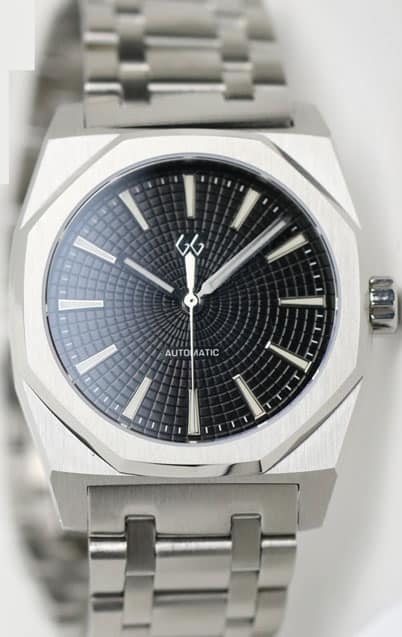 Starting out it's recent life as a successful Kickstarter campaign, the Iconik 4 is a worth contender for a Royal Oak alternative.
It features the hexagonal bezel and a spiral patterned dial, which although not the "same" as the original, is a stunning face to look at. It is otherwise quite a simple watch, but does contain a Japanese Automatic self-winding movement and a sapphire crystal, which are both nice additions.
It is currently only available on the Manchester Watch Works website, where it retails for just under $500.