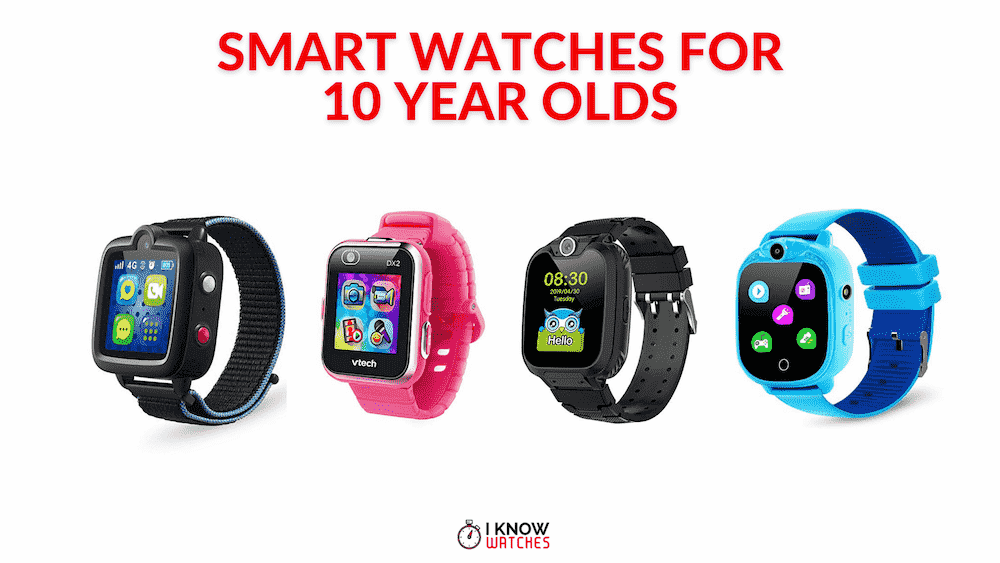 Best Smartwatches for 10-Year-Olds
Like most technology, the smartwatch has a history. The Seiko Ruputer released in 1998 was the world's first. Although it had no touch screen and had to operate in conjunction with a joystick, it wasn't much bigger than a digital watch so the technology was considered cutting edge. But where did the inspiration come from?
Some claim it was the cartoon character Dick Tracy, a handsome, savvy detective created by American cartoonist Chester Gould. Indeed, Gould got the idea for Tracy's new wrist tool to communicate with police from inventor Al Gross who came up with a two-way radio that could be worn on the wrist.
Our Top Picks
Best for Fitness
SEE ON AMAZON
Best for Learning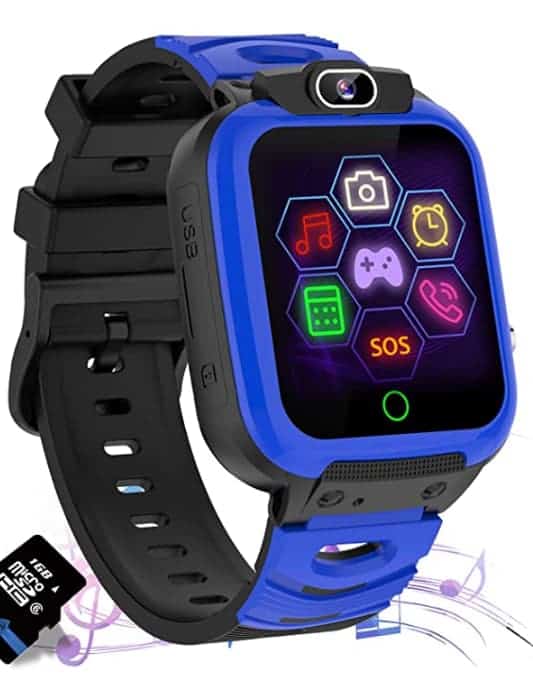 SEE ON AMAZON
Apple CEO Tim Cook says that as a child, he had hoped to see Dick Tracey's gadget come to life. It did, and today, there are smartwatches for kids available. Turns out, they're a great alternative to the smartphone for kids. Since it attaches to the wrist, kids are much less likely to lose it. And great features like GPS tracking, geofencing, two-way calling, and activity trackers can help keep kids safer and healthier. Let our collection of the best Smartwatches for a 10-Year-Old help find the best one for your child.
PRODUCT OVERVIEW
VTech Kidizoom Smartwatch DX2

touchscreen
sound effects

SEE ON AMAZON →

Bluetooth headphone connectivity
audio music player

SEE ON AMAZON →

No products found.

touchscreen
1.4 inches retina display

SEE ON AMAZON →

LDB Direct Kids Smartwatch

free game/calculator
USB cable

SEE ON AMAZON →

No products found.

Verizon Gizmowatch Kids Smartwatch

2-way calling
programmable for 10 numbers

SEE ON AMAZON →

1.54-inch screen
startup guide

SEE ON AMAZON →

1.44-inch high-definition screen
7 games

SEE ON AMAZON →
SEE ON AMAZON →

No products found.

Tick Talk 3 Kids Smartwatch

SEE ON AMAZON →
SEE ON AMAZON →
Best Smartwatches for Kids
---
Best for Fitness
VTech Kidizoom Smartwatch DX2
The Kidizoom Smartwatch DX2 by VTech looks just like Mom and Dad's but with a kid-friendly design. The buttons and touchscreen are easy to use. Kids can take pics and videos with dual cameras and get creative with fun effects. Since it doesn't connect to Wi-Fi or Bluetooth, content stays secure. There are built in parental controls, so only you can share photos and videos by uploading them to a computer.
A pedometer and motion-controlled games encourage physical activity, and a calendar, timer, and alarm teach time management skills. Kids can customize the watch face, play games to learn, and brain teasers on the go. Free games, watch faces, and camera effects are downloadable from Learning Lodge.
The band is breathable, durable, and sized right for kids. It's available in several colors including pink, blue, black, purple, and camouflage.
Specifications
touchscreen
sound effects
built-in rechargeable battery
256 MB internal memory
pedometer
dual cameras
time management features
free downloadable games
splashproof
recommended kids ages: 4-12
SEE ON AMAZON
---
PROGRACE Smartwatch
Keep kids entertained and boost their health with the PROGRACE Smartwatch designed especially for boys. The blue case features a colorful IPS touchscreen and the blue band is comfortable and durable silica gel. The PROGRACE supports audio music through a Bluetooth headset but does not upload songs or files. Copy to My Music file before playing.
Kids can take pics and selfies with a rotatable camera with a micro SD card (sold separately). They can also tune in to their favorite FM radio station, and they'll love the flashlight at night. For health and wellness, it includes a pedometer and calorie counter. For entertainment and skill development, you can watch your kid playing games including whack-a-mole for thinking and coordination.
Specifications
Bluetooth headphone connectivity
audio music player
1.54-ins IPS touchscreen
built-in games
rotatable camera
FM radio
flashlight
silica gel band
5V 1A / 5V 2A charger
recommended age: 4-12
SEE ON AMAZON
---
Ojoy A1 Kids Smartwatch
Give kids freedom while ensuring safety with the Ojoy A1 Smartwatch for Kids. This latest version is the perfect prerequisite for your children's first smartphone since it interconnects with an Android and iOS app that's easy to use. The GPS tracker lets parents track current and location history for peace of mind.
All contacts have to be added by parents. Kids can't dial random numbers, any other voice calls are auto-blocked. Kids will love setting profile pics and avatars for friends and family. They can take photos with the front-facing camera and send them along with voice messages.
The Ojoywatch app teaches organizational skills with a calendar and reminders to keep them on track with school and after-school activities. And a school mode lets parents disable functions during schooltime to avoid distractions. Other features include a pedometer and stopwatch. It's waterproof up to 6 feet for 30 minutes and comes with a kid-friendly band. And, has a long battery life.
Specifications
touchscreen
1.4 inches retina display
Android & iOS connectivity
2MP camera
800mAh battery
pedometer
stopwatch
GPS tracker
IP68 waterproof
recommended age: 5-10
SEE ON AMAZON
---
LDB Direct Kids Smartwatch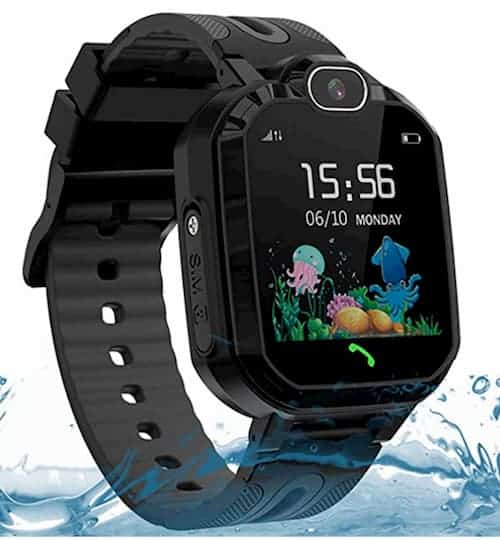 Introduce kids to smartphone technology without internet vulnerability with the LDB Direct Smartwatch for young children. Parents can program in up to 10 phone numbers for kids to make and receive calls. At the push of an SOS button, three numbers are automatically dialed. Parents can also send voice and text messages to their younger kids.
The LDB Direct comes with a free math game and a calculator. More can be downloaded from the App Store. Snap pics with the camera and save them to the Photo Album. The GPS feature is available with a sim card, and service is only 5 USD per month. A school mode lets parents disable features to avoid distractions in class.
This smartwatch is made of waterproof materials and has a waterproof magnetic charging interface.
Specifications
free game/calculator
USB cable
start-up guide
downloadable apps
screwdriver
waterproof
GPS capability
SEE ON AMAZON
---
Verizon Gizmowatch Kids Smartwatch
The Verizon Gizmowatch has GPS tracking and wireless calling to give kids the freedom they want while staying safe. Parents can track their child's location, set boundaries, and receive alerts right from their cell phone. The Gizmowatch uses 4G LTE network for speed and reliability. Stay connected with 2-way voice calling and messaging for up to 10 numbers.
The Gizmo's fitness tracker counts steps, sends reminders, and encourages goal setting. On-screen reminders help kids learn time management. The GizmoHub app can be easily downloaded for Android and iOS. Calling and GPS needs a monthly plan, but no annual contract is required and it works with any phone service provider.
The Gizowatch comes in pink and blue for girls or boys, and the band is interchangeable with any standard watch band. It's IPX7 waterproof and survives submersion of one meter for up to 30 minutes.
Specifications
2-way calling
programmable for 10 numbers
GPS tracking
geofencing
fitness tracking
time management features
IPX 7 waterproof
recommended age: 7-12
SEE ON AMAZON
---
Best for Learning
Jaybest Kids Smartwatch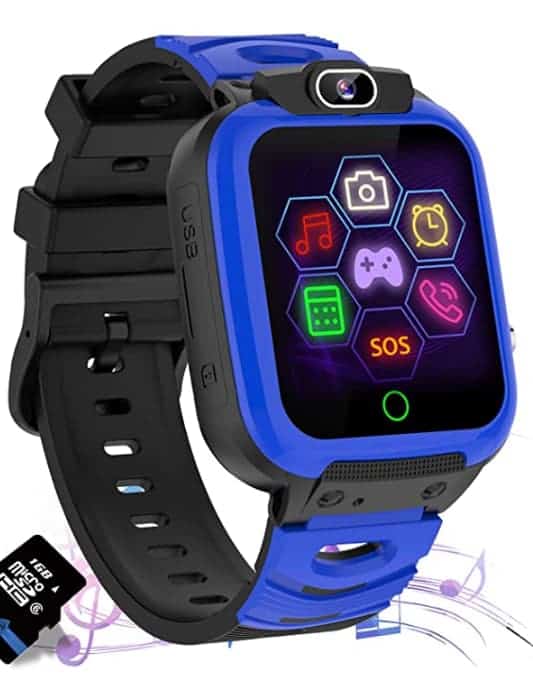 Insert a 2G sim card in the Jaybest Smartwatch and communicate with kids in real time with 2-way calling. The high-definition 1.54-inch screen is kid-user friendly. The time is displayed in digital and analog formats to help kids learn to tell time both ways. Press the SOS key for 3 seconds to call multiple numbers for help.
The Jaybest Smartwatch includes fun features like a camera, calculator, calendar, and alarm clock. Seven puzzle games keep kids entertained while increasing thinking and logic skills. A 1 GB micro SD card is provided free so kids can play music, take selfies, and make audio recordings. All functions except calling work without a sim card.
Specifications
1.54-inch screen
startup guide
screwdriver
top clamping needle
USB cable
iOS & Android compatible
SOS call feature
recommended age: 4-12
SEE ON AMAZON
---
Wallpacle Smartwatch
The Wallpacle Smartwatch for kids has several useful features at a great price and features a 1.44-inch high-definition full-color screen. Functions include an alarm clock, recorder, calculator, and 7 fun games. An SOS button is on the side for emergency phone calls, and the smartwatch is compatible with an Audivox phone model DM3000.
Kids can snap pics with the camera and save them in the photo album. Parents can upload them to a computer. An SD card reader can be used to download music from a computer and saved to the My Music file. Sound quality and volume are adjustable. The band has an ergonomic design and is IP67 waterproof.
Specifications
1.44-inch high-definition screen
7 games
SOS button
calculator
recorder
camera
IP67 waterproof
recommended age: 4-10
SEE ON AMAZON
---
CJC 4G Smartwatch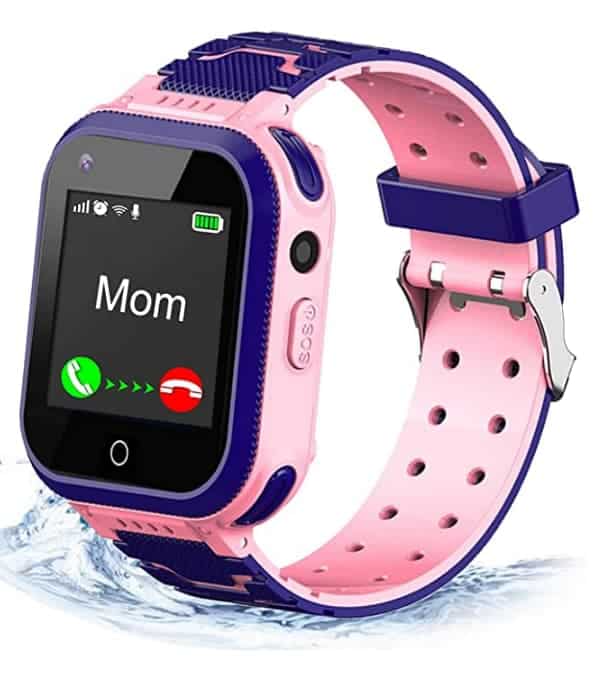 Trust kids on the go with the CJC Smartwatch for kids. It's cell phone capabilities supports 4G networking for 2-way chatting and video calling with high-speed worldwide connectivity. Parents can use the phone app to track their child's location. The GPS tracker uses Local Base Stations. Parents can set a roaming range and get an alarm alert when kids wander out of the area. An SOS button can be pushed for 3 seconds to send an emergency auto-call to 3 preset numbers.
The high-definition touch screen is designed for ease of use and protects younger childrens' eyesight. It includes a camera with photo album, flashlight, alarm clock, and math games. A pedometer encourages good health habits. Parents can set it to class mode to prevent distractions at school.
The CJC smartphone is IP67 water-resistant and comes with a rechargeable battery. It supports 4G nano sim cards from several major carriers including T-mobile, Cingular, and more.
Specifications
1.4-inch touchscreen
4G
GPS
geotracking
rechargeable battery
camera
pedometer
class mode
SOS button
USB cable
user manual
recommended age: 3-12
SEE ON AMAZON
---
Best for Safety
Tick Talk 3 Kids Smartwatch
Kids can call and video chat with individuals or groups with the Tick Talk 3 Smartwatch. It has 4G reception for fast and accurate service. Seven built-in frequency bands make the Tick Talk compatible with most worldwide carriers. With GPS tracking, parents can track multiple phones at one time. Input a time and playback will show children's route history. Kids can send 2-way messages, photos, and emojis. They can also send present messages to friends and family.
Great safety features include the option for parents to turn the dial pad on or off. Additionally, after entering up to 53 preset numbers, a firewall can be set up to prevent other calls. The Tick Talk 3 comes with a trendy nylon sports band and switchable wallpaper. Watch faces can be customized to match interchangeable bands.
Specifications
4G
video calling
7 frequency bands
Geotracking
route history
lockable dial pad
holds 53 preset numbers
interchangeable wallpaper/bands
IP67 waterproofing
age recommendation: 7-12
SEE ON AMAZON
---
Vower Kids Smartwatch
The Vower Smartwatches for kids use 4G technology for voice and video calling for individual or group chats. Chat with kids anytime and anywhere face to face. The colorful touchscreen is easy for kids to use. GPS tracking locates kids' whereabouts when used with SMS, iOS, and Android.
A 2-click SOS button sends an emergency message to all contacts. Other functions include a camera and photo album, a step counter, and an alarm clock. It is IP67 waterproof and is available in pink or blue for girls or boys.
Specifications
4G
GPS tracking
voice & video calling
group calling
SOS button
step counter
alarm clock
IP67 waterproof
age recommendation: 7- 12
SEE ON AMAZON
Lastly, I want to mention the Apple Watch SE which was apparently built, or at least marketed for kids. It is actually still quite expensive and not something most people want as a gadget for their kids.
The Apple Watch SE can be set up with the newer iOs features so that you can control a lot of what goes on via your iPhone. And the best thing for most parents is that you can track your child's whereabouts. Not something everyone is a fan of, but if it is something you want – this is one of the options.