The G-Shock Family from Casio is a huge and varied collection of watches that have fans all over the world. And the G-Shock G-8900 range is another great addition that we will explore today.
This watch looks very much like many other G-Shocks of the past. It has a strong protective resin case and band with G-Shocks own shock protection as well as their standard 200m water resistance. Not bad to start things off!
Of course, this watch also comes with the usual swathe of digital functions such as a stopwatch, countdown timer, auto calendar, 5 alarms, hourly timer, world time, and 12/24 hr military time.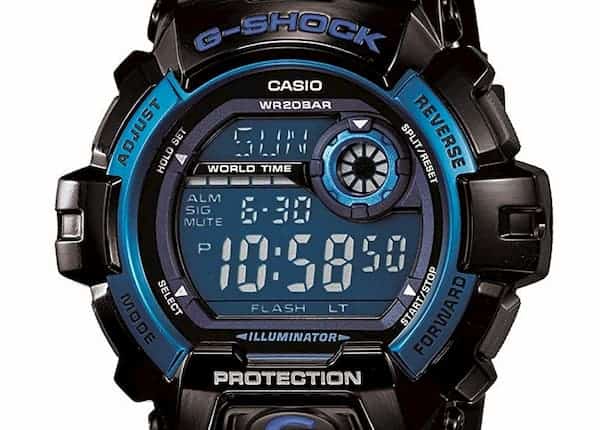 There is also the super illuminator backlighting – which is even better in this model. Because the screen takes up so much real estate, even though it is split into two parts, this allows Casio to more easily light it up. This is done via an easy to access button at the 6 o'clock position just above the strap on the watch.
The bezel is also a little unusual for a G-Shock because it has a colored Aluminium ring which is overlaid periodically by protective resin bumps. This helps give the overall style of the watch along with other colored zones around the watch – such as the G-Shock branding and text.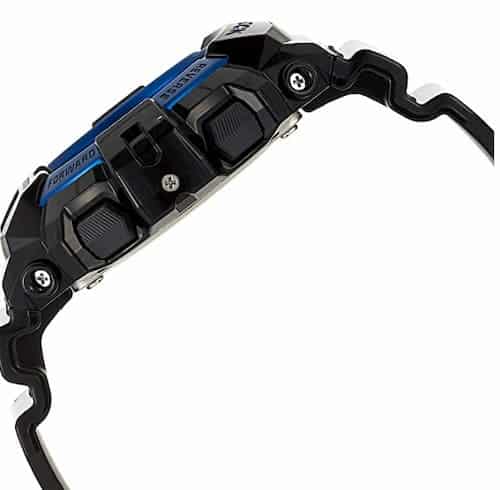 You can also see the lengths that Casio goes to to protect their G-Shocks when you look at the G-8900 side on. The buttons are well protected by being somewhat recessed and surrounded by significant amounts of resin!
Another great thing that many people don't talk about is the battery life. The G-Shock G-8900 uses a CR2016 button battery that will typically last 3 years. So, yes, you will have to change the battery, but not very often. Especially considering how many functions this watch has.
There are also a number of color variations of the G-8900, which you can see below.