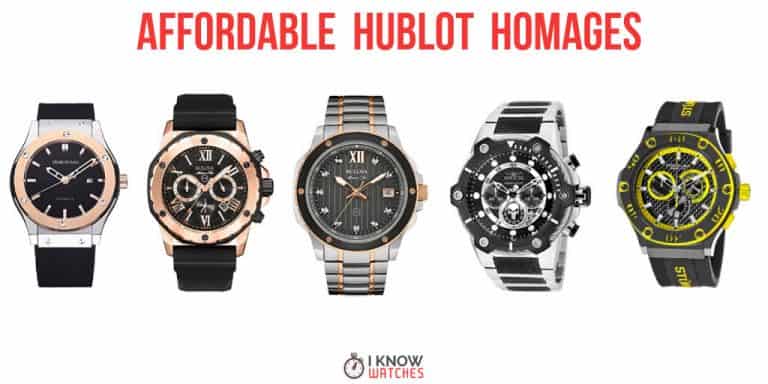 Hublot Homages & Alternatives
Ranging between seven and two hundred and fifty thousand, Hublot watches are usually way outside most of our budgets. Unless you win the lottery that is!

At A Glance: Our Top 3 Picks for Hublot Homages & Alternatives
However, their bold, metallic and modern style is one that appeals to many a watch lover like you, who still wants to wear a watch that looks like a Hublot. That is why I have sought out the best Hublot homages and alternatives on the market right now. Watches that are often copies of the original, but sometimes just paying homage instead.
It's up to you to decide which ones suits your style and budget, but there is nothing over one thousand dollars on this list.
Hublot Homages & Alternatives

Fanmis Japan Quartz Sports

Japanese Automatic movement
Mineral crystal
3 Sub-dial chronograph

VIEW LATEST PRICE →

Closest Homage & Super Affordable

Great Homage & Super Affordable

Megir Chronograph

Japanese Quartz movement
Hardlex crystal
Stainless steel case with leather stitched strap

VIEW LATEST PRICE →

Megir Sports Watch

Japanese quartz movement
Hardlex crystal
Day window at 3 o'clock 24 Hour, minute, second sub-dials

VIEW LATEST PRICE →

Bulova Marine Star Chronograph

Japanese quartz movement with 10 month reserve (Solar)
Mineral crystal
3 sub-dials: Day, Date, 24 hours

VIEW LATEST PRICE →

Most Elegant Homage

Most Elegant Homage

Bulova Marine Star

Quartz Movement
Mineral Crystal
Date function at 3 o'clock

VIEW LATEST PRICE →

Boldest Design

Boldest Design

Stuhrling Prestige Harbinger

Swiss Quartz Movement
Krysterna crystal
Date function at 6 o'clock

VIEW LATEST PRICE →

Stuhrling Champion Alpine Sport

Swiss Quartz movement
Mineral crystal
Silicon strap

VIEW LATEST PRICE →

Daniel Steiger Phantom

Eco-Drive E820 movement
Mineral crystal
Calfskin leather strap

VIEW LATEST PRICE →

Swiss Legend Trimix Diver

Swiss Quartz movement
Sapphire-coated mineral crystal
Silicon strap

VIEW LATEST PRICE →

Invicta Marvel Series

Quartz movement
Sapphire (Flame Fusion) crystal
316L Stainless steel

VIEW LATEST PRICE →
Low-End Affordable Homages
1. Fanmis Japan Quartz Sports
Fanmis always seem to pop up in these homage articles because they make so many different kinds of watches. And their Sports model is clearly paying tribute to Hublot with this watch.
The wide, flat, round bezel with periodic screws around it is all Hublot. And with the unique chronograph, along with small date window at 4 o'clock,  it is almost identical to the Hublot Classic Fusion Chronograph. It's just missing the extra steel section between the lugs with the two screws.
Another cheap and cheerful option from our friends in China is this Hublot homage from Megir. And for less than 100 dollars, it is one of the most affordable on this list.
Like the Parnis above, this watch has a chronograph, so is far more of a homage to the Hublot Classic Fusion Chronograph. The bold colors are also more of a shoutout to Hublot who are know for pushing the boundaries in watch design – just look at their latest models each year and you will see.
Megir are another more recent Chinese watch maker that loves to produce homage style watches. This model is again a close copy of the Hublot, but also adds it's own style in a few areas.
The dark blue dial with yellow accents is quite striking, as are the 5 screw placements around the dial. It also has 3 sub-dials for the chronograph, where the Hublot Classic only has two. There is also a very sporty look with the blue silicon strap which should be comfortable on the wrist.
And last but not least, this watch is the cheapest on this list, so if cost is your thing, then this is a bargain!
Mid-Range Affordable Homages
4. Bulova Marine Star Chronograph
Headquartered in NYC, Bulova is nowadays a part of the larger Citizen group of watch makers. The reason I tell you this is to say that this section starts to show watches with history, quality and pedigree. Yet the prices are still very reasonable.
This particular model from Bulova is one of their Marine Star range and closely follows the Hublot Classic Chronograph in style. However, you can clearly see their changes with the use of Roman numerals and placement of the date window just below 4 o'clock. 
Of course, there are also other variations you can see around the watch such as the crown protectors, the missing (and perhaps signature) Hublot lug areas and the square chronograph pushers.
Another of the Bulova Marine Stars worth mentioning is this more refined model without the chronograph. It still has some of the Hublot elements such as the thick, flat bezel with periodic screws, but is a little more elegant.
There are crystals as hour markers for one, and a two tone stainless steel band that matches the screws, crown and hands nicely.
All in all this is less of an outright copy than many of the earlier examples we saw but still pays homage to Hublot.
6. Stuhrling Prestige Harbinger
If you want a Swiss made watch that is still affordable then Stuhrling is often a great option. This very bold homage to Hublot is certainly going to get some attention.
The fluro yellow and black combo is super modern and certainly the direction Hublot is taking with their Big Bang models. There is some variation from theirs though with the minute markers on the actual bezel, the carbon fiber dial and the lack of screws on the lugs. However, if you want something that is just a little like the Hublot but still quite unique, this is a great option.
7. Stuhrling Champion Alpine Sport
Stuhrling's Champion Alpine Sport is a clean homage of Hublot with the round black bezel and black screws.
I like how this watch is still bold like a Hublot but a little more understated with a simple black dial and contrasting white silicone strap.
Of course, you also get a 3 dial chronograph and 100m of water resistance which means you can certainly go swimming with this watch.
8. Daniel Steiger Phantom
Another relatively unknown brand to many, Daniel Steiger is owned by Timepieces International who have been crafting watches since the 90s.
This particular model, the Phantom, is a clear homage to Hublot with the wide, round bezel and screws, the large crown and pushers and the metallic look of the dial, especially in the sub-dials.
9. Swiss Legend Trimix Diver
Hublot normally use a circular bezel in all their designs, except for the Spirit of Big Bangs. However, this particular watch reminds me of their hexagonal bezeled Aerofusion model. At least in shape.
The lug area is also classic Hublot, as are the large crown and pusher, although the design does stray a little from the original. Which is nice for a change.
There are also some other refreshing elements on the dial I love, like the arrow highlighting the date window, the cut-off hour markers and red tips to the sub-dial hands.
Lastly, if you want something seriously water-resistant, this watch is rated to 200m, which means you can easily dive with it.
10. Invicta Marvel Series
Celebrating the success of the Marvel obsession movie and tv makers seem to have at the moment is this range of watches from Invicta. Which is actually no surprise given that the Hublot style watch matches the brash, bold and over the top style of Marvel comics in general.
The Punisher model shown here is perhaps the most dull, with an all black and silver style. It also varies the most from the Hublot with the bezel increasing in width where the screws are, the large hour markers , and of course the skull sub-dial and second hand.
If you want to go all out and get something even more colorful and Marvel-like, there are plenty of crazy models to choose from.