Panerai Homages & Alternatives
(Can You Mimic An Icon?)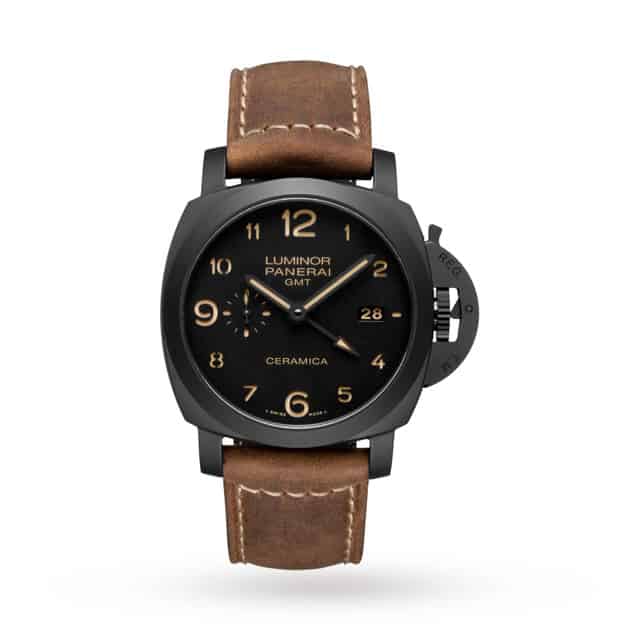 Panerai don't produce a huge selection of watches, but what they do produce seems to capture many people's imagination.
Perhaps it is because they mix Italian design with Swiss engineering, or maybe it's just their funky shapes and design. Either way, you will find hundreds of people online pining for a Panerai, but unable to afford one.
That is where homages (or alternatives) come in. The problem is, very few watch makers have dared to make any, except for custom watch makers and…the Chinese. And in most cases, these are homages of the Luminor only. I have yet to find many homages of the Radiomir online.
Two manufacturers in particular, who are known for their "homages" have come out with a number of options – Megir and Parnis. But there are other options and well, from manufacturers you might or might not even know exist.
From the almost exact copy to the more humble homage, let's take a closer look…
1. Peugot's Luminor Homage
Peugot (no, not the carmaker) has crossed my radar before, but I must admit I never noticed their Luminor homage when I reviewed them.
Of course, it's great to see that it is not an exact copy, but the key Luminor design elements are there: the crown guard, the shape of the case, and the dominant 12 o'clock marker.
Peugot have added 3 sub-dials to this watch, not for a chronograph, which makes no sense in this design, but with day/date and 24 hour indications.
The stitched leather band, and faux-gold case are another nice tough. Although you can also get this watch in a few other styles (black and silver) if you prefer. And last but not least, it's usually available for under one hundred dollars, which is a significant discount from the Panerai!
2. Parnis Marina Militare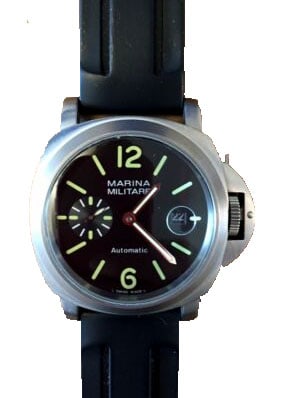 Parnis are infamous for their "homages" which many on the watch forums seem to love to hate. Their Panerai homages in particular seem to have riled many people on forums because they are so close to the original.
However, if it's an almost identical copy you are after, then they are the ones to get. Not only are their homages well made, many feature such things as Automatic movements and sapphire crystal. Most other homages are usually cheaply made.  Of course, that also commands a higher price tag, usually a few hundred dollars, but it would be worth it to get a quality piece in my opinion.
They have created all their Panerai homages under the collection "Militare". Mostly Luminor homages, but you can also find some Radiomir homages too. For some reason (maybe all the haters?) they are not available on Amazon, but you can find them on Ebay (link below) or on the Parnis website itself.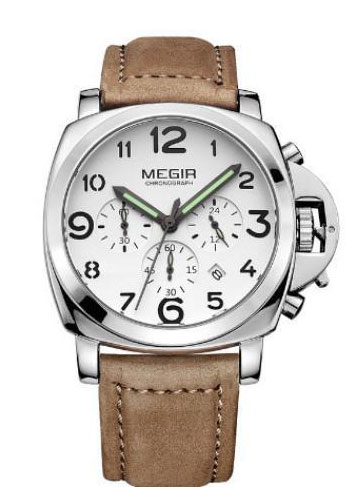 Megir is another Chinese watch manufacturer who enjoys making affordable homages. An in this case, the Low-Fly Chrono is a great take on the Panerai Luminor.
Of course, it's not an exact copy, which is nice. There are pushers outside the crown guard and a 3 sub-dial chornograph to go with them. The shape of the case and crown guard are Panerai inspired for sure, as are the oversized 3,6,9 and 12 o'clock markers. But it is a homage after all.
This particular homage is quite hard to come by outside the Megir shop, so I recommend you head there to see which particular model you like. And at under $100, you will surely be happy with what you find.
4. SO&CO New York SoHo Day and Date
A bit of an unknown manufacturer in this case (their website is only dated until 2015) SO & CO New York have also come up with a nice looking homage.
It differs a little more on the crown guard and adds (seemingly pointless) pushers outside it, but from the style it is Panerai through and through. Like the Peugot above, it has 3 sub-dials which cover the day/date and I believe 24hr time. 
It has a band that is claimed to be pure calf leather (although one Amazon review disputes this). 
All in all it's a bargain watch that mimics an expensive icon.
Another unknown brand (to me at least) is Joshua and Sons, but they have come up with an almost bottom-end price for a homage. It might be worth grabbing one just to see if it runs!
The devil is in the detail here, and they have opted for a silicon strap (not my thing at all for such a classy design like the Panerai) in order to lower the cost. The crown guard is not pure Panerai, with a more squared design. And the case also differs a lot.
However, if you like that wide, crown-guard look and don't want to spend any more, it's an option. It also comes in a few different colors.
6. Citizen NB1031-53L Grand Touring
Heading in the direction of higher quality, but less of a copy than many of the models above, this is more of a Panerai alternative in my eyes.
Citizen is up there with Seiko in terms of top-notch Japanese watches at affordable prices, so you know you are getting quality. This watch features an automatic, self-winding movement with an anti-scratch sapphire crystal. It has all the trappings of a dive watch too – with 300m water resistance, a uni-directional dive bezel and all stainless steel case and bracelet.
There are just a few hat tips to the Luminor, apart from being a true dive watch, with the large crown guard and elongated case towards the lugs. But for the rest, this is somehow similar to the Seiko Turtle more than anything.