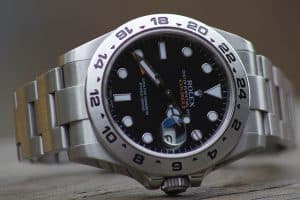 Rolex have been at the top of their game for decades when it comes to watches. Their craftsmanship, attention to detail and luxury appeal makes them highly sought-after as both new purchases and resale.
There have, however, been quite some big changes to the way Rolex creates their watch "glass" over the years. Their goal is always to create the best product with the customer's needs in mind, which has often lead to these changes.
Rolex Acrylic Crystal
Acrylic Crystal was used into the 1990s by Rolex, with the last line replacing it by 1991.
This kind of crystal has many advantages, such as being very light and shatterproof. However, it is quite prone to scratching, and although it can be buffed out, it is not a nice look when scratched.
Tip: Some people claim that removing light scratches is actually quite easy – just use some toothpaste or light abrasive paste and it will remove them in about 15 minutes. I have not personally tried it.
Many manufacturers moved to a sapphire crystal before Rolex, which many people have said prompted them to follow.
Rolex Sapphire Crystal
No matter what the reason, Rolex now uses synthetic sapphire crystal on all of their watches.
Of course, nothing is perfect, and although the sapphire is a lot more scratch-proof, it can shatter far more easily than the old Acrylic type. Whether this is an issue for most Rolex owners remains to be seen.
It is now the only crystal used on Rolex watches, and will be for a long time to come, no doubt!
Laser Etched Crown Inside The Crystal
Another interesting addition to the sapphire crystal was made starting in 2002. A laser-etched crown can be seen at 6 o'clock if a light is shone from teh 12 o'clock direction.
Depending on the face and lighting, this can sometimes be seen in normal light (with darker backgrounds) but is usually always visible if you use a flashlight or phone LED pointing at the right angle from 12 down to 6 o'clock.
Rolex Sapphire Introduction
Rolex started testing out their sapphire crystals in the 1970s but did not officially use it in their lines until 1978.
1978: Day-Date, Datejust(Ref. 16018, 16019), and OysterQuartz all started to use sapphire.
1981: Submariner(Ref. 16800, 16808), Sea-Dweller(Ref. 16660) and GMT-Master(Ref. 16758) also started.
1984: GMT-Master II(Ref. 16760), Explorer II(Ref. 16550) and the two-tone Submariner(Ref. 16803).
1988 & 1989: Date, Datejust, Turn-O-Graph also including GMT-Master(Ref. 16700), GMT-Master II(Ref. 16710, 16713, 16718).
1990: Explorer(Ref. 14270) & Air-King.
By 1991 all Rolex watches used sapphire crystal.
Special thanks to the Rolex Forum for this info.