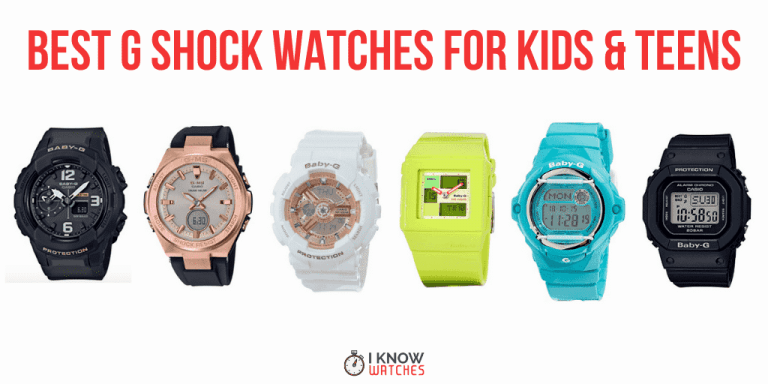 The Best G Shock For Kids & Teens
Casio G Shocks are great all-round digital watches that are tough enough to withstand anything a kid can throw at it, while still having enough functions to keep them excited about their watch.
There are lots of options in the Casio G-Shock watches for kids. They have G-Shocks for boys, girls and even teens, from the colorful and bold to the more standard black or even camouflage for boys loving the outdoors.
In this detailed review I want to show you all the options you have available for kids (or those with small wrists), so that you can make the best g shock for kids and teens.
Starting with something that would work for both boys and girls, this classic Baby G from Casio is all black, so will go with almost anything.
Add to that all the functions you get out of the box and everyone will love it: 12/24hr military time, stop watch, countdown, alarms, world time and a great backlight. On top of that, like all G shock style watches it also comes with a crazy 200m water resistance and built in shock resistance – so with this waterproof watch your kids can do anything.
2. Casio Baby G Analog Digital
Heading in the opposite direction with a very bold white and gold Casio G-Shock model, many girls out there will love this watch. It certainly makes a striking statement!
The functions of this Baby-G G-Shock watch are more or less the same as the one above, except this watch also has an analog (aka hands) display as well as digital. The color and arrangement of the display also differs and the water resistance is a little less at 100m. But that won't stop you from taking it in the water swimming!
3. Casio Baby G Analog Digital in White & Pink
White models of the Baby G are super-popular and this one, although a little too crazy for some, will be just right for others. It has all the same features and style, but instead of a gold theme has a very bold and pink display.
Casio G-Shocks never skimp on functions and features though, so it has all of the ones you would expect. As well as their signature water and shock resistance.
4. Casio Baby-G G-MS Black and Rose-Tone
Moving more into the classier style Baby-G watches, this is the G-MS range from Casio. As you can see from the style, the stainless steel, rose gold colored case is a step up in terms of looks. Making it very appealing to a teen who no longer considers themselves a kid when it comes to clothes and watches.
It has all the features you would expect from Casio G-Shock too. The only place they have skimped a little is with the 100m water resistance, but given you can still swim with it, I think Casio can be forgiven.
This watch also runs on solar, which is a great feature to have as it saves you from changing the battery (and reducing the water resistance in the process).
5. Casio Baby-G Square in Green
I thought I would include this one because it is just so unique. Sure, it won't appeal to most children, but some will absolutely love it. The bright color is certainly one reason, but the shape and style are something you won't find anywhere else. At least that I know of!
It has a very simple face on it which displays both digital and analog (hands) time. It also comes with all the G Shock functions we know and love, so although it appears simple, you won't miss anything with this watch.
6. Casio Baby G in Vivid Blue
Another very bold color choice from Casio, this model comes with the extra protection of bumper bars on the face. So, if you think your child might get rough with their watch, this style is perfect.
The face has a very clear day, date and time display, so there is no excuse for coming home late. And all the toerh functions of a Casio G Shock are in there including the top-level 200m water resistance – great for kids who love the water.
7. Casio Baby-G Black Whale Digital
For something a little more simple and less bold in color, this black model is just the ticket. It has a simple day, date and time display, as you would expect, as well as all the necessary functions. 
Where it really shines is the pure simplicity of the black color, which ultimately is both sporty and can go with anything you wear during the day too. So perfect for active kids and school as well. It's one of the simplest, and best g-shock for kids.
Another all black affair, this Baby G has an analog display with simple to read while hands that glow in the dark. The addition of a small digital display helps too, especially if your boy or girl is not a fan of analog watches.
It also comes with world time that you can use on the second, smaller display and a reasonable 100m water resistance. Not to mention all the functions and shock resistance you have surely come to expect from Casio G Shock, even for kids.
For those who want something robust, but also reminiscent of the good old 80s Casio watches (you can see a full collection of those here) this is the watch for you.
It has the old-style look of the original Casio, along with the plain black color. However, because it is a Baby G it also comes with the usual protection – 200m water resistance. Something the older Casios just can't compete with. So, it's the best of both worlds – retro looking, but with modern tech and water/shock resistance you can trust.
This is a G-Shock for boys or girls!
10. Casio G Shock in Camo
If you have a boy (or perhaps even a girl) who has dreams of being the next GI Joe, then this Camo colored G Shock is a great option. It is of course a little larger than the Baby Gs (at 51mm), which is why I have not included many other G Shocks, but teens or larger kids could certainly wear it.
Yes, it has all the G Shock features including shock and water resistance (200m) as well as solar, which is great – because you don't need to replace the battery! And for any child who loves the military or has aspirations in that direction, this is the go to watch in my humble opinion