Rolex DateJust Homages & Alternatives Affordable & Stunning Watches
You probably adore the Rolex DateJust 41 but are wondering how in heavens name you are ever going to afford one?
Well, fear not, because I have done a lot of research to find the best and most affordable Rolex DateJust homages and alternatives on the market (just like I did with the Rolex Date Date – in case you want that one instead).
At A Glance: Our Top 3 Picks for Affordable Rolex Datejust Homage
Not surprisingly, for such an iconic watch, it has inspired lots of manufacturers to create similar/look alike models. Let's take a look at the ones I have found…
Affordable Rolex Datejust Homage

Most Affordable

Most Affordable

Burei DateJust

Japanese Quartz movement (Miyota 8215)
Sapphire crystal
Stainless steel jubilee band with fold-over clasp

VIEW LATEST PRICE →

Stuhrling Original

Swiss Quartz movement
Krysterna crystal
Stainless steel jubilee band with double push closure

VIEW LATEST PRICE →

Fanmis 2-Tone Stainless Steel

Japanese quartz movement
German High Hardness Mineral crystal
Stainless steel jubilee bracelet with fold-over clasp

VIEW LATEST PRICE →

Gosasa Automatic

Japanese Automatic movement
Sapphire crystal
Stainless steel bracelet with fold-over clasp

VIEW LATEST PRICE →

Best Alternative

Best Alternative

Seiko SGF206 DateJust

Seiko Quartz Movement
Seiko Hardlex mineral crystal
Stainless steel bracelet

VIEW LATEST PRICE →

Citizen Eco-Drive Two Tone

Eco-drive Quartz Movement
Mineral crystal
Stainless steel two-tone bracelet

VIEW LATEST PRICE →

Casio MTP-1302L-1AVER

Quartz Movement
Mineral Crystal
Alligator pattern leather band

VIEW LATEST PRICE →

ORIENT Classic

Orient Automatic Movement
Sapphire crystal
Stainless steel bracelet

VIEW LATEST PRICE →

Swiss (Rolex) Made

Swiss (Rolex) Made

Tudor Price OysterDate

Swiss Automatic Movement (ETA calibre 2824-2)
Stainless steel bracelet
Case size: 34mm diameter

VIEW LATEST PRICE →
I reviewed Burei just recently and they are definitely a brand to watch if you want a super-affordable watch. This particular model is more or less a copy of the DateJust, but let's call it a homage/look alike to be kind.
They have produced it in a stunning array of options, which you can see below, and have added Rhinestone hour markers to it, which those of you who love "bling" will enjoy. It also comes with all the hallmarks of the DateJust – the bezel, the cyclops lens on the date window and the overall style.
Surprisingly it has a scratch-resistant sapphire crystal, which is almost unheard of at this price. But they have cut a few corners with a Japanese (still ok) quartz movement and only 30m water resistant (so splash proof). However, it should still last you a good while.
Models: 96C127, 96C125, 98C60, 97C106
If you are looking for a good ol' USA owned company to buy a watch from, it's a bit of a struggle these days. But Stuhrling, founded back in the 90s in New York, is one place you can still get quality watches at affordable prices.
This particular Rolex homage is a worthwhile contender for a DateJust alternative, with the signature jubilee style bracelet, cyclops date window and fluted bezel. The Roman numerals are a slight variation, which you will either love or hate, but definitely suit the style.
The stand out on this watch is not only the price, but that it comes with a Swiss Quartz movement and 100m water resistance.
3. Fanmis 2-Tone Stainless Steel
This watch is an absolute bargain, which also sets off my alarm bells. The branding says Reginald, but the manufacturer is Fanmis, who you will see all over the web making similar kinds of watches. Are they any good? Well for under $50 you get what you pay for.
However, at first glance it ticks all the DateJust boxes – fluted bezel, cyclops date window, two-tone jubilee bracelet. So if you are after a cheap homage, this is the one to get.
Another confusingly branded watch made by Gosasa, but labelled Holuns! This one, like the Burei above, comes with shiney Rhinestones as hour markers. And all the rest of the homage trappings I  have mentioned countless times above.
This particular models stands out as being all gold, although only in the sense of color – as it is actually stainless steel.
The most interesting features of this watch, aside from it's affordability, are the automatic self-winding movement, the sapphire crystal and the skeleton display back, which is a nice addition.
Note: if you like the Rhinestones, there is a stone-studded bezel version also worth checking out.
Seiko can always be counted on to produce a top-level watch at a reasonable price. And this watch is no exception. They are also not a manufacturer to take the word "homage" to mean copy either. 
This DateJust alternative has many of the inspirations from Rolex, but Seiko have added a few touches like a Day/Date instead of just a Date. And no cyclops window, which is great for those who are not a fan. Like me.
And similar to the model above, this is also quite a small watch, so will be great for those really wanting a slim and stylish dress watch and not a huge chunk of metal hanging on their wrist.
Note: If you prefer a two-tone silver/gold then check out their other version here.
6. Citizen Eco-Drive Two Tone
Citizen are another brand that know a thing or two about watches. And although this model is not as much of a copy as most of those above, it is still a great alternative DateJust.
The bezel is gold-colored but not fluted like the original and the date window is a little on the small side with no cyclops window. However, Citizen's proprietary Eco-drive (solar) system makes for a life-long companion. They have also added 100m water resistance, so you know you are safe no matter who wet this watch gets.
Casio is always a reliable brand that makes robust watches, and in this case, great alternatives to the DateJust.
There are of course quite a few homage elements to this watch like the fluted bezel, the long rectangular markers and the single color, clean dial. However, Casio have chosen to add a leather band to this watch giving it a little more of a relaxed feel.
Reference: SER20002B, SER1P008D, SER20002W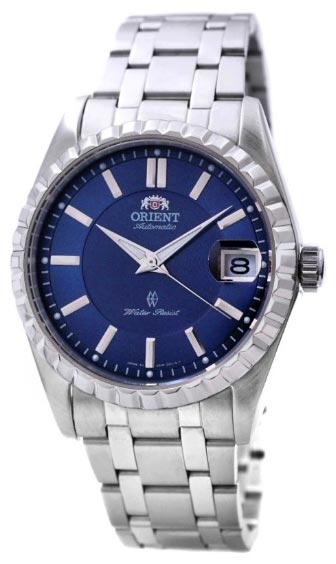 Orient, like most notable brands out there, are always taking inspiration from the bst and then making it their own. This version of the Orient Classic (usually with model numbers starting with SER) is quite hard to find these days, but worth it if you can.
It features Orient's own automatic self-winding movement, a sapphire crystal and 50m water resistance. All in all, great specs for a watch around the $250 price mark.
9. Tudor Price OysterDate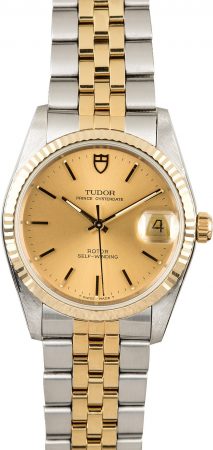 If you still want to tell people your watch is "Swiss Made" then this homage from Tudor is worthwhile considering. Especially when you add to the fact that it's actually owned and made by Rolex!
You won't always find it on the most obvious of online retailers like Amazon, but there are plenty of options on Ebay or other watch stores. And depending on the materials and movement used, they can be very affordable indeed.
This model has all the trappings of the Rolex DateJust, and given they made it, it's no surprise. It might just be the best homage available.
Which Rolex DateJust Homage Should You Buy?
The closest to the original with the best features at a reasonable price is the Orient Classic. It looks just like the Rolex, but won't cost you an arm and a leg. This is our favorite for sure.
If budget is your biggest concern I think it's an easy decision. The Casio or the Peugot are your best bets. The Peugot being the closer to the original Rolex of course.
For the rest, it really comes down to taste and money. There are a lot of options that are close homages, and others that just have a taste of the Rolex. On top of that, there is a huge price range in all the watches, but most are a few hundred bucks or less.
It's your choice!
Related Post: Best Rolex Explorer Homage