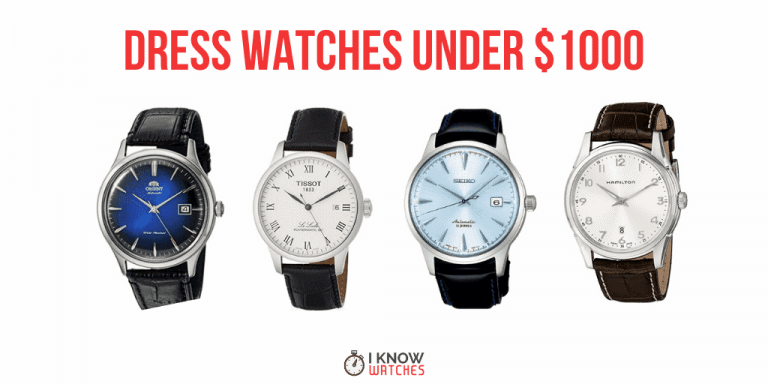 The Best Dress Watches For Under $1000
If you ever get invited to go somewhere "fancy" for dinner, or a black tie event perhaps, you are going to want a dress watch.
[sc name="Dress Watches Text Links Code v1″]
Dress watches are classic, stylish, simple and clean. They often have a simple white dial, with an hour and minute hand only. And absolutely nothing else.
That is the classic dress watch.
Times have changed, and today's dress watch can be a little bit more than that. However, if you are looking to have a watch match your classy outfit, keeping it simple, clean, thin and with a leather strap is never a bad idea.
And these kinds of watches don't have to be very expensive either. You can get yourself a keeper for under $1000 easily. And in this post I am going to show you some of the best options around.
[sc name="Dress Watches For Under USD1000 Table Code v1"]
1. Seiko SARB065 Cocktail Time
One of the most well-known dress watches in the watch community, the Seiko SARB065 (nicknamed Cocktail Time – for obvious reasons) is a watch that will draw attention. Very much like their other more dressy watches (like the SARY057 and SNKL23)
On first glance, it is a clean, classic dress watch. However, when you take a closer look you will see the magnificant guilloche sunburst dial which radiates out from the centre of the watch, with an undulating pattern as you go around the watch. In the image it appears blue, but in reality it is a silver color.
The rest of the watch is quite understated with a clean stainless steel case and calf leather band, to help accentuate the rest of the watch. There is another surprise though, with a clear/display caseback, you can see the inside workings of the watch, which is always a treat.
Being an automatic watch (hand-windable and hackable) also adds to the worth of this watch. It is amazing that it is actually such an affordable watch.
2. Hamilton Intra-Matic Silver (H38455751)
A slightly smaller dress watch than the Seiko above (at 38x10mm), this Hamilton is otherwise similar in many ways. 
The dial is also a very clean silver sunburst dial with thin hour markers and a date window at 6 o'clock, which I like because it is different to the standard you see at 3 o'clock. It features a Swiss, instead of Japanese, Automatic movement, which also means top quality. 
This dress watch has slightly less power reserve (42 hours) and no hacking or hand-winding. And, something you will see a lot of quality dress watches, it has no second hand.
It also comes with scratch-resistant sapphire crystal, which is often expensive, and again, a display case back, for those wanting to see how a watch really works.
For me, this is a simpler and less busy looking watch than the Seiko. So, it really is perfect for a contemporary dress watch.
Note: This watch also comes with a black dial, shown below.
3. Hamilton Jazzmaster Thinline Quartz
If you want something a little less minimalistic, the Jazzmaster from Hamilton is one worth checking out.
It is another very thin watch at 42 x 7mm, which is helped by the use of a Quartz movement (less complicated, so less space). Which of course means you lose the classic automatic movement of the watches above, but it will always run and never need to be wound (until the battery runs out of course). Keep in mind, like the many of the best dress watches, this one has no second hand.
The dial is a simple white, but with arabic numerals on each hour and a minute train around the outside, it is a little busier than the Instamatic above.
It also has a leather band, but this time with the alligator pattern and white stitching which is a great touch.
Note: There are a few different colors available, which are shown below.
4. Victorinox Men's Alliance Quartz
Not everyone associates Swiss watches with Swiss army knives, but Victorinox make both. The original army knife maker has been expanding their reach for years.
One of their most well-known watches was the INOX which underwent some pretty crazy testing, however, Victorinox have taken this technology and applied it throughout their range.
The Alliance is a classic looking dress watch in many ways with a clean dial, simple hour markers and hands. This watch has a unique touch with arabic numerals at 3, 6 and 9 o'clock and a separate ring of 24 hour markers on the inside. Like the Hamiltons, it also has a date window at 6 o'clock.
Otherwise, it has a simple, but quite thick, stainless steel case and a thick stitched leather band. Victorinox always modernises their watches, and you can see this in these two elements for sure.
Note: It comes in three color options, two with black dials. You can see them all below.
Another more affordable Swiss watch company that also makes some stylish dress watches is Tissot. In particular, the Powermatic range has some models that you are going to love. 
With its classic roman numbers and baton hands, this watch is going to appeal to the more classically-minded (perhaps :>). It also comes with a clean date window at 3 o'clock, to help you remember your wife's birthday.
The leather band is an alligator pattern, like many a dress watch, however, it comes with a butterfly clasp to help get it on and off more easily. The case back is also a stunning display (see-through) with Tissot 1853 stamped in the middle. In case you forgot which brand it is.
The stand-out specs on this watch are the Swiss automatic movement with 80 hour power reserve (40-50 is what you normally see) and the sapphire scratch-resistant crystal.
Note: There are both a black and white dial version of this watch, which you can see below.
6. Tissot T-Classic Tradition
Tissot makes its fair share of classic watches, and this model may appeal more to you if you like minimalistic dress watches.
It features very little in the way or markings aside from a 6 and 12 o'clock hour marker. Otherwise, there are simple, thin triangular hour markers around the edge of the dial. And of course, a tiny "swiss made" at 6 o'clock, which only watches made in Switzerland can have.
The date window is tiny and unobtrusive, but still clean and legible at 3 o'clock.
You may have never heard of Oris, but they have been making luxurious watches in the north of Switzerland since 1904. So, they know a thing or two about watches. And, if you buy one, I doubt anyone you know will have one.
The silver dial on this watch is also a stand-out, like on the Seiko Cocktail time, it features a guilloche pattern (undulating) around the watch, which gives it a unique look from any angle. It's also far more time-consuming and expensive to do, so most manufacturers don't do it.
The rest of the dial is understate with simple silver hour markers with tiny minute numerals on their ends. The date window is also quite nicely embedded at 6 o'clock, not making a name for itself at all. And the "swiss made" as always, is on either side of the 6 o'clock marker.
This Oris watch comes with many features you would expect from a Swiss brand such as an automatic movement (38 hour reserve), a sapphire crystal, and a display case back.
8. Frederique Constant Classic Index
Quite a bit under the  one thousand dollar mark is this Frederique Constant. It is a classy Swiss made automatic dress watch that will become a family heirloom for generations to come.
It fits all the classic dress watch criteria with a plain white face, simple lumed hour and minute hands and raised silver hour markers. Of course, it also comes with a 6 o'clock date window and a stainless steel case to match this classic look.
As you would expect from a watch of this calibre it has an automatic self-winding movement with 38 hour power reserver and a scratch-resistant sapphire crystalis
Orient make some very high quality watches, but somehow, they manage to keep their costs very low. A little like Seiko.
So, it's perhaps no surprise that one of the best watches on this list is the Orient Bambino dress watch. The Bambino (Italian for "baby") has become such a classic in the watch world, that there are now over 6 types, and about 20-30 models to choose from.
They range from the ultra-simple face, with long bar markers and thin hands, to the more complex "small seconds" with a chronograph seconds dial at 6 o'clock.
All of them feature an automatic movement (crazy for the price) as well as a 40mm case and a stylish leather band.
Below you can see a selection of the models available. The dials range from white, cream, black and blue. The cases are almost always silver, but there is also a gold variant.