If you cast your mind back to 2008, you might remember crashing markets, soaring inflation rates, and oil hitting an all-time high of $147 a barrel, the financial crisis of 2008 was terrifically captured in the 2015 film The Big Short. The movie was based on real-life events and a book called The Big Short: Inside the Doomsday Machine by Michael Lewis. It followed the actions of numerous financial-industry professionals, starring the likes of Steve Carell, Christian Bale, and Ryan Gosling.
As you might imagine, any film based in or around Wall Street or wealthy bankers will be the prime spot to see some beautiful timepieces. It's not surprising that many of these characters wore high horology, however, what is surprising is that the prop department may have used the wrong reference Submariner for the time period.
Which Watch Does Steve Carrell Wear?
Steve Carrell portrays the role of Mark Baum, which was based on real-life businessman and investor Steven Eisman. In the film, Baum is a direct, snappy, and blunt businessman that does not like taking no for an answer. Dedicated to his work as a hedge fund manager, he is a man who knows what he wants and is not afraid to take it.
Unlike most of the other money-hungry characters, he is perhaps one of the only ones that are not overly fond of the idea to make money from the American taxpayer while the banks would just get a bailout from Uncle Sam.
Perhaps fittingly, this hard-as-nail man with a heart that actually cares needs a watch to fit this misconception. Something unassuming, stealth wealth if you were.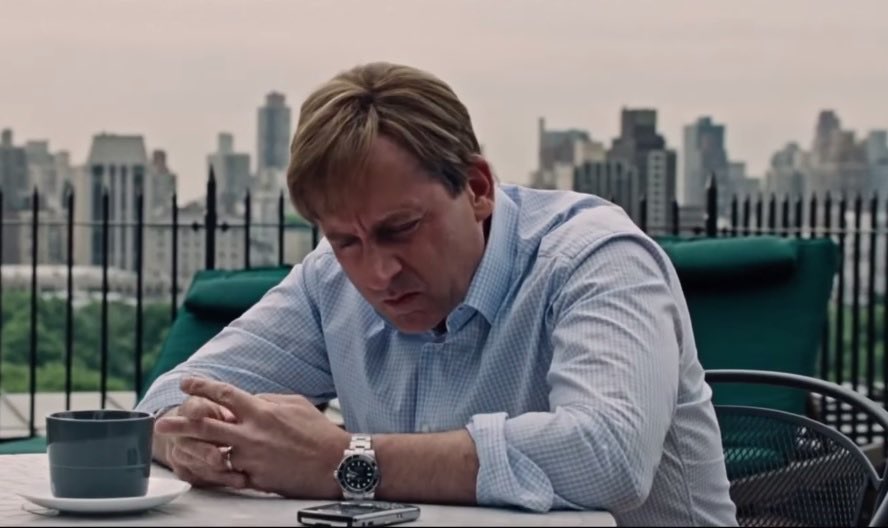 The Rolex Submariner Ref. 116610LN is a staple in the Rolex catalog, and as any watch enthusiast would tell you, the Submariner is the most well-known watch on the planet.
The Ref. 116610LN (Lunet Noir = Bezel, Black) is the first of the 'super' case Submariners, and features a diameter of 40mm. It is also equipped with the ceramic bezel (Rolex's Cerachrom) and Glidelock extension system on the clasp.
The more eagle-eyed amongst you might have noticed a bit of a problem. With the story of The Big Short set in 2008, how would Mark Baum be wearing a watch that was only introduced in 2010? Perhaps, the millions that Baum and his associates made bought him a watch that was only to be released years later…
What's more likely is that director Adam McKay and set decorator Mychael Bates made a small error. While most people would not even notice this, those of us that know, know.
Which Watch Does Ryan Gosling Wear?
Or should I say which watches… Ryan portrays Jared Vennett, a salesman from Deutsche Bank who sells credit default swaps to Mark Baum. Jared is a typical salesman, smooth, charismatic, and a tad cocky.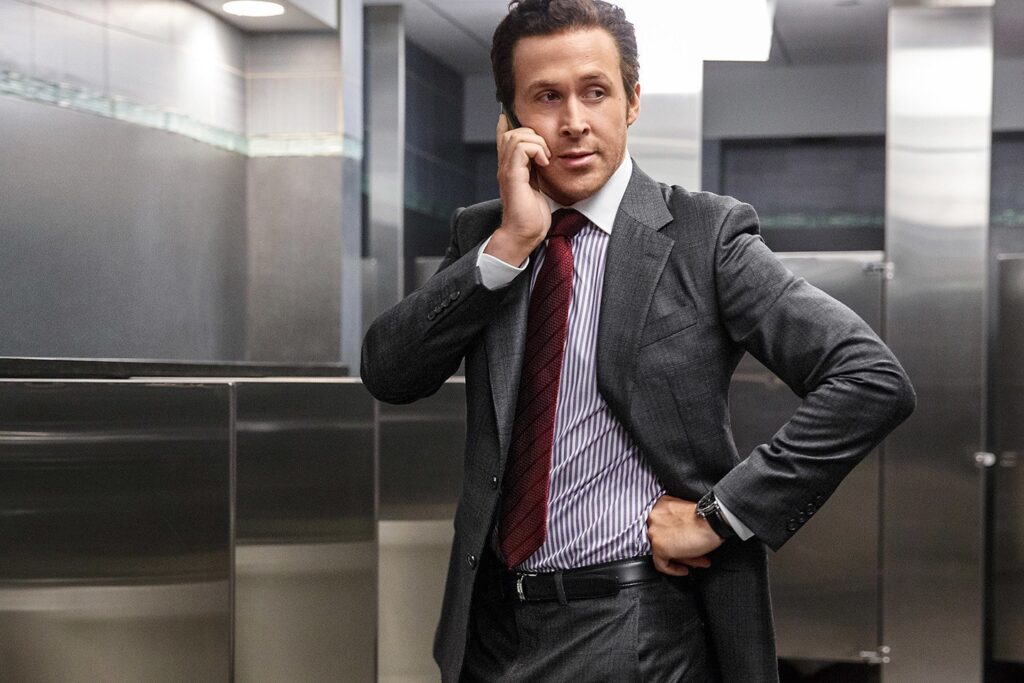 The IWC Portugieser Chronograph would fit his character, as the dress watch demands respect with a 41mm size that seems even larger due to a thin bezel. IWC did also have a fitting motto for the early 2000s, 'Engineered For Men', which also fits Jared's personality.
What does not fit his personality is the humble G-Shock. Ask any watch enthusiast which watch they have as a beater, the answer remains the same: G-Shock. No matter if your collection is based on mechanical Perpetual calendars or a myriad of Seiko divers, everyone should have a G-Shock – it's god tier after all, thank you, Nico Leonard.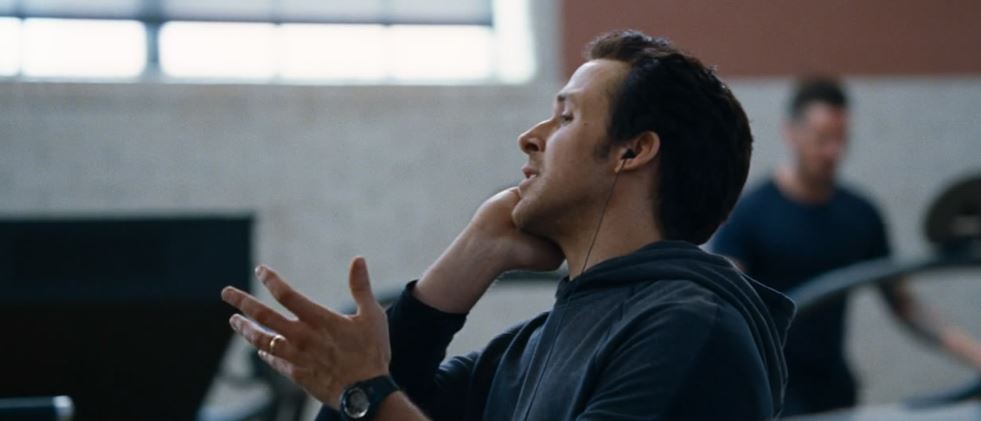 In the gym scene, Jared gets a phone call from Baum's associate, Vinny Daniel, to confirm the sale of $50 million Garibaldi BBB mortgage bonds. In this scene, you can see Jared wearing the G-shock G-2900. Unlike the cockiness of Jared, the G-2900 is humble, quiet, and at ease with being itself.
Other Watches Worn in the Big Short
While not every character might get the limelight in each film, we can still appreciate the thought and effort that goes into their watches.
Vinny Daniel's Rolex Oysterquartz
The Oysterquartz is perhaps one of the most curious watches in the Rolex history books. Introduced in 1977, the Oysterquartz was released in the famous 'Quartz Crisis era' that butchered the Swiss watch industry.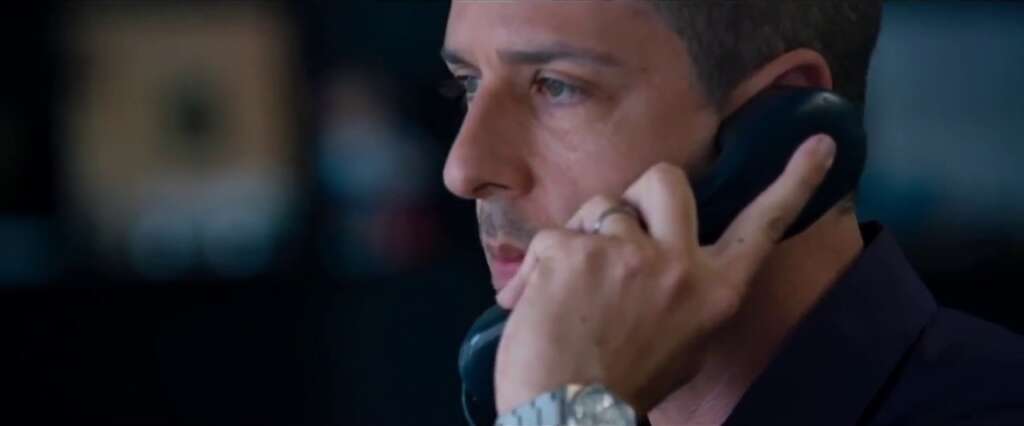 Anthony Bourdain's Rolex Datejust
One quirky feature of The Big Short is the short snippets of famous individuals (who have nothing to do with finance) explaining what exactly is happening in the movie. Let's be honest, do you know what 'subprime home loans are in danger of defaulting' means? I certainly don't.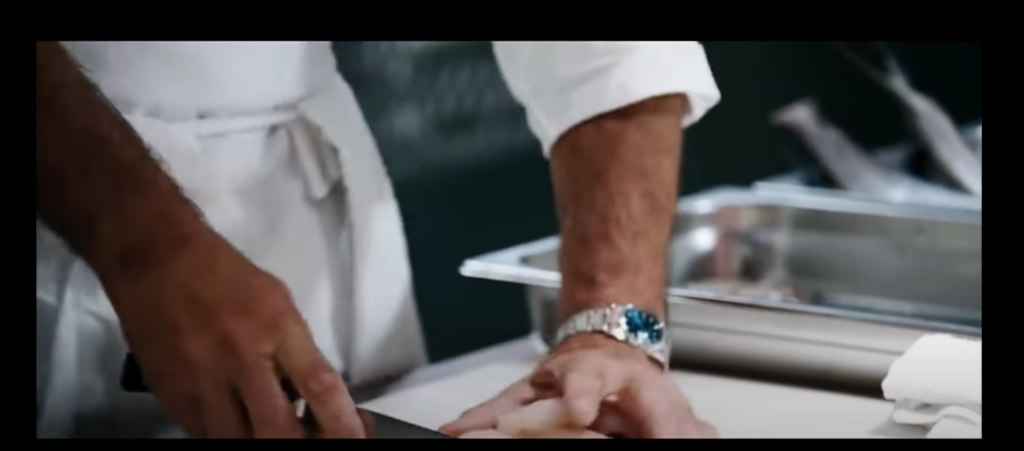 Featured image courtesy of Hodinkee.
Hunting for a robust and rigid outdoor watch? Make sure to read our review of the G-Shock Rangeman.