When Seiko came out with the Seiko 5, I think we could never have imagined how many great-looking watches they would produce.
The Seiko 5 family has become huge, affordable, and great-looking. And the SNKL23 is yet another example of a watch from Seiko you can buy for a few hundred bucks that look way more expensive than it is.
And given the popularity of this watch, I wanted to do a more detailed review to see what you get for your money and whether it's worth it.
Let's jump right in…
The Seiko 5 SNKL23 Features
No products found.
Of course, like with all Seiko 5s, you are going to get a certain range of specs from the outset (self-winding movement, water resistance, day-date window, a recessed crown, durable case, and bracelet).
But, this is more of a dress watch, so it also bends in that direction too. Here are the specs:
Seiko 7S26 Automatic Movement
Scratch-resistant hardlex
38 x 10.5 mm stainless steel case
Stainless steel bracelet with fold-over clasp/safety
30m / 99ft water resistance
Day/Date window at 3 o'clock (also black)
Recessed crown at 4 o'clock
The Dial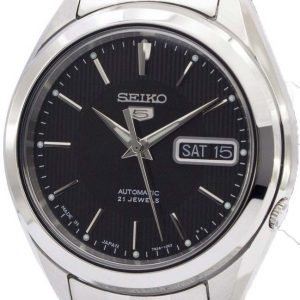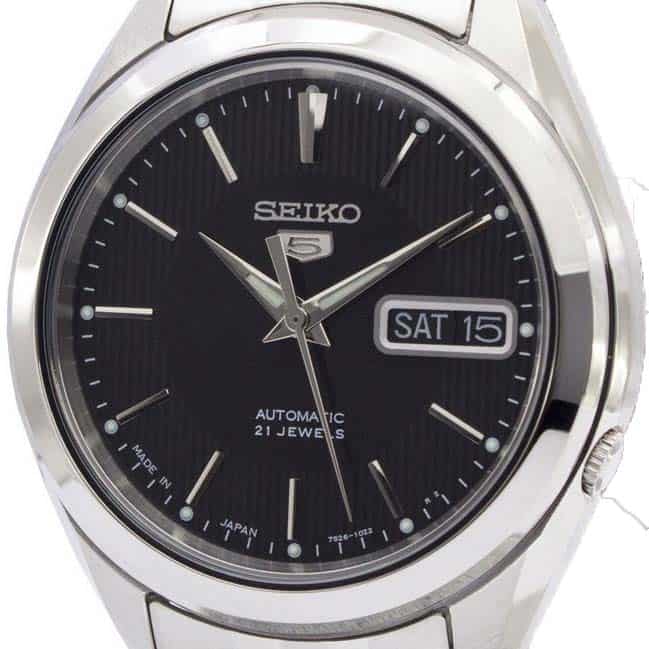 Black. With silver. That is the motif of this watch for sure!
The face is actually very black with a patterned background where the hour markers are. You can see it in detail in the second image.
The hour markers are simple oblongs overlayed on the dial background with lumed circles at their outer tips. The minute train is just a simple series of white markers interspersed by those hour lumed circles of course.
The hands are sharp and tapered to a point with pointy bases on the hour and minute, and a flat base on the second hand.
There is a small amount of lum on the lower potions of the hour and minute hands, which is probably enough when you are initially in low-light.
The day/date window is probably the most disappointing part for me. It looks a little cheesy or is it cheap? The thick border with the rounded corners just does not sit well with a dress watch for me.
For the rest, there is the usual Seiko 5 branding at 12 o'clock and the Automatic 21 jewels text at 6 o'clock. And the fine print of the dial and movement between the 5 and 7 o'clock markers.
The Case & Bracelet
The case is an overall 38mm diameter with approximately 11mm thickness. This is not bad for a dress watch with an automatic movement inside. Of course, many other dress watches would go for a quartz movement to make it even smaller, but that is another story.
The signature Seiko 5 placement of the crown at 4 o'clock is there and is also slightly recessed which is nice for not catching when sliding it under a shirt sleeve.
There is also a nice display back for anyone wanting to see how an automatic movement works. Of course, the powerhouse 7S26 movement is not the sexiest to look at, so you won't be using the back window often I think.
The bracelet is always a disappointment on any Seiko 5, and in this case yes – it is stainless steel with a full deployant clasp and safety. But the workmanship is a big low-end with folded-over, hollow links that are sometimes not the best quality.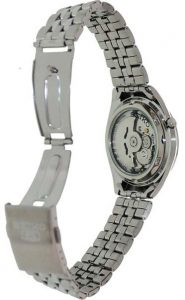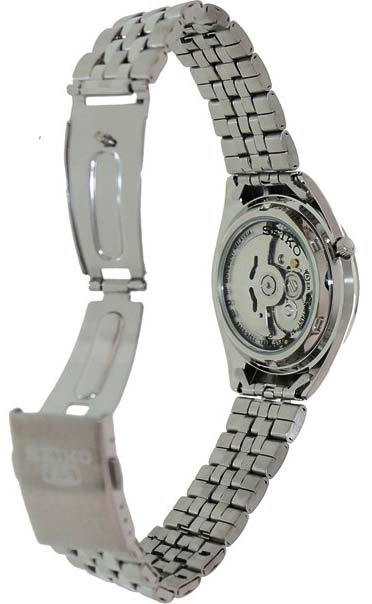 Most people choose to replace this with a Nato or leather strap as soon as they get it. They also look great on a silver/black watch like this.
The Automatic Movement
Seiko has to save some money somewhere on this super affordable watch and the movement is one of those areas. Sure, it's reliable and works well, but it just does what it needs to. It is the 7S26 movement with a day and date display, which if you think about it is also something that typically adds more complexity to the movement and should cost more.
Water Resistance & Dive Watch Specs
Water resistance is also "bare minimum" on this watch, but if you wear it to work, or out to dinner, it should not be a problem. Yes, you can get it wet, but I would not swim with it. It's simply 30m or 99ft which is one of the lowest on the water-resistance spectrum.
Should You Get The Seiko 5 SNKL23?
No products found.
If you are after a high-quality, affordable watch that also comes with an automatic movement, – Seiko's 5 range rarely disappoints. You get way more than what you pay for and this watch will last you for years.
However, the one thing you do want to consider is a new strap. Maybe it can wait a few months, but once you get the watch you can decide.