Akribos XXIV Watches Review
(Fashionable & Affordable)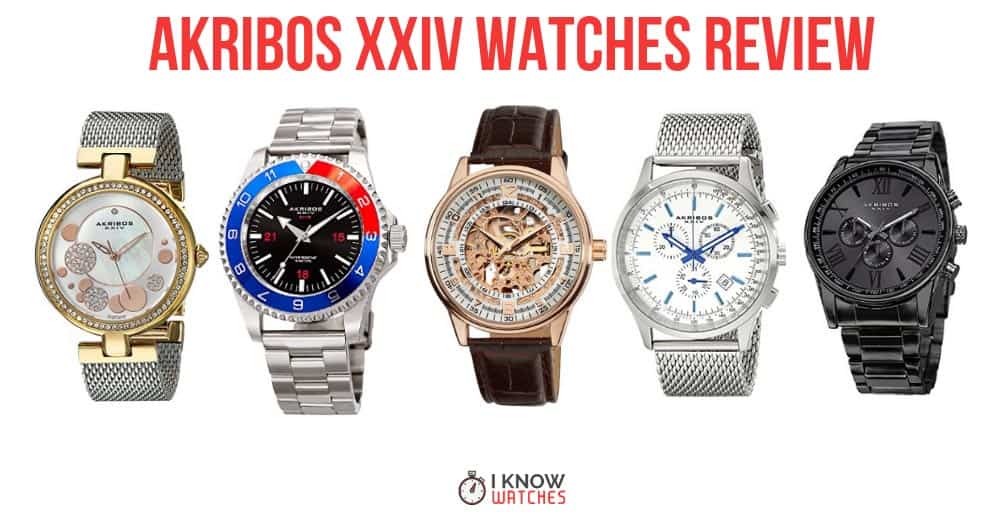 Akribos XXIV are not a brand most watch collectors will have heard of, but if you go online you will find them all over.
They are actually the sister company of a bigger brand out of New York, who also make affordable watches – Stuhrling.
Akribos is probably on the lower end when it comes to price though, so some of you might be celebrating when you see the price tags under one hundred dollars!
Of course, lower price means they have to cut corners – so you won't find expensive movements inside these watches, or sapphire glass on top. 
However, if the look of the watch is most important to you, then Akribos certainly deliver with a wide range of stylish and modern watches. 
Just be aware that you will find mixed reviews of the watches on Amazon, which kinda depends on your expectations – in my opinion. A fifty dollar watch is not marvel of engineering, so you won't find a perfectly formed strap with stunning detail on the face of the watch. However, many of them do have 4 stars or more on Amazon, so on average it seems most people are happy.
For a watch that you just wear occasionally, or depending on your outfit, it's a great way to mix things up without spending a fortune.
Below I have covered the biggest sellers from Amazon, to give you an idea of the kinds of watches they sell and which are most popular. I have detailed all the specifications I could find as well as outlining the most important information on each watch.
You can jump to the product page directly via the button below each watch.
This is an ultra-modern watch for anyone who loves…black. Yes, it's black steel bracelet and dial are almost 100% black, bar the center of the hour and minute hands. It looks very cool, albeit maybe a little hard to read in low-light. (more colors below)
It comes with a few surprising features like a Swiss made quartz movement, sapphire coated (so not 100%) mineral glass, and 3 sub-dials for the day, date and 24 hour time.
There are also some variations of this watch in terms of color, and style if the "all black" does not suit you.
You can see them on Amazon by click on the images below.
2. Akribos AK410 Saturnos
Another popular model is this Skeleton style watch showing the complexities of the watches working parts. It works well as a stylish dress watch, although a little large for some people, and has a handy series of numbered rings around the dial for hours, minutes and 24 hours.
It comes with an exhibition display back, which suits the "open view" style of the skeleton watch, and again surprisingly, it has an automatic (self-winding) movement and Stuhrling Krysterna crystal. Not what I expected at this price point.
It also comes in a range of colors and styles you can see (and click) in the images below.
Reminiscent of the Seiko Pepsi SKX009, a classic affordable dive watch, this model from Akribos will suit those looking for an even more affordable version of those Rolex Submariner style watches.
All stainless steel, with the red and blue "Pepsi" bezel, this watch ticks most of the boxes when it comes to a dive style watch. The bezel is unidirectional racheted, like you would expect, although it is missing the finer minute markers between zero and 15 minutes (you see on most other dive watches).
It has a simple Japanese Quartz movement, which helps keep it thin, but it is not automatic like the Seiko or Rolex. It also lacks a little in the water resistance department, with only 50m – which in reality is only good enough to "get wet" but not really for swimming, let alone diving. It is a dive watch in looks alone.
Note: It also comes in an all blue version, which you can see by clicking on the second image above.
4. Akribos AK625SS Chronograph

Where would we be without including a stunning looking chronograph in this review? This model from Akribos also seems to be selling like hotcakes (ok, it has 50+ reviews). 
I appreciate the clean white dial on this watch with the blue applied hour makers and hands. It adds an element of modern style to the watch, along with the mesh stainless steel band. It also features a date window at 4 o'clock and 3 chrono sub-dials (hours, minutes and seconds – which are easily set by the pushers above and below the crown.
5. Akribos AK521 Men's Ceramic Quartz
This watch is not one of the most popular styles you see online, but it seems to be selling well for Akribos. It features the timeless Cartier Tank style watch, which I have mentioned in a Seiko Tank review before. Princess Diana and various other famous people love it.
This particular model is available in three styles, 
Akribos have certainly not forgotten the ladies and this popular watch featuring mother of pearl on the dial is worthy of a look.
The style alone is very unique and Akribos have put quite some effort in with a Swarovski crystal-inset bezel, mother-of-pearl inner dial and a genuine diamond at 12 o'clock. The band is also a modern stainless steel mesh attached with a narrow lug at the center. And the sharp crown adds the final touch to the design.
There are no standout features in terms of the specificactions, with only a quartz movement and mineral glass, but that is more than enough given the stunning dial.
There are four variations of this model as well, which you can see below – and click to get to the product page.
7. Akribos AK872RG Women's Chronograph
The chronograph used to be very much a racing driver or pilot's domain, but not any more. They are also quite popular with both men and women, with casual and dress watches. This one from Akribos is a stunning rose-gold chronograph designed specifically for women.
Yes, it has a 3 sub-dial chronograph and a tachymeter subtly etched around the dial, but the stand-out is the crystal-embedded bezel. Depending on your particular taste, you can also get this in a variety of gold and silver combinations as well (see below).