Benyar Chronograph Review
Never heard of Benyar, or don't know much about them?
I didn't either. In fact, when I first heard of this watch company I had no clue at all.
Combine this with the stunningly low price of their watches and you start to wonder if these things even tick at all.
But, when you take a close look at the actual watches and what you get for your money (spoiler alert – you pay less than $50 in most cases, or less) you will actually be surprised. Or maybe even stunned. I know I was.
Sure, it's not a Rolex, or even a Seiko but the watches look great so the big question is…are they any good?
The Benyar Chronograph Features
In this review I will look at this specific model, but most of the comments apply to their whole range. I just wanted to use a specific example, their most popular on Amazon, to see what you get from such a cheap watch manufacturer
One of the simplest ways to assess such things is to see what you get in terms of specs:
Japanese Quartz Movement (probably Seiko)
Scratch-resistant mineral crystal (Seiko Hardlex)
43 x 15 mm stainless steel case
Genuine leather strap with pin buckle
30m / 100ft water resistance (splash proof)
3 sub-dial chronograph (minute, second, 1/10th second)
Date window at 3 o'clock
So, it's a little insane what you can now get for this little money. Comparable watches are many times the price.
With this watch you get a Japanese quartz movement, which will likely last you for years, as they are the kings of such things. The glass is Seiko Hardlex – which is one of the best scratch-resistant glasses without going for Sapphire which costs a fortune. And, because they use Hardlex, I wonder if the quartz movement is Seiko too. One youtuber I watched said it was, but I have not been able to get any specs on it.
You also get a functioning 3 sub-dial chronograph for stop watch style functions and a date window. As well as a genuine leather strap. 
And, even if you don't like this particular watch, they have dozens of other models on Amazon.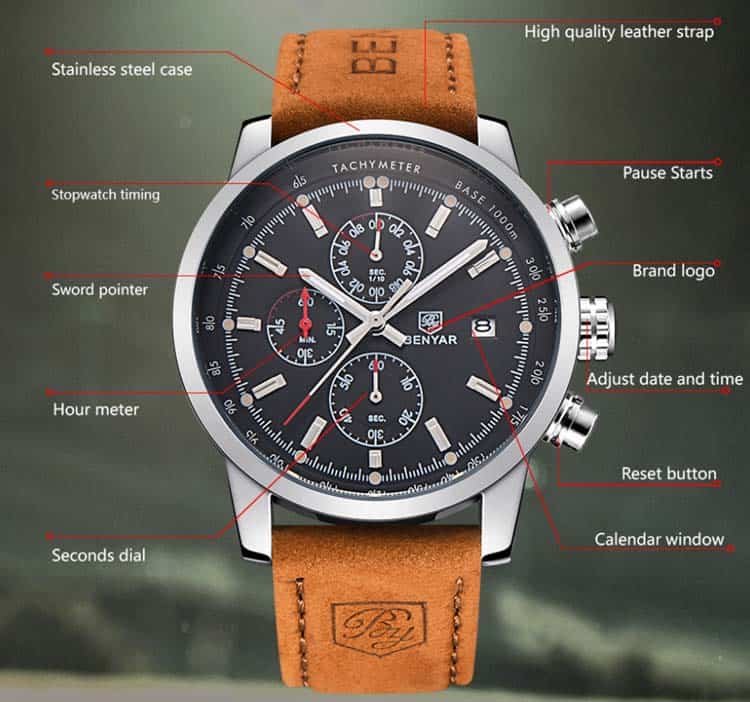 The Dial
This particular chronograph model from Benyar has a lot of nice detail. Starting with the 3 sub-dials for the chronograph, with 1/10, seconds and minutes, they have paid a lot of attention to the small things.
The tachymeter ring around the edge of the dial is also a nice surprise and gives the watch a stylish modern look.
I also like the touches of red on the seconds dial and the tips of the sub-dial and second hands. Such things always add an element of difference to the look of the watch. 
For the rest, there is nothing outstanding with the hands or the hour markers, but that fits the overall style of the watch.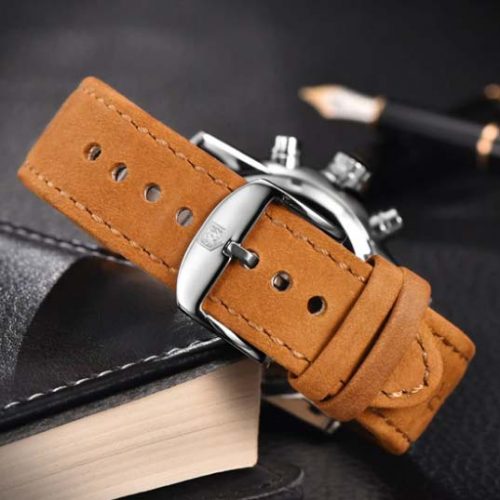 The Case & Strap
The one big thing you need to be aware of with this watch is that it sits quite high on the wrist. With a 15mm case, and 43mm diameter it is not the smallest watch on the market.
The stainless steel case and chrono buttons certainly make a statement, and help accentuate the stylish tan leather strap with a nubuck finish you either love or hate.
But, if you hate leather, Benyar also do this watch and it's brothers and sisters in all stainless steel too. So, don't be put off by the strap if you don't like or don't want leather. 
I have added it below in an image to show you. It's steel and a black face. Same watch fundamentally, but a totally different look, right?
The Rest Of The Watch
As I have mentioned before, you get a Japanese (probably Seiko) Quartz movement with this watch, so it is going to tick for a long while to come. All you will need is a battery change every few years or so.
The functioning chronograph is a nice addition to such an affordable watch. The only downside, compared to top-end watches is that the second hand runs on the sub-dial so is kinda hard to see. On more expensive watches, the second hand counter on the stopwatch will often use the main second hand, which is obviously way bigger and easier to keep an eye on, without needing to squint!
The last point I wanted to make was waterproofing. This is often a big question when buying a watch, and Benyar typically do the minimum. After all, they have to save money somewhere, right? You get 30m, which in waterproofing terms means splash proof. So, you can wash the dishes with it perhaps, but not go swimming.
Color Choices & Style Options
Benyar have gone nuts on the options they offer online, but of course not all of them are on Amazon. Still, a huge variety are. I have included some of them below. 
If one interests you, just click on the image and it will take you straight to Amazon.
If you are looking for a very very affordable watch that also has a modern style to it then Benyar is definitely one to consider.
Sure, they are quite cheap and not made by Rolex, or even Hamilton, but with quality Japanese parts inside and great reviews on Amazon, I don't think you will get much better for under a hundred bucks (or even under 50 in most cases).
Check out their styles above, click on over to Amazon and I am sure you will find one you like too.