Over the years, forums have provided an outlet for horology enthusiasts and watch collectors to discuss and share their passion for luxury watches. These discussion boards have flourished despite the upsurge in dynamic social media platforms. Perhaps unsurprisingly, these glorified chat rooms have given rise to lively trading communities. So in addition to sharing thoughts, information, and pictures, members of the forum can buy and sell among themselves.
Since watch collecting is an emotional and intellectual hobby, buying and selling on a watch forum makes the experience much more personable. Members share personalities and interests via their profiles. Buyers and sellers can also deal with more confidence and at less risk than on dedicated marketplaces.
Another win for forum trading is the ability to avoid seller fees. Platforms such as eBay may charge 10 percent of the selling price. Although the fee may be capped at a certain amount, the price point of luxury watches can mean a serious amount of money for every watch you sell. Additionally, eBay charges sales tax on sellers within the United States. Finally, other trading platforms add around 3 percent for processing fees through partners such as Paypal. And international payments will be subjected to currency conversion fees.
Most watch trading forums also have a space dedicated to sharing feedback for members they have interacted with. The feedback on forums is typically more astute and extensive than feedback on traditional trading platforms.
How Do Forums Work?
A watch forum may be owned by one enthusiast, a company specializing in large-scale online communities that attract brands to advertise and anything in the middle. Some one-man forums have actually grown into a platform owned by a professional organization. Regardless of the type, the forum's survival depends on active members that are committed to interacting on a daily basis in an intelligent and mannerly way.
Most watch forums consist of categories. Some are brand-specific such as a Rolex forum or Seiko forum. Topics will relate to the specific brands. Other forums embrace brands into a specific category such as "Haute Horlogerie" with brands such as Patek Phillipe and Audemars Piguet.
Any new post on a forum creates a thread. When you click on a forum name, you will see an index with all threads inside the (sub) forum. A thread may consist of only one post or dozens and dozens of posts. Most software used includes the number of posts inside the thread and the date of the last post. To participate in most forums, you have to register. For security reasons, you can stay anonymous to the outside world by using a nickname.
Buying and selling luxury watches on forums is a compelling option. Even if you don't end up trading, you're sure to gain much knowledge. Help keep watch forums alive by participating. Here are some of the best watch forums to try.
Reddit WatchExchange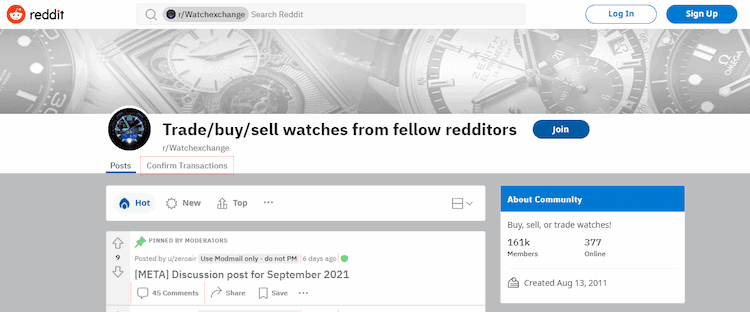 A relatively new watch trading company, Reddit WatchExchange is gaining popularity among watch collectors. The only requirement to sell is an account at least 30 days old and positive karma. Each new account gets one positive karma to start, and you can collect more with upvotes on posts and comments. Likewise, you will lose karma for downvotes.
As an advantage for buyers, every listing must include a photo with a handwritten note showing the date and the username of the seller. Reddit also has a mobile app that allows you to browse and reply to inquiries quickly.
Find the sales forum at https://www.reddit.com/r/Watchexchange/ and the feedback forum at https://www.reddit.com/r/WatchExchangeFeedback/.
Watchuseek Forums

Watchuseek has become the most popular dedicated watch forum in the world and gets the most trading activity. It began as a one-man show and grew to have over two million visits every month. Join discussions about watch collecting, watch winders, and more. All watch manufacturers from Casio to Rolex are welcome.
The watches are generally in the same price range or a bit higher as the ones on WatchExchange. To sell, accounts have to be registered for 90 days and have at least 100 posts. If you speed up posting, you will get banned. Watchuseek does this to discourage spamming to boost post count.
Watchuseek doesn't have a dedicated mobile app but it is integrated with Tapatalk a forum-hosting mobile app available from Google Play and the App Store.
Join the sales forum at https://forums.watchuseek.com/f29/ and the feedback forum at https://forums.watchuseek.com/f63/.
Rolex Forums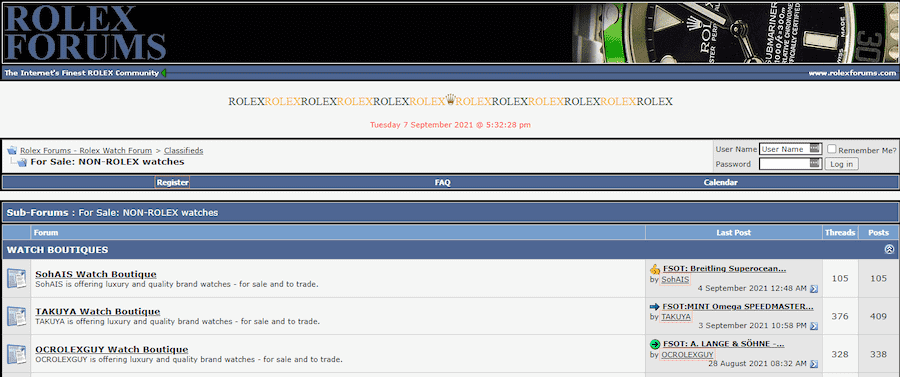 Rolex Forums functions much like Watchuseek by using vBulletin for an old-school-style forum and supporting mobile integration with Tapatalk. `The main difference is in the forum participants. That's because the watches sold on Rolex Forums tend to be much more expensive. It will be harder to sell your more affordable timepieces, and the forum is biased towards Rolex.
To sell on this forum, you have to become a pledge member by making an annual donation of $30. This higher barrier is not a big deal to serious sellers who enjoy the forum. Lots of reputable sellers list frequently on RolexForums. Buyers will most likely find what they are looking for if it is a mainstream luxury brand.
The Rolex sales forum is at https://www.rolexforums.com/forumdisplay.php?f=9 and the non-Rolex sales forum is at https://www.rolexforums.com/forumdisplay.php?f=40. Access the feedback forum at https://www.rolexforums.com/forumdisplay.php?f=28.
Omega Forum

The Omega Forum is less active than most other watch forums. Only around 10 watches are listed for sale each day. The forums are good for learning about Omega watches and other timepieces. And as the name implies, it's a good place to find an Omega-specific watch. It is free to join, but you must have 200 posts before being eligible to sell. Join at https://omegaforums.net/.