Casio are well known for their retro digital watches and everything that goes beep in the watch industry. However, they have been known to branch out and that is where you are in luck.
The Casio MDV 106 AV is perhaps the best low-end divers watch on the market. Built to last and loved by all who wear it.
This Casio MDV106-1AV watch screams Rolex Submariner. A lot of people complain when they see such close copies of the watch and other similar homages. But let's face it, very few of us can afford the real thing, or want to spend that amount of money on a watch. That is why this watch is so popular.
With a clear black face sporting very few useless markings, it is built for purpose. Simple circular lum markers with rectangular markers at 3, 6 and 9 o;clock. It is classic all around.
Of course, Casio have added a little branding with their name at the 12 o'clock position and a nice image of a marlin, with WR 200m at 6 o'clock. Casio seem to use the marlin to signify 200m water resistance and diving ready.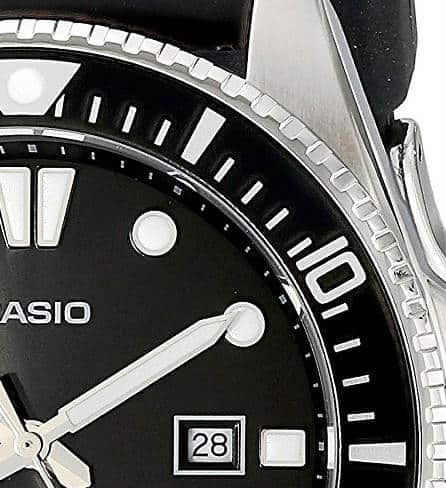 The Bezel
There is also a more subtle metal ring of minutes to help align the bezel to. Useful without being overbearing.
The MDV106-1AV bezel has simple 10 minute numbering with intermediate rectangular 5 minute markers and individual minutes from 15 minutes down. Something every diver loves to see.
The ring itself has a nice ribbed metal grip around the edge to help turn it with or without gloves on while diving.
The only disappointing thing, in terms of practicality, is that only the 12 o'clock position has a lum circle to help see the bezel position in low-light. Not ideal, but considering this is not a top end watch, it's adequate for sure.
Other Features
The rubber strap on the Casio MDV106-1AV is built to last and certainly nothing fancy, but for a divers watch designed to get wet, it's ideal.
Many of you will want to replace it with something more stylish, whether that is a metal band or something colourful like a Perl, Nato or Zulu.
The crystal is also not the same quality you would see on a high-end watch, but you expected that right? It is mineral crystal, which is more prone to scratching in the long run. But, on the plus side, unlike expensive sapphire (as used on Rolexs) mineral won't shatter. And in case you think, "yeah, right! Rolexs don't shatter" – look up Casey Neistat Rolex on Youtube and see how his Rolex glass shattered. So, mineral glass is not so bad after all.
As a 200m rated Casio dive watch it also has a screw down crown and caseback, which are great signs of a dive watch you can actually go diving with.
Size-wise, the Casio MDV106-1AV watch it's a little on the big side at 44mm. This might be a deal-breaker for some smaller waisted people (like me) or take a bit of getting used to. Although to be honest, most watches tend towards the big side these days. And this one has a nice curve to the body, to help it wrap around your wrist rather than stand out on the edges.
One positive is that having a quartz movement means it is quite thin at only 12mm. This is one of the great things about a dress watch, you can wear it under almost anything. So, if you plan on wearing this to work, a thinner size is a huge benefit.
And, it's also super lightweight and comfy to wear. The weight is actually a real bonus – this watch is an astonishingly light 3.25 oz. And considering the waterproofing and metal case, that is amazing!
In many ways this watch is simplicity at it's best, which is ideal for something you want to last.
There is a date window at 3 o'clock, but otherwise just a the classic 3 hand watch –  with hour, minute, & second function. By all accounts, the seconds keep very accurate time too (rarely needing adjustment to the second), according to reviewers on Amazon. Which is perhaps not surprising with a Casio quart movement. However, Casio themselves are a little more conservative giving it 20 seconds loss / gain a month.
The water-resistance is also quite impressive for such a budget watch. At 200m with the associated screw-down crown and screw lock back, this is a watch you can actually take diving. It's not just a name, like on a couple of other sub-200 dollar dive watches.
The bezel is uni-directional of course, which you expect on a diver watch. Some reviewers have complained it's a bit tight, but better that than a loose one in my opinion.
If you are after a long-lasting and quality dive watch that is usually way under 100 bucks, then this is the watch for you.
With 200m water resistance, a reliable diving bezel, glow in the dark lum and high level of accuracy, you honestly can't really go wrong.