Emporio Amani Watches Review
(Affordable Fashion Icons)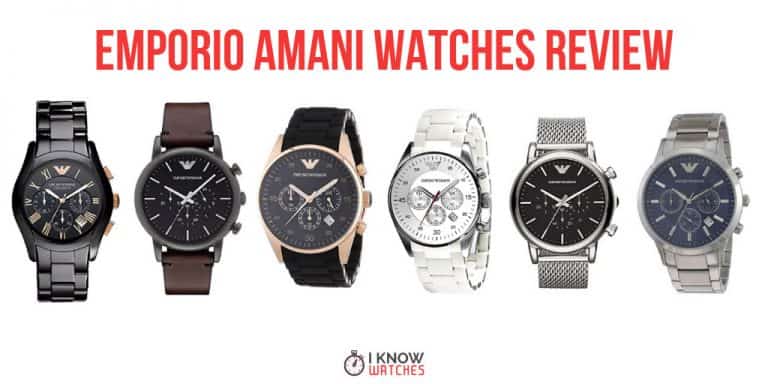 Armani, founded in 1975, itself is one of the most recognizable brands in the world and has a rich history of producing stunning products made from some of the finest materials. The clothing line is still seen as a status symbol these days and has been the epitome of high-fashion for many years now. But, it was only a matter of time before Armani wanted to go after the masses, and Emporio was born in the early 1980s.
The Emporio line proved to be a hit in Europe and other parts of the world so Mr. Armani decided to try to tap into the gigantic American fashion market. Thus the Armani Exchange was created in 1991 with low-priced, fairly basic products that were very affordable and had a very high-end name attached to them. The name alone most likely sealed the deal for them to break into the American market.
You can ask just about anyone you pass in the street and ask them if they recognize the name Giorgio Armani, and 99 of 100 will answer "yes". The man single-handedly revolutionized men's fashion and has made himself a household name in the last 40 years. It would be safe to say a foray into the more budget-conscious watch category should be exciting.
Keep reading to see some of the best watches available in the Emporio Armani collection.
1. Emporio Armani Ceramic Chronograph
(Ref: AR1410)
The first watch we are going to take a look at is the impressive and sleek looking AR1410 in the men's dress watch category.
Initial impressions of the watch are going to leave you thinking that this watch just exudes class. The blacked-out features are slightly accented with gold chronograph, hands, and Roman numeral hour markers. This particular watch is going to look good with just about any outfit you throw at it and will be an immediate confidence boost.
It has a near-perfect Swiss-quartz movement that is protected by a very solid ceramic case. The watch also has luminous hands for night time viewing, and a second hand to keep a more precise track of time.
2. Emporio Armani Silver Dress Watch
(Ref: AR1808 )

Next up we will keep in the dress watch segment, mostly because that is mostly what you are going to find from Emporio Armani.
This model has a very classic looking polished silver stainless steel bracelet and case that shines. The deep black face is covered by a mineral crystal and the silver hands and hour makers really stand out.
This watch is a steal at the price as it looks like something you would find in the collection of a wealthy celebrity. The borderless subdials add a little something extra and doesn't take away from the main draw of the face, the silver on black. You are going to have a tough time finding a more classy watch to wear every day.
3. Emporio Armani Black Steel Chronograph
(Ref: AR5905)

If something isn't broken, there is no point in fixing it, so let's continue on by looking at another chronograph that will leave you drooling.
The AR5905 from Emporio Armani is a watch quickly catches your eye with the use of rose gold accents on a very black band and face. The case and band are made of a very strong stainless steel to ensure the utmost comfort as well as protection for the movement.
Speaking of the movement, it is very precise Swiss-quartz for accurate timekeeping. The clasp is an easy to use push-button deployment setup. The AR5905 will stand head and shoulders above the mass of  competition on the market. 
4. Emporio Armani Men's Steel Chronograph
(Ref: AR2448)
This model from Emporio Amani is a little pricier than some, but still a very affordable and quality piece.
The AR2448 gets its look directly inspired by classic men's watch design with the silver and powder blue color scheme. It's the perfect watch for work, but also adds a bit of class on anything else you wear too.  Stainless steel is the material of choice for both the case and band, so you know you are dealing with a quality timepiece. 
The blue sunray dial is adorned by a three subdial chronograph and a date window that are all clearly visible. You will be reminded of the quality every time you look at it as the Emporio Armani logo will be looking right back at you. 
5. Emporio Armani Brown Leather Dress Watch
(Ref: AR1919)
This is a somewhat more low-key looking AR1919 dress watch from Emporio Armani, that will suit anyone with larger wrists.
It's perhaps not fair to say this watch looks low-key, it is just a little more reserved than other watches in their collection. This is the perfect watch for anyone looking for a quality timepiece that has a lot of prestige, but they don't want to show too much bling!
The case is made of quality stainless steel in powder gray and the strap is a very warm-looking brown leather. It has a great mixture of laid-back look with elegance and function. If you are looking for a watch that isn't too full of itself the AR1919 is right up your alley.
6. Emporio Armani Women's Two-Tone Watch
(Ref: AR1677)
You may have thought we were going to do a men's focused list, but it is all about patience with these things. 
This stunning two-tone model from the women's collection and it is a real eye-popper with its pink and silver color scheme. The case and band are made from durable stainless steel for comfort and protection. The case protects the precision Japanese-quartz movement and its delicate mechanics.
A two-hand display keeps your watch face clutter-free and minimalist with a small seconds subdial at 6 o'clock. This certainly adds something a little unique to this model.
7. Emporio Armani Men's White Chronograph
(Ref: AR859)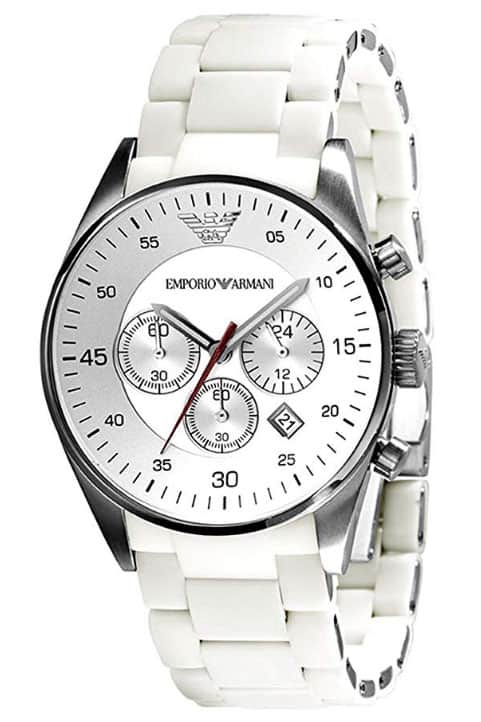 This model stands out a little from the rest with it's glowing white and silver combination.
It's a brilliant looking sports watch that is sure to stand out and go with just about any outfit you can throw together. The dial is an almost luminous white with a fine train of hour and minutes markers around the edge. The sub-dials contrast nicely in silver, matching the case and chronograph pushers.
And the final touch is the white silicon coated stainless steel bracelet which helps give it that modern sporty feel.
8. Emporio Armani Men's Dress Smartwatch
Last on our list of spectacular Emporio Armani watches is the ART5012 Smartwatch for those of you who are more technologically-inclined.
This gorgeous smartwatch is available in three different color schemes and is able to do a lot of the things you might only expect on your smartphone. The case is made of high-grade stainless steel to protect the technology that is inside. And, you also get a wonderfully soft genuine leather band.
Besides being a lot more technologically advanced, the ART5012 has the fine quality and craftsmanship you would expect to find in any product sold by an Armani brand. You could look at many different smartwatches in your travels online and never find another that comes close to the quality for the price.