Everybody knows the big names like Rolex, Omega, Seiko and the like. But in the world of watches, things run pretty deep.
There are dozens of known names and brands, many of which are own by multi-nationals. But the true craftsmen are often independent and still practicing the art of watchmaking that has been passed down for generations.
Because of the long watchmaking history in places like Switzerland, there are certainly a lot of them to be found there. However, don't be surprised when you read about some of the others, found in a variety of countries around the world.
Independent Swiss Watchmakers
Let's start at the home of watches, Switzerland. 
Other Independent Watchmakers
Some of the other notable independent watchmakers outside of Switzerland.
Roger W. Smith
An apprentice of sorts to Sir George Daniels, Roger W. Smith has learnt from the best. After winning awards at a very young age, he sort the approval of Daniels and later inherited his studio on the Isle of Man.
Smith, like Daniels, is dedicated to the art of singularly producing a watch by hand from start to finish. His creations are a sight to behold.


ROGER W SMITH LTD
PO Box 67
Ramsey
Isle of Man
IM99 4LN
British Isles
Phone: +44 1624 897943
Email:carolinesmith@rwsmithwatches.com
Grönefeld
The Gönefeld brothers hail from the Netherlands where they first learnt about and fell in love with watches. They both deepened their skills at the home of watches, Switzerland, and then later returned home to the Netherlands to start their own watchmaking business.
They now work together as independent watchmakers in Holland crafting watches worthy of anyone's collection.


Steenstraat 2
7571 BK Oldenzaal
The Netherlands
Phone: +31 6 206 246 73
Email: info@gronefeld.com
Wilhelm Rieber
Another solo master watchmaker, Rieber builds everything from hand and does not use CNC machines – at – all! Stunning.
He is famous for his Tourbillons, which are so complex, he can only produce two per year.
If you happen to get your hands on one of these masterpieces, count yourself lucky indeed!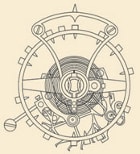 Wilhelm Rieber
Seehausstrasse 10
75233 Tiefenbronn
Phone: +49 7234 – 94 5775
Fax: +49 7234 – 94 5774
Email: info@wilhelm-rieber.de
Tutima
Making watches in Germany since the 1920s Tutima has since re-established themselves in Glasshutte, a famous watchmaking area in Germany.
In 2013 they started to produce some stunning new watches, including a repeater called the Hommage, which subsequently won the Couture Time award in the USA.
Tutima USA, Inc.
PO BOX 983, Torrance CA 90508
Phone: +1 310-782-3500 
Fax: =1 310-782-3501
Email: info@tutimausa.com
Kobald
Although they have only been around for 16 years, Kobold have made quite an impact. Their goal, which they have already surpassed, was to produce an entire watch case (the Spirit of America Automatic) in the USA. Something that had not been done for 39 years.
They have since firmly established themselve in Amish country in northwestern Pennsylvania, with a newly established HQ.  Watchmaking is making a comeback in the USA!
Interestingly, they are also working out of Nepal, producing leather straps for their watches.


Kobold Expedition Tools, LLC 
226 Buffalo Road North 
Washington, PA 15301 
U.S.A.
Phone: +1-888-SOARWAY
Email: info@koboldwatch.com