Edox Watches Review
(An Unknown Swiss Brand)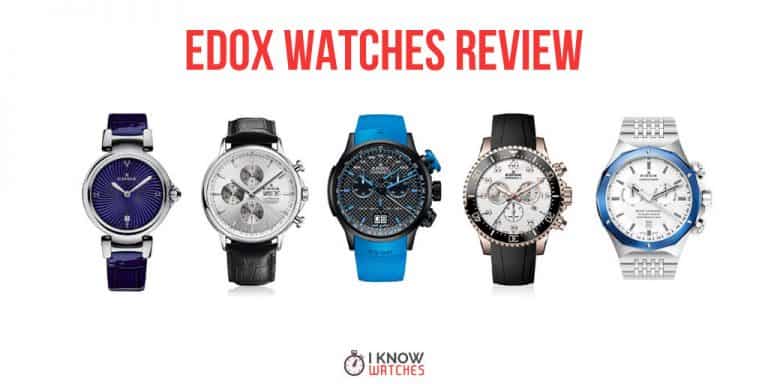 Edox has a long and storied history that goes back as far as 1884. The founder of the company, Christian Ruefli-Flury, was fascinated with timekeeping devices and developed some very impressive pocket watches at the time. He, unfortunately, passed away in 1921 and the company was brought under new management. This, however, turned out to be a very positive thing. The new boss ramped up production and started focusing on the newest trend of wristwatches.
When the 1960s rolled around Edox proudly employed over 500 people and were making groundbreaking advancements in the timekeeping industry. The company has continued to grow and improve ever since and is one of the most respected watch manufacturers in the world today. After all, you don't stay in business for more than a century if you aren't doing something right.
While not everyone is going to be in the market for a high-end watch, you couldn't get much better value for your money than with an Edox. A lot of their collection is now becoming very affordable for the general public. They still pride themselves on handmaking all of their timepieces, and it really shows with the end result. While a lot of their watches are going to cost you in the thousands of dollars, they do have some selection for those of you on a budget.
It is time to take a look at what this 130-year-old company has to offer after so many years to get things right.
1. Edox Delfin Analog Display Watch
The first watch on our radar is this gorgeous retro offering for men who want to add a bit of class to their wardrobe. This watch comes equipped with Swiss-quartz movement and Delfin Analog Chronograph for precise timekeeping.
If you have been looking for a watch that doesn't break the bank but looks like it does, this may be just the one for you. A very sleek silver stainless steel band really allows the powder blue of the bezel to stand out.
Along with everything else, it offers extra protection for the movement by the addition of a special type of case. There is a reason why this watch is so highly reviewed, as it is a wonderful accessory for any style of dress.
2. Edox Men's Dakar L.E. Black Watch
Next up is an absolutely stunning men's limited edition dress watch that is sure to please those of you with more refined tastes.
This deluxe watch is one of 1000 that have been made in a limited run and it screams rugged masculinity. The watch is made for a sportsman with a taste for quality in their accessories. It has a large diameter titanium case that is made to withstand some punishment.
The amazing look and strength of the watch are backed up by near-perfect Swiss quartz movement and analog display. If you are looking for a high-end sports watch you really can't get much better.
Continuing with the high-class trend we are going to take a look at this Delfin analog display touting beauty.
The watch comes equipped with Swiss-automatic movement that is housed inside an extremely durable stainless steel case for extra protection. It has a large sapphire crystal dial that is very easy to read. You are getting high-quality manufacturing at a medium quality price.
When it comes to style you are going to be blown away by this watch. A grey, almost black face and strap are accented perfectly with gold stainless steel bezel and the same color for the hands.
4. Edox Women's LaPassion Blue Watch
It is now time to change things up a bit and take a look at a watch from Edox's women's collection.
The gorgeous women's blue LaPassion watch is designed with class and style in mind and is built to the highest of standards. It features precision Swiss-quartz movement in a very lightweight stainless steel casing. The sapphire crystal dial is accented with a deep blue face
and surrounded by a stainless steel bezel.
This analog watch is going to be a must for any woman looking for a stylish and practical mid-range watch. The price is right for the average consumer and is guaranteed to be a hit. It is a timeless looking watch that will look great in any collection.
5. Edox Women's Delfin Swiss Quartz Watch
We are going to take a look at one more offering for the ladies, as they do have a smaller
collection available compared to men.
This stylish and classy looking women's watch uses a Delfin Chronograph to add to its
lustre. It is a very reasonably priced addition to any woman's jewellery box and can look
great with a variety of styles.
The watch uses a precision Swiss-quartz movement that is protected by a wonderfully retro
stainless steel case. The gold bezel and hands set well against the greyish black of the face.
If you are looking for quality on a budget, this is going to be a great option.
6.Edox Men's Les Bemonts Black Watch
Switching back to the more prevalent men's line we are going to take a look at this very
classy Les Bemonts watch.
The first thing you will notice about this watch is how elegant it looks; like it was made just to
be seen. A stainless steel case houses the Swiss-automatic movement and has a multi-
function chronograph to keep you within the second every time.
A soft and comfortable leather band makes this watch ultra-comfortable and you will barely
notice wearing it. If you have been looking for another mid-range watch to add to your
business collection, look no further.
7. Edox Men's Chronorally-S Sport Watch
Switching gears once again we are going to take a look at a sports watch that disguises itself as a dress watch.
The Chronorally -S sports watch is designed to be tough and rugged but also look like you could wear it to a fancy restaurant. It has precision Swiss-quartz movement housed in a stainless steel case to make sure it is safe and sound.
A standout amongst the competition with its style, the Chronorally -S looks amazing with rose gold chronograph and accents, ivory face and a  deep black rubber band. You will be very pleased with this watch at such a low price. It is difficult to get much better value anywhere online.
8. Edox Men's Chronorally Sauber Sport Watch
For the last watch on our list, we are going to take a look at another offering from the
Chronorally collection.
This particular watch has a very unique design that would be perfect for someone looking to
show off a bit. The Sauber F1 edition sports watch boasts a giant chronograph for very easy
and quick access to your features.
The dial is coated in an anti-reflective material that is going to make viewing in the bright sun
much easier on the eyes. If you are every worried about getting lost the electric blue strap is
going to make you very easy to spot. You will get a lot of attention if you are out sporting this
sports watch.