Seiko Flightmaster SNA411 & SNA413 Review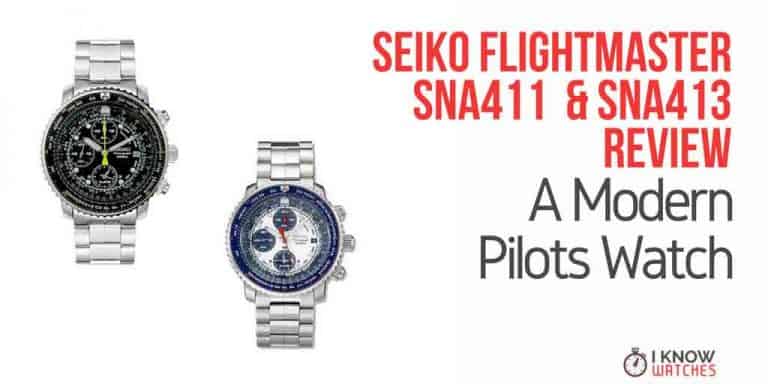 Pilot watches have been around since the second world war. They started out as a way to help pilots make simple calcuations like the turn-rate of their plane, but progressed to include more complex calculations and features as time went on.
Today the pilot watch has been taken to a new level by the likes of Seiko with the Flightmaster SNA411 and SNA413. They both feature all the things you might expect from a pilot watch like dual-timezone and alarm functions as well as an easy to use chronograph.
But let's take a deeper look at this aviation masterpiece and see if it is worth opening your wallet for!
The Flightmaster Features
The simplest way I find to asses a watch is to first take a scan of the main features and see if it lives up to my expectations. So, here are the most important features of the SNA411 at a glance: 
Seiko Japanese Quartz movement
Hardlex (scratch-resistant) mineral crystal
42 mm stainless steel case
200m / 660ft water resistance
Date window at 3 o'clock
Chronograph with 1/5 second increments
Dual timezone with 12hr alarm
Bezel with sliderule for complex calculations
As you can see, as far as Pilots watches goes, this one comes packed with features.
The Face
For such a complex looking watch it is hard to imagine it is easy to read, but surprisingly, you quickly get used to it.
The large hour and minute hands along with the bright yellow arrow second hand mean you can easily see the hands against the black face. The lumed hour markers are also helpful, despite the small arabic numerals only seen on a few of them.
I do find the date window to be a little on the small side, but let's face it, you usually only look at it once a day (if you have forgotten the date) and don't need to speed read it.
The chronograph dials are all well placed and easy to read too.
Around the edge comes the part that you either love or hate. The complex ring of sliderule markers designed to help you make calculations on the fly. Most people will never use this, as for most calculations you have to first learn how. But, as far as stylish looking pilots watches goes, this adds to the look for sure.
The Case & Strap
The all stainless steel case is very robust as you can see from the size of the bezel indents, and the crown and chrono buttons on the side.
This watch is meant to be worn and thrown around a bit.
It also features a hardlex crystal which is Seiko's way of making the otherwise scratch-prone mineral glass a little less so. They do a great job with this for their lower end watches.
The stainless steel band is nothing to write home about, but does feature a four-part linking which is a little more complex than the 3 you would normally see.
The clasp is quite thin (as you will see in detail in the review video above) but the addition of a safety clasp on the end perhaps makes up for it.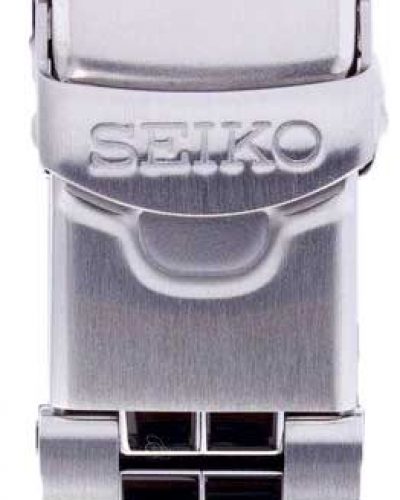 This pilots watch is meant to have a bit of heft, however the 42mm case diameter, with only 13mm thickness, is a little smaller than I would expect from such a busy-faced watch. After all, you need space to fit in all those calculation rings and the chronometer too. However, for small wrist watch wearers like me, this is perhaps good news.
The overall weight is also not bad considering the all stainless steel construction, although it doesn't have an automatic movement, which means it is bound to be a little lighter on the wrist. It weighs in at 6.4 oz.
Flightmaster SNA413 Alternative
For those looking for a little more variety, the Seiko Flightmaster also comes in a blue and white-faced variation, which is a little more light compared to the all black SNA411. 
The face and bezel are where you will see the biggest difference with the white inner dial, blue chronograph dials and bezel ring. The hands are white, with the second hand being the stand out arrow with red.
Which one you prefer, depends on your tastes of course, but the blue stands out and looks a lot more modern in my opinion. I prefer it.
The specs are the same though, so nothing really to report there.
The challenge is trying to find one online, so far Amazon.ca has had them, but otherwise you might have to head to a specific watch dealer or eBay.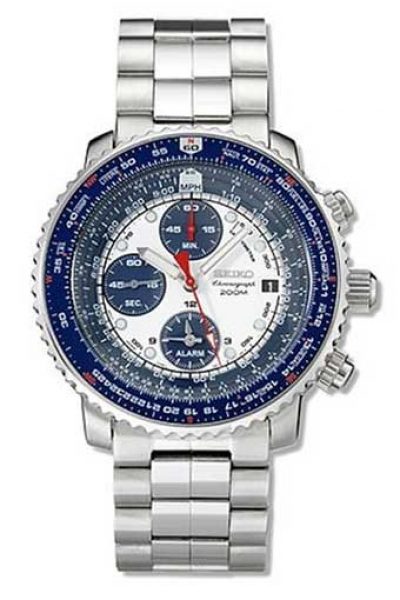 Seiko produces some of the best watches in the lower-end of the market (ie. not expensive Swiss watches) and the Flightmaster SNA411 is no exception. 
Built to be robus, with an all stainless steel design, long-running Japanese quartz movement and enough features to keep you exploring for hours, it's a purchase I don't think you will regret. The only question is, do you like the design?
See more details on amazon via the button below.