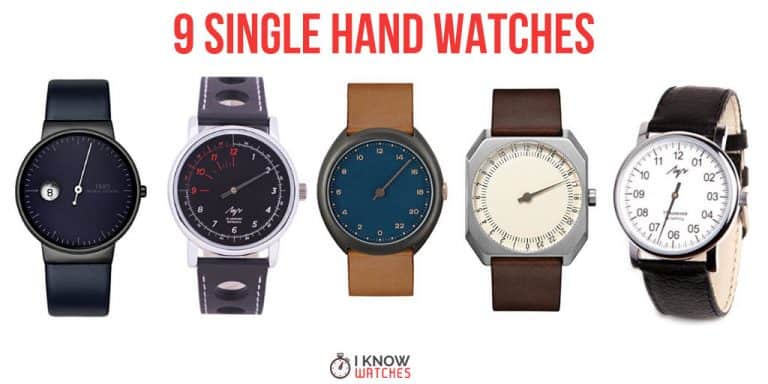 Single hand watches used to be very rare, but they seem to have become all the rage of late. Although, having said that, it is still not easy to find a single hander – because there are few brands who make them. After all, most people want a watch to tell time accurately, and a single hand often reduces that ability.
Of course, it depends on how the markers are used, and how many and how fine they go. Some are very accurate to read, while others, like the 24 hour watches, are far more approximate.
From the depths of the former Soviet Union in Belarus, to the blossoming German watch industry, let's take a look at the options you have for a one handed watch.
One of the first watches people think of when talking about one-handed watches is the Luch.  The brand actually goes back to 1956, and was one of the former Soviet watch makers which has since been bought by the Swiss company Franck Müller.
If you want a very affordable and simple example of a one-hander, along with something a little unique, the Luch is a great buy at under 100 bucks!
Of course, you get what you pay for and this watch, although robust, it is known for being quite inaccurate (they claim up to 90 seconds a day, but many owners say it is significantly better than that). However, given it is a tiny, manual wind watch, you can hardly complain.
This is another more sporty styled model from Luch, using the same 1801.1H in-house mechanical hand-wind movement. 
As you can see from the dial and strap, they have gone ultra-modern with this watch, with the fine minute/hour train around the dial, ending in a red 3 hour section. The hand is not as contrasting as I would like, given the black dial and the fact that a single hand watch is usually harder to read anyway.
The strap is also quite modern with a thick, stitched black leather with holes in it. 
This model also comes in a white variation, for those who truly want to stand out from the crowd.
3. Slow Jo 17 - One Hand Watch
Slow decided to create a watch to help us all slow down a little. We all try to keep track of time, down to the second, and race to our next meeting. But, with a single hander, displaying 24 hours, you are forced to take things a little easier. That is the intention of the Slow founders.
The Jo is one of their first watches and features an octagonal case, with a clean dial, single hand (of course) and a plain leather strap. Inside is a Ronda Swiss Made quartz movement, and the watches are designed and assembled in Switzerland.
There are dozens of models and variations from Slow, so if you don't like this one, dive in a find some more. I have included a few more below to help you get started.
4. Slow O 15 - Single Hand Watch
If octagonal is not your thing, then Slow also have an elongated round case that might suit you better. This model is called the "O", so an ode to simplicity begins with the name, right? They also have the perfectly rounded "Round" model, which you should also check out.
The dial is a subtle, patterned dark blue with applied rose gold colored markers, which match the crown nicely. The hard is a single width brown, which also works well with the brown leather strap.
Internally, Slow always opt for the Ronda Quartz movement to keep the time reliable and the case slim. It also helps keep the price a bit lower, with these watches well below the 500 mark.
MeisterSinger produces a whole range of single hand watches, albeit at a far higher price point. Most of their watches are between one and two thousand dollars, but the quality is certainly obvious.
The Panagaea is one of their simpler, more minimalistic watches with a stunning Anthracite sun-burst dial with easy to read white markers and Arabic numerals. The single hand is of course large and also white, with a sharp point helping to accurately tell time – at least as accurately as you can with only one hand!
Not only does this watch look stunning, but it also comes with top-end components like a scratch-resistant sapphire crystal, and a Swiss automatic, self-winding movement. The strap is also a white stitched black leather, which complements the dial well.
There are also lots of other models and variations available and I have included some below for you to check out. Just click on the image or button to see the details.
A testament to the creativity of the new era of Chinese watch makers, this single hander from IBSO is a bargain at way under 50 bucks. 
It is perhaps a bit too much of a challenge to read with no numerals, but the white hand is certainly well contrasting. The concept with this watch is a little different to your typical one handed watch. The hand tells the minute, and the pointer at 9 o'clock has the hour and half hour shown in the window. So, maybe the minute hand is not so important after all?
I have reviewed Skagen before, and they certainly know how to produce minimalistic watches. So, it is not surprising to me that they also have a single hander, albeit hard to come by.
This women's model (there is also a men's) is truly elegant and modern with a clean white dial and simple round crystals for hour markers. The rose gold case is a curved, round shape with protruding lugs and a thin gold crown. The strap, matching the overall elegance, is in leather – thin and simple.
The only downside I see with this particular model is that there are few markings to help discern the time, other than very very roughly. So, be sure to have your phone as a backup in case you need to catch a train!
If you want a little luxury in your life, then Jaquet Droz is a brand that can certainly help. With their 18-carat gold-plated case, hand and buckle, along with the deep black Grand Feu enameled dial, you know you are getting something beyond the norm.
They have also gone even further outside the box with their single hand model here, as this watch keeps 24 hour time. So, not only does it make you see time a little differently, it actually keeps track of the whole day. Giving you a true overview of the hours, as they elapse. 
The price of these watches might come as a shock to many though, being somewhere between 10 and 20k!
You can get certified pre-owned models on Amazon, or go to the manufacturer themselves, although keep in mind they are in the watch-making area of Switzerland.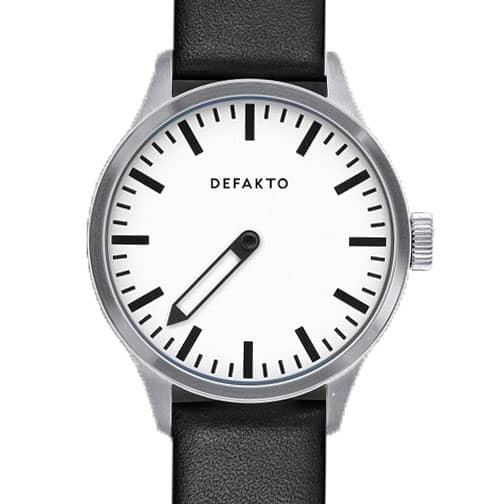 The German brand Defakto makes a few one hand watches. This model, the "Eins" (one in German) is one of their simplest and more like a Swiss train clock (if you have ever seen Mondaine clocks or watches).
The large clock-like black and white hand and simple black hour markers scream clock face to me from a distance. The thick silver case and simple black leather strap help to accentuate the overall feeling too.
You can only buy this watch on the Defakto website or sometimes Ebay, so it will have to be shipped from Germany I believe.