Skmei Watches Review - Cheap Or Junk?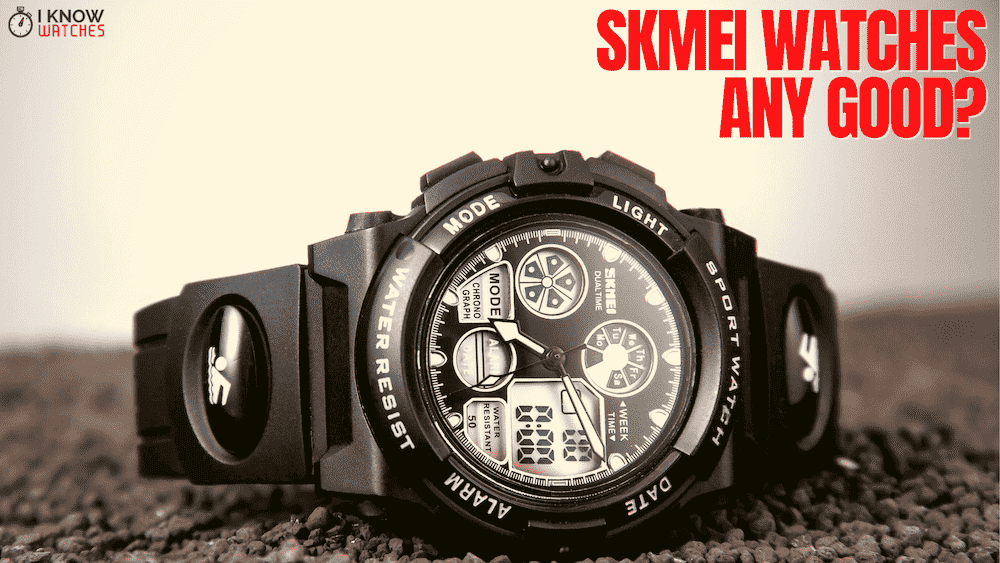 You are more than likely here because you are wondering if a watch as cheap as a Skmei can actually be any good?
Ok, just so we are on the same page here – this is not a Rolex watch by any means. In fact, it is not even a Casio or Timex, which are also very very affordable.
Skmei make some of the cheapest watches on the market – BUT, that does not mean that they don't work.
They are based in Guangzhou in China, but are actually huge. They produce dozens of different models ranging from digital and dress watches, to smart watches and pedometers. Skmei is one of the most prolific watch makers in the low-end market.
So, I have already told you that you are not getting a "known" brand when it comes to Skmei, but they are still reliable and often great looking. 
I was quite dubious when I came across them, but almost all the reviews I have read are positive. Sure, some people complain about some minor issues, but for usually under $20 what can you expect from a fully functioning watch. Perfection? No way. But a decent watch for a few ten buck notes? Yes sir!
Just take a look at this dress model below and some of the reviews from Amazon, it gets 4 out of 5 stars for over 1600 reviews, and is one of the best selling models they have (Note: the brand name on the listing says the wrong thing, but it's Skmei if you look at the watch). That is kind of nuts for such a cheap watch, right?
What Do You Get For Your Money?
So, everything says these watches are decent for the money. And that they look great and work.
But, the next big question (for me at least) is what do you actually get for the money.
Again, this is a Chinese made watch, so you are not getting Swiss Made parts, but they are decent. After all, think about how many other Chinese made products you own, and how long they have lasted (despite the cheap price). Most of the time they are decent (think of DJI Drones – the best consumer drones in the world, they are all designed & made in China).
In terms of parts, this is generally what you get for your money with Skmei:
Chinese made Quartz movement (some may be Japanese)
Mineral glass / crystal
30 – 50 meters waterproof
Zinc Alloy with steel coating OR ABS for most plastic watches
Bands vary: leather, steel, rubber
All in all, most of the parts are the same materials you would get on a more expensive watch. And in fact, it is worth noting that Skmei are a supplier to other brands, so don't be surprised if your more expensive designer watch (not a watch brand like Tissot) is made by them in part or completely.
Now let's take a look at the kinds of watches (there are a lot) you can get from Skmei.
Men's Quartz Watch With Date
Let's start with the watch I mentioned above, which comes in a few colors so you can choose the one that suits you best.
It's a stunning looking watch with bold Roman numerals around the face and thin sword hands to give it that touch of elegance.
The case is simple, round and stainless steel with a standard round unsigned crown at 3 o'clock. It comes with a date window, which although small, is enough to get you to appointments on the right day.
The band is crocodile pattern leather with a simple buckle to keep it in place.
Men's Digital Sports Watches
Skmei also makes a lot of great looking "Casio" style digital sports watches if that is what you are looking for. 
This particular model is very much like the G-Shocks from Casio with a big, robust case and crown protection. A thick PU rubber band will keep it on your wrist and allow you to get it wet. Just keep in mind that at 50m water proof, it is not designed to swim in.
There are also a boatload of functions on this watch including: Stopwatch, Dual Time Display, Independent Alarm, 12/24H time, Calendar by Day Week & Month. It also has a backlight for using in dim or dark lighting.
This is a great example of the simplicity and elegance that Skmei have been able to achieve. 
Reflecting the good old Bauhaus designs from decades ago, this watch is very understated. Very light hour markers with fine black minutes. Tapered black hands and a perfectly round and uniform, square-edged case. It is definitely super-modern in terms of style.
There are a few different leather hands you can choose from as you can see from the images above.
Men's Digital With Large Display
This large display digital is a winner all around. Most people are rating this at 4-5 stars. 
It's super lightweight, as it's almost all some kind of plastic or resin. Which for a sports style watch like this is perfect.
There are lots of functions you will use like: Stopwatch, World Time, Summer Time, 3 Alarms, 12/24 hours, Time/Week, Calendar, EL Backlight, Countdown. Although some depend on the exact model, so be sure to read the specs fully.
The only downside of this watch, and I think the reason some people don't give it 5 stars is that the alarms is way too soft. So, if you are buying it as a wake up call, you might want to rethink this one.