Stauer Watches Review
(Very Affordable, Swiss-made)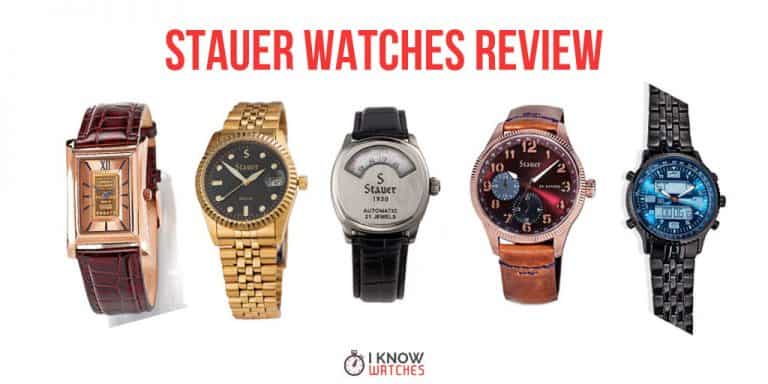 Michael Bisceglia, the president and founder of Stauer, decided back in 2001 that people were paying way too much for gems and jewelry after purchasing a bracelet as a gift for his wife. He couldn't understand why he was being charged so much for the bracelet, so he made it his mission to find a less expensive way. That all culminated while he was visiting a local jeweler in Bali and asked him to replicate that overpriced silver bracelet with blue topaz. The cost for the piece was a fraction of what he had paid, so he wanted to make sure that he took the idea and ran with it.
Stauer is a different type of watch company as they purchase their stones and jewels in very large quantities for very low prices. They do not do wholesale themselves, so no overhead in that regard and they produce all of their own stuff. By keeping everything in-house they are able to keep the prices where they are supposed to be.
The idea of Stauer may have started from a simple bracelet, but it has expanded over the years to become something much bigger. Stauer watches are known for their high quality compared to much more expensive offerings, and they have many satisfied customers across the globe. Keep reading to see some of the best men's and women's watches that Stauer has to offer.
1. Stauer Swiss Noire Bienne Watch
(Ref: 60505)
The first watch we are taking a look at is the timeless looking Swiss Bienne that is exclusively made in Switzerland. A decade ago you would never dream of getting such a quality timepiece for this kind of price. The gold-finished stainless steel has a classic look that is going to go with any business or dress attire you select. It really looks like you are carrying the price of a used car on your wrist.
The black dial, hence the Noire in the name, looks perfect with white and gold-trimmed alpha-style hands, as they stand out well. If that wasn't enough, the hands and hour markers are luminous for better viewing at night time. The Swiss Noire Bienne gives you a glimpse of luxury on a budget. You will be hard-pressed to find a Swiss-made watch of this quality anywhere else.
2. Stauer 1930 Dashtronic Watch
Next up is a very interesting and unique style piece with the Dashtronic with automatic
movement. This watch is a real throwback to the 1930s, which was a pivotal decade in
watchmaking technology and innovation. The jumping display was quite popular back then
as it didn't use traditional hands to tell the time, it used a wheel with the numbers printed just
like a regular clockface.
The Dashtronic actually uses a modern automatic movement and just disguises it as a
jumping display, which makes it a great choice for anyone wanting to add something unique
to their watch collection. It is going to be tough to find another watch that looks like this and
still functions as a high-quality watch should. Stauer did a great job bringing back the 1930s
with the Dashtronic.
3. Stauer Men's X-Ray Automatic Watch
Here we have another unique offering from Stauer with an x-ray style watch, or skeleton watch in some circles, that looks absolutely fantastic. The look of the watch harkens back to a time of mechanical innovation where people were proud to display their prized machines. Rose gold-colored stainless steel wraps the watch dial with various metallic tones throughout all the mechanisms that look dazzling.
It also comes with some top-notch functions such as a sun/moon phase, which is not always cheap. Although I have reviewed some affordable ones before.
If the gorgeous mechanical view wasn't enough, you are going to be wrapped in comfort with a crocodile embossed leather band. This watch looking like it costs thousands, when in fact it isn't even close to that price. If you want a watch that is going to make you look like you have some real style this x-ray watch from Stauer is going to be perfect.
4. Stauer Men's Metropolis Watch
We are going to go in a completely different direction now with the futuristic-looking Metropolis digital watch. There is a lot to like about this watch that will make you look, and maybe even feel, like a superhero. It is a hybrid-style chronograph that gives you both digital
and analog movement. It is not easy to find a watch offering both of these types of movements at such a low price.
This watch is designed to be futuristic looking as well as tough and comfortable, it covers all the bases. The digital screens are LCD and offer calendar options with the month, day, and year. The analog movement does not interrupt the digital display with very well designed
hands. If you need a watch that is going to stand out and stay strong the Metropolis should be on your radar.
5. Stauer Men's Alta Gold Ingot Watch
Here we have an absolutely brilliant-looking Greek-inspired watch that is actually Swiss in design and movement. The Alta is unique as it has a real 1 gram ingot of gold in the center of the face that was actually issued by Credit Suisse. While there is a lot of mythology surrounding gold in history there is no myth about the quality and design of this watch. It is built to look good and function even better.
The square design of the case flows perfectly into the genuine leather band so the watch really looks like one symmetrical piece. It is a minimalist design that is going to set off any outfit you decide to put on. The rose gold coloring shines in the light and really helps the watch earn its Gold Ingot name.
6. Stauer Men's Evergreen Diver Watch
For number six on our list, we are going to take a look at a very charming and unique diver watch from Stauer. The Evergreen Diver watch looks like it is made for a diver with the metallic green dial that gives the odd feeling of mint or even peppermint patties. The green is a great background for the gold hands, numbers, and hour-markers. Everything really goes together nicely and looks sharp.
The watch really means business without a lot of extra features, just a date window at 3 o'clock so you know what of the month it is. This is really meant for serious divers as it is built to take a fair bit of pressure. If you are looking for a new watch to add to your diving collection the Evergreen is going to add a bit of originality and function.
7. Stauer Men's Bimini Watch
We are going to take a look at the Bimini watch next, which has been inspired by watches from the military in the 1940s, as well as a name fondly remembered as Papa. This watch, being designed with Papa in mind, harkens back to days of fishing off the boat and drinking unique cocktails with anyone who would join. It is hard to explain the color of the dial, it is a shade of red that just seems to change as you look at it.
The Italian leather band is gorgeous with its cognac brown color and really adds an air of sophistication to the timepiece. The rose gold finish on the case and bezel are the perfect pairing for the metallic red dial. You are not going to find a more functional and unique watch anywhere at this price point.
8. Stauer Men's Magnificat II Watch
We saved one of the best watches for last with the Magnificat II as it gives you a very high-end looking piece at a very budget-friendly price. It starts with a gold fused case the looks very elegant. The dial is your basic white with black hands, numbering, and hour-markers to make it very easy to read. The bezel and crown stand out wonderfully from the band and dial and look like they cost a lot more than they do.
If you are looking for a dress watch to wear to those important business meetings or romantic nights out, the Magnificant II will give you a sense of confidence that spending thousands can, but will be well within a reasonable budget. Give yourself a bit of luxury with your watch without overspending, you cannot go wrong with the Magnificat II from Stauer watches.