Are you thinking about getting the Timex Expedition Scout watch? So, you probably want to know everything about it before you go and add another wristwatch to your growing collection. Well, you are definitely in the right place – we can tell you all the little details, both the good and the bad ones.
The Expedition Scout watch is one of Timex's all-time best sellers. It's almost as popular as the iconic Weekender, and you can actually check out a detailed comparison of the two Timex watches I did a while back.
At first glance, it looks rather plain. Such a simple watch. So why in the world is it so popular? The affordable price tag is one reason. And all the others are explained in this detailed review!
Timex Expedition Scout Features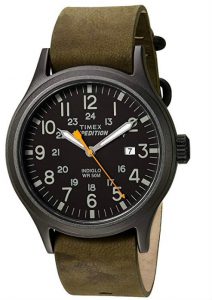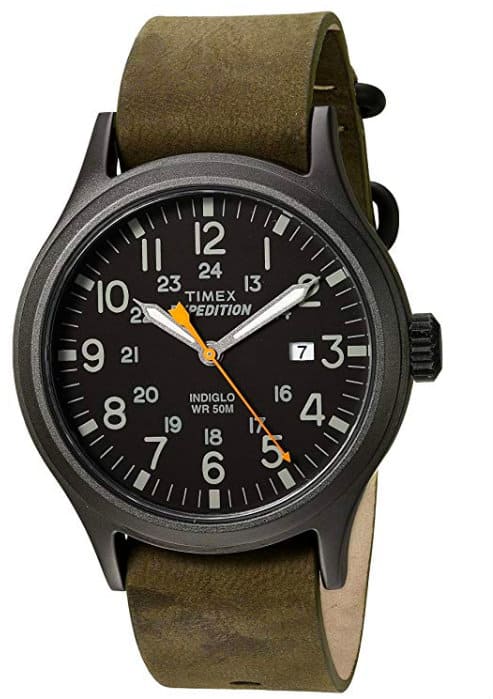 In this review, I will be talking about the Expedition Scout 40 mm version. But, you should know that there are a lot of different versions of this watch. The Expedition Scout collection mostly features different options for the size of the dial and the material of the strap. We're focusing on the 40mm dial, but I'll tell you about all the strap options that are available as well.
There is also a version of this watch that has a Chronograph, but I won't talk in detail about it in this particular review. Feel free to check it out on Amazon though, if you are interested.
Right now, you can check out the specifications of the regular Expedition Scout 40 mm watch:
Analog quartz movement, battery-powered
Mineral crystal glass
40 mm brushed/polished brass case
Nylon strap; leather strap; nylon strap with leather trims – all with pull-through buckles
50m / 165ft water resistance
Date window before 3 o'clock marking
24hr time markings
Push/pull crown at 3 o'clock
One thing that's not listed above but is certainly worth mentioning is the price of the watch. It alone is a good enough reason to grab the Expedition Scout – it's currently discounted, and some versions are even below $40. If you've been wanting this one for a while, now is really the perfect time to pick it up – it's a steal!
The Dial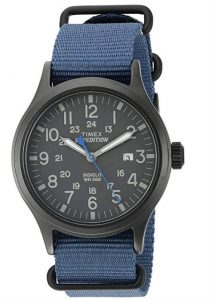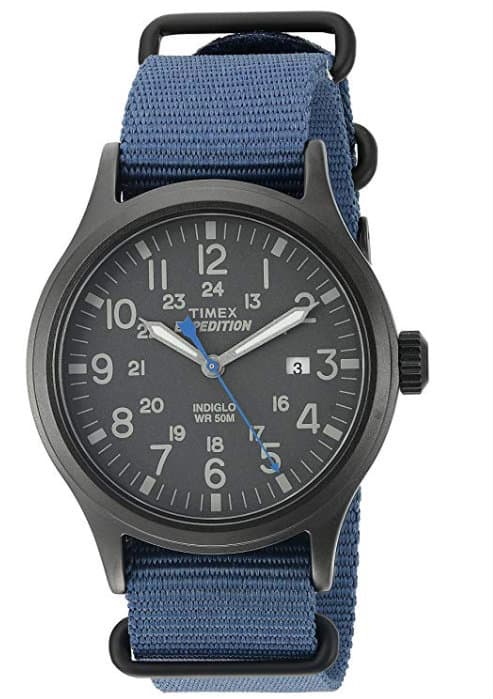 The dial of this watch comes in several different colors, depending on the color scheme of the watch you go for. This also means that the colors of the markings and hands vary, so be sure you actually like everything about a version of the Timex Expedition Scout before you purchase it.
The time markings are applied, and there are actually Arabic numeral markings for hours 1-12, with the addition of an inner circle with military time hour markings. The face of the watch is easily legible in normal daylight, but it doesn't really have any improvements that help you see the time clearly in really bright sunlight.
The hour and minute hands of the watch have a sword-style design, while the seconds hand is shaped like an arrow. And that one is always a different color from the first two hands, and actually stands out against the color of the background the most.
Unfortunately, the seconds hand doesn't really match up with the markings. I know some of you will find that frustrating, and so do I – especially because it is long enough to nearly overlap with them. You had one job Timex!
There is also a date window on the dial, just before the 3 o'clock hour marking. It is pretty small and really subtle – there's a good chance you won't notice it if you don't know it's there.
And here's how you adjust the date – pull out the crown all the way, then push it back all the way, and then just pull it out one click. That should allow you to change the date when rotating the crown.
The Case & Bracelet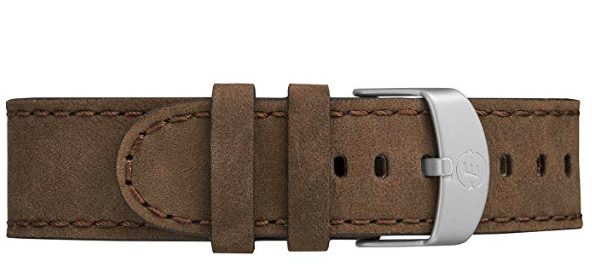 The case of this watch is made from brass. Depending on which color you pick up, the finish can either be polished or matte – go for your personal preference obviously. If it was up to me, I'd pick up the matte one because scratches are less visible on it. The width of the case is 40mm in this particular version of the Scout watch, and its thickness is about 11mm.
The lug width is 20mm, the same as the bracelet. And the lug to lug measurement comes it ad 49 mm, which is decent.
One thing to keep in mind is that this watch was actually Timex's response to people wanting a larger version of the Weekender. That one was really popular, but many found it too small to the 38mm width of the case. The Expedition Scout is, therefore, wider, and looks better on larger wrists. But it still fits people with smaller wrists nicely, which is the perfect middle ground.
The case is covered with mineral crystal glass, which is a good mid-range option. It has great scratch resistance, but not really the best impact resistance. Your watch will easily come out unscathed from a duel with your keys, but not really from a fight with the corner of the table.
There are three types of bracelet for this particular version of the Expedition Scout – a nylon bracelet, a leather bracelet, and a nylon bracelet with leather trims. Each type has its upsides and downsides, but it largely depends on your personal preference and what you are using the watch for.
Nylon bracelets are the most durable option. Wear and tear are virtually non-existent with them, and they perform really well in water. If you need proper sports to watch, then this is the best option for the bracelet. But they look kind of cheap.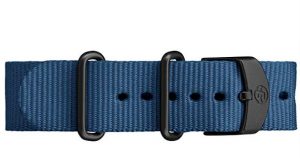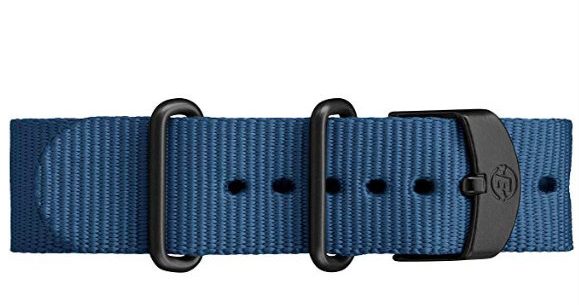 If you want your Expedition Scout to look more elegant, go for a leather bracelet. It gives the watch quite a different look, but it won't really last you as long as the nylon one. However, you can easily replace it, and a new one costs only about $15-20.
And the last bracelet type is nylon with leather trims. The trims are between the lugs, and I am personally not a big fan of this look. The loops that you pull the strap through are also made from leather in this variant, as opposed to brass on the plain nylon watch. With this bracelet, you get the durability of nylon and a dash of elegance with the trims.
All of the bracelets feature a buckle closure and are 20mm wide. The buckles feature single pins and two loops that secure the strap in place. One obvious advantage of these types of buckles is that they are super easy to adjust, thanks to the many different pinholes. The band actually measures 8-9.25 inches (depending on the material), so it should be long enough for everyone.
The Quartz Movement
The Expedition Scout watch has quartz movement. No surprises there, especially considering its price point.
Quartz movement has the benefit of being the most accurate, in terms of tracking time. Plus, it is battery-operated, so you won't ever have to wind your watch. And you also don't need to wear it all the time in order for it to work, which I think that really is the best option for this type of field/sports watch. It gives you the best performance since you don't have to worry about your watch stopping working when you need it the most.
Over time it will become out of sync, but you can easily fix that with the push/pull crown. And on that note – one thing that a lot of people complained about on this watch was the quality of the crown. It appears to be fragile, and many people reported it breaking off or falling out, so try to be gentle with it.
You will also need to replace the batter eventually, in about a year or two. Unfortunately, the watch doesn't have an end-of-life indicator as the Victorinox Maverick does, so you won't really know it needs replacing until it stops working.
Water Resistance & Dive Watch Specs
This is by no means a diving watch, but it does have some specs that most traditional diving watches do. One thing I find interesting is that it actually has a brighter lume (or rather a backlight) than the Victorinox Maverick does, which is actually categorized as a diving watch.
But need to be careful about here is buying second-hand Expedition watches, especially if you really want the lume (Indiglo). The Timex website actually allows you to design your own Expedition Scout watch, and that is cool. You can wind up getting someone's rather unique watch. However, Indiglo – Timex's lume technology – is not included in the watches by default.
You actually need to pay an additional $10 for it if you want it in your Scout. So, not all previously owned watches will have it, and be sure to check for it (it will be indicated on the dial) if you don't want to get a brand-new watch.
Indiglo is more of a backlight than a proper lume, since only the face of the dial is filled with it. There no lume in the time markings or the hands, so keep that in mind.
The Expedition Scout is waterproof, but only up to 50 meters (165 feet). That works for rain, showering, even casual swimming, but definitely not for diving. It is not something I see as an issue, since this isn't a diving watch in the first place.
And if you planning on getting your watch wet, I strongly recommend picking up one with a nylon bracelet. They hold up much better when they are exposed to water than often and will last you longer than leather straps.
Final Impressions Of The Timex Expedition Scout 40mm Watch
The Timex Expedition Scout watch is a simple watch. It is designed for people who are constantly moving, and who need something reliable and easily legible. And those people benefit from the convenience and accuracy of the Scout's quartz movement.
It doesn't have the best lume or the most luxurious straps, but it is a really good watch for the price. It's a perfect gift for your annoying teenager and a great going-away present for a sibling who's heading to college. Also, it's a must-have for any collector because it really embodies the Timex design. But also because of how insanely popular it is.
Is it the best watch you'll own? No. In fact, chances are you will wind up replacing it sooner than you would like. But if you need a new watch and you need it now, but you can't afford to spend more than $50, then this is the one you should pick up.