Victorinox Maverick 241602 Review
A Swiss Made Military Watch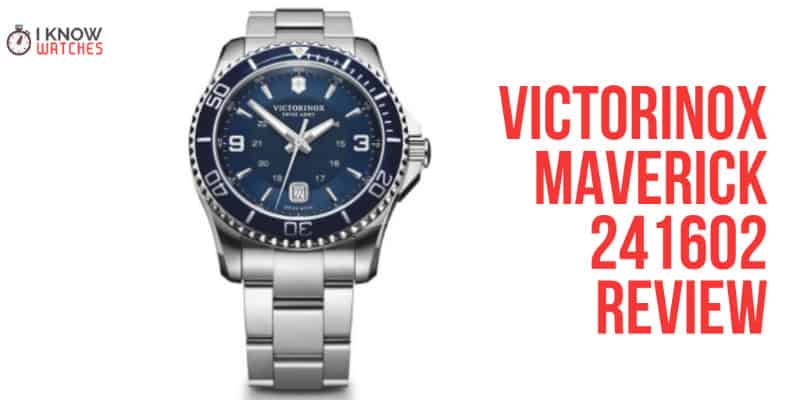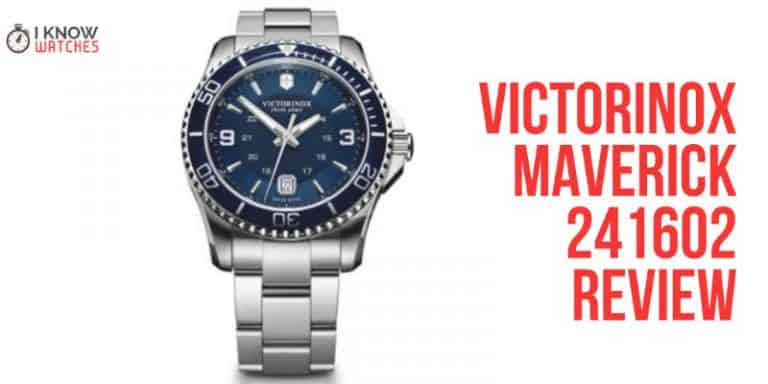 You really want a Swiss Watch but can't afford a really nice one? Then the Maverick Large is a great option for you!
It is a Swiss made military watch, made from stainless steel and sapphire crystal. With a really attractive price tag!
Victorinox made several different Maverick watches, and I will tell you all about the Maverick Large (quartz movement) in this detailed review. So if that's the one you've been eyeing, you are definitely in the right place!
Wondering what makes this watch tick? What other materials it is made of? And whether or not you can really use it as a diver's watch, like Victorinox advertises it?
You'll find answers to all of those questions in the rest of this review.
The Victorinox Maverick Large Features
The model of the Maverick watch I'm reviewing here is the "large" version. To be precise, it is model Ref 241602.
This is one of the more affordable variants of the Maverick watch, but not necessarily the best one. But if you're not in the mood to spend more than $250 on a watch, then this is just the right model to look at. And that's Amazon's pricing – at Victorinox, you'll have to pay twice that. So, bear that in mind.
One of the first things Victorinox tells you about the features of the Maverick is that it is a "Swiss made diving watch". I'll tell you a bit later why I have some serious issues with that. For now, you can check out the basic specs of the Maverick 241602 right here:
Analog quartz movement, battery powered
Sapphire crystal
43 mm stainless steel case
Stainless steel bracelet with double-locking deployant safety clasp
100m / 330ft water resistance
Date window at 6 o'clock
24hr time markings
Push/pull crown at 3 o'clock
Yeah, there are probably some hints there as to why this Victorinox watch is not a really good option if you want a great diving watch.
The Dial
The dial of the Victorinox Maverick watch is blue on this particular model, but not in all versions of the watch. But apart from the color of the dial and the markings, all the other features are nearly identical.
 The time markings are applied, not raised, and they actually have a 3D effect to them when the light hits them properly. The hour markings have Arabic numerals for the 3 and 9 and batons for the rest. Except for the number 12, which is replaced with Victorinox logo, and the number 6, which has a date window in its place. And it actually looks pretty good, at least to me.
On the inner portion of the dial you have 24 hour (military time) markings. There is also an outer ring, which features second markings. So, the dial of the watch technically consists of three separate rings – the second markings, the hour markings and the military time markings. The middle ring is of a slightly lighter shade of blue than the other two, which helps it stand out and get noticed more easily.
The hour and minute hands are rather thick. Which makes perfect sense, since they are filled with lume. The second hand is pretty thin, like a needle. And you will probably find it satisfying that it hits all the second markings perfectly.
The dial is protected by sapphire crystal, which is probably the most expensive material in this watch. But I'll tell you more about that in the section below.
The Case & Bracelet
The case of this watch is made from some really good materials – especially for the price. It is made from 316L stainless steel, which is both brushed and polished, in certain areas. It is covered with sapphire crystal, which is one of the best features of this watch.
The crystal is scratch-resistant, and features a three-layer anti-reflective coating. Which does its job perfectly – the dial is easily legible even in direct sunlight. Additionally, sapphire is really durable and impact resistant, and it holds up really well even if you wear the watch every day. It makes your Maverick laugh in the face of the accidental bump against a corner.
One thing to keep in mind is that the case is pretty big – at 43 mm it is not really the most flattering option for people with smaller wrists. The case is 10.9 mm thick, with the width of the band measuring at 20 mm.
The back of the watch has a screw-down caseback with a sunburst effect, while the push/pull crown has an engraved Victorinox logo. The case of the watch compliments the dial nicely, and the overall effect is elegant.
The bracelet is also made from stainless steel, and it features a double-locking safety deployant clasp. It takes some time getting used to this mechanism, if you haven't owned a watch with it previously. But it is pretty safe, and ensures that your watch will never get undone accidentally and fall off your wrist.
One thing to keep in mind is that only this particular model of the Maverick sports a stainless steel bracelet and blue dial. Others have either rubber or leather bracelets, and dials of different color. Keep that in mind if you're interested in the black or brown options of quartz Maverick.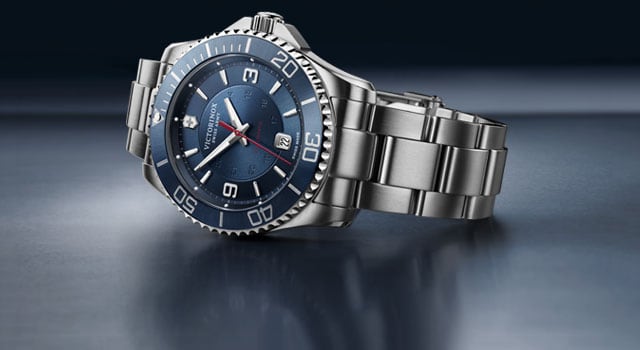 The Quartz Movement
The benefits of quartz movement are obvious – it is by far the most accurate for time tracking. Plus, you never have to wind your watch and you can decide not to wear it for a couple of days, and it will keep ticking. Something that you don't have with automatic or mechanical movement watches.
But the downsides are also obvious. The battery will run out eventually, and then you have to take it to a watchmaker to have the battery replaced, and that's a whole different issue. Well maybe not if you like doing that. But if you're a regular person, I bet you'll find that task tedious and that it will take forever for you to get to it.
So, is it worth it to sacrifice the convenience of an automatic watch for the accuracy of a quartz one? For me, it is. The battery can last for years anyway, so it's not like you'll be running around having it replaced twice a week. More like twice in a decade. Plus the Maverick has an end-of-life indicator, so you will be able to plan the visit to the watchmaker's in advance.
And there is another in-your-face advantage of quartz watches, and that's the price. The difference between this watch and the automatic Maverick is some $500, which is pretty steep. But it's up to you to decide whether or not paying that extra money for the smoothness of the automatic movement is worth it.
Water Resistance & Dive Watch Specs
What makes a good diving watch?
For me, it's lots of loom, a unidirectional rotating bezel, decent water resistance and a screw-down crown. The Maverick Large checks only one of those boxes – it has a unidirectional rotating bezel which performs as you would expect it. Since it rotates only counterclockwise, you can't accidentally bump it underwater, which is crucial.
The lume, on the other hand, is so weak that a hamster could beat it up. Jokes aside, only the handles and a tiny circle above the 12 o'clock marking have any lume, which is pretty disappointing. So, if you can't tell time properly in the dark, why would you use it as a diving watch?
Probably because it had really good water resistance. But the Maverick underperforms in that aspect as well. It is water-resistant only up to 100 meters, which is only half of what you usually see on diver's watches.  Orient's Mako II, in comparison, is resistant up to 200 meters and has some really strong lume – like a proper diver's watch should.
And there is also the push-pull crown, which is the least of Maverick's problems. It makes sense that this is the design they chose, because the quartz movement of the watch means you don't need to manually wind it.
That is not really a big issue – the main reason why people prefer the screw-down crowns in the first place is because they feel more secure and water-resistant. It's not like you will accidentally pull out the crown while you're underwater, when it takes a lot of precision to do that even when you're just sitting at your desk. Plus it is protected, so no water will be able to get inside your Maverick watch.
Here's the thing – if Victorinox just called this a water-resistant military watch, I would have zero problems with it. It looks good, it has lots of features for an average watch and it has a really attractive price tag. But defining it as a diver's watch and then skimming on the features that are actually important to divers? That's a hard no for me.
Final Thoughts On The Victorinox Maverick Large Watch
So what does everything I've told you add up to? Here's what I think; if you are in need of a new diving watch, then this is not the right choice for you. With weak lume and below-average water resistance, the "diving" adjective feels out of place next to the Maverick noun.
You're better off getting the Mako II, and for a much lower price.
But if diving is not your thing and you are just interested in the Maverick as a watch you would wear daily, then feel free to get it. The sapphire crystal case alone is reason enough to get this watch at its current price tag, and you will worship it every single time you accidentally bang your wrist on the desk.
Plus not to mention the stainless steel bracelet with a double-locking deployant clasp, the accuracy of the quartz movement and the overall elegance of the watch. It is a great wristwatch – just not for scuba diving.