Timex Waterbury Review
Timex loves making simple, elegant, and long-lasting watches.
It seems to be their calling in the watch industry. Add to that the very affordable prices of their offerings, and it's no surprise that t a lot of people swear by them.
The Waterbury Collection was released to celebrate the 160th Anniversary of Timex, which back in the day was actually called the Waterbury Clock Company (based in Waterbury Connecticut).
It is a homage to an era of vintage watches that were also quite simple and timeless. This is perhaps why Timex was attracted to the look and added it to their catalog or classics like the Weekender, Expedition, and others.
The Waterbury Features
The Waterbury is in many ways a very simple watch, with a clean dial and very few notable features. That is kind of the point. It is not quite as minimalistic as a Bauhaus design, but almost. Timex likes this kind of thing, and it reminds you of their origins making watches back in the war for the military.
For those wanting to know the size, materials, and water resistance, here are the specs:
Quartz Movement
Mineral crystal
40 x 12 mm low lead brass case
NATO Nylon strap (18 mm) with buckle closure
50m / 165ft water resistance (splash-proof)
The Dial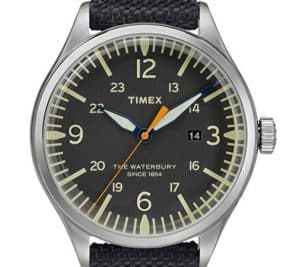 I don't want to go on about this, but this watch is very minimalistic in its design.
It has a brushed green dial with gold Arabic numbers and simple rectangular hour and minute markers around the edge.
Timex has its usual logo at 12 o'clock and the Waterbury reference (and the founding date of 1854, now that is a while back) at 6 o'clock.
The hands are simply pointed affairs, with a slight lum down the center, and the hour being on the larger size (depending on which other watch or manufacturer you compare it to of course).
See Prices On Amazon
The Case
The case is simple stainless steel with a plain round shape and curved lugs that fit an unusual 18mm strap. The crown is an unmarked and clean design, also following with the same gold as the case.
The edge of the bezel has a slight angle to the outside rim, and the dial is well recessed inside. The case is relatively slim, of course, because the watch houses a quartz movement. So it measures only 11mm, which puts it in this dimension at least in the dress watch category.
The overall case diameter is a bit larger though at 40mm, so for some, it might be too large for a dress watch.
The Quartz Movement
It comes as no surprise that a watch this affordable has a quartz movement. I certainly don't find it a bad thing as they are far easier to live with (no winding) as a daily watch. They are also thinner and easier to maintain too.
The one downfall of this watch (and my mother's Swatch if I am honest) is that it ticks like crazy. So, if you are someone who likes pure silence, like me, then this watch will drive you insane.
Water Resistance & Dive Watch Specs
With 50m (and on some Waterbury models 30m) you get basic waterproofing that allows you to NOT be paranoid about wearing this near water (but not in it). What I mean to say is that it's splashproof.
Don't go swimming, diving, backflipping off the diving board. It won't survive. Or, if it does, you will be one of the lucky ones, and don't do it again.
Timex Indiglo
Timex is famous for the Indiglo for a reason. It's cool. It's still hip. And it works like a charm.
Don't worry if your watch has been in a drawer for weeks and not seen the light of day. Just press the crown and you will get backlight like crazy. Easy to read in the dark, and always reliable!
This is what it looks like…
See Prices On Amazon
Color Choices & Style Options
The Waterbury is not just this model. Timex has taken the collection and added and improved on it since its initial release a few years ago.
The first included one with chronograph & date complications, which still has the same aesthetic, but of course, the dial is a little less minimalistic.
They also have one with just a date and a variety of colors – including various straps (Nato and others). They have certainly not been sitting around twiddling their thumbs, lacking in ideas.
Below you can see some examples. If you click on them it will take you to Amazon where you can see how much (how little) they cost.
Should You Get The Timex Waterbury?
There are a lot of different and classic-looking models to choose from in the Waterbury collection and they all pay homage to a simpler era of watches. Clean dials, easy-to-read numbers, and cases made to last.
Timex has always been about durable daily beater watches that you can wear anywhere, anytime and it will always run.
The Waterbury is just that but with a slightly different look.
Click on the link below to see what options you have when buying a Waterbury from Timex…
See Prices On Amazon