Timex Weekender Review – Simplicity At Its Best
It's no surprise that the Timex Weekender is a classic watch for those with a budget. 
A US based company, Timex have been battling competitors in the watch industry since the 1800 (back then it was clocks) and have had some landmark relationships and watches in that time, including the famous Micky Mouse watch.
They survived the quartz watch onslaught on the 70s and are now powering ahead again under new management (albeit a Dutch-owned multinational these days).
The Weekender comes in quite a few styles and sizes, but it is the timeless leather or nato strap with the clean face that I absolutely love (and will focus on in this review).
What is not to love: This watch goes with almost any kind of outfit, with an easy to  replace band, 30m water resistance, and it is made in the USA. A rarity these days indeed! Especially with the influx of all those Chinese watches on the market.
Now, let's take a closer look at the Timex Weekender in this detailed review.
With either a white or black face, and an easy to remove strap, you can great endless combinations of the weekender. You get one strap with your purcahse, but you can add endless straps later – ultimately turning this watch into dozens for the price of a simple Nato, Perlon or leather strap.
Timex Weekender With Various Straps
There are also different size and model options, so be on the lookout for the exact one you want.
For example, there are both 38mm and 40mm models, with the intention being – larger faces for larger wrists (usually on men, although not mine!).
Timex Weekender Chronograph
There is also a chronograph version, for those who don't like the simplicity of the plain black or white face.  It comes with three sub dials and can measure up to 1/20th of a second, for those who like accuracy. The pushers on either side of the crown and easy to get to – start/stop and reset.
There is also a date window, rather incognito next to the 4 o'clock marker, but still handy if you want to know the date – when you are signing that check! 
Just keep in mind that this model is nearly double the price. But, if you like the "chronograph" style, then it's well worth the extra money
Timex Weekender Chronograph With Various Straps
Timex Weekender For Ladies
And before you think I ignore the ladies on this blog, let me mention that Timex has also taken care of them too. They have specifically sized and designed ladies models too.
Timex Weekender Features & Specs
The Timex Quartz Movement
The Timex Weekender has a very reliable Timex quartz movement that will run for good 3 years or more before you have to replace the battery. After all, it's quartz and doesn't run on the movement of your hand.
However, unlike the more upmarket automatic or wound watches, this baby will just tick away forever. And of course, that is a minor issue – the ticking. Like many a Swatch watch I have been around, the Weekender is a bit of a ticker!
So, if you find ticking watches (even quietly ticking ones) annoying, like me, then it's not the watch for you. However, that is the only big downside of the super-reliable movement.
The Weekender Case & Crystal
This is a well made watch that is certainly a great "daily beater" (aka reliable, inexpensive) and even the defects are hard to find.
It has a very clean bezel, made of brass, on a steel case that is waterproof to 30m (so splash proof, not a swimming aid!).
The glass is good ol' mineral, so not the more fancy sapphire, so it is a little less prone to scratches too. However, if you are someone like Youtuber Casey Neistat and treat your watches roughly, then mineral is sometimes less prone to shatter.
Also, being quite flat and flush with the bezel, it also does not stick it's head out and ask for scratches either. So, in all likelihood it will stand the test of time as a daily wearer!
The Weekender Straps
This is where the Weekender perhaps excels over other watches in the same budget class. It is available in an insane variety of colors, strap materials and options – including the chronograph I mentioned earlier. And that makes this watch one hell of a versatile watch.
You can buy some extra Nato (or even Perlon straps – learn the difference here) and that way have a different watch everyday. Ok, it's the same watch, but with a different strap, it will look like another watch all together. 
Just check out this screenshot I took of some of the models on Amazon and you will see what a huge range this Timex comes in.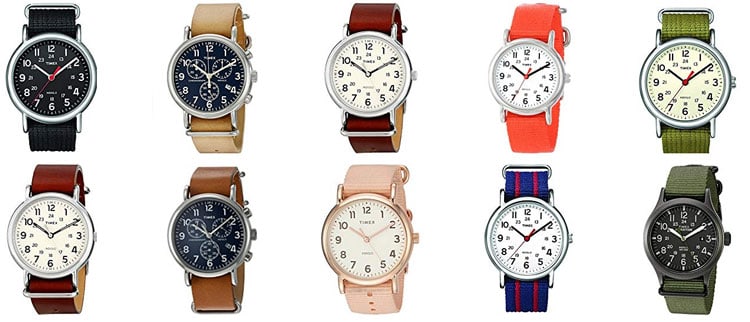 Who Should Buy A Timex Weekender?
If brand names and showpieces are not for you, then this is a great pick. 
You don't have to spend a fortunte (less than 100 bucks) and you have a classic, simple watch that will last you for years.
And, with a few added straps, you can wear it doing sport, out on the town, to work or just relaxing on vacation.