Whether you are old enough, like me, to remember the original Jason Bourne books, or you are a lover of the Matt Damon movies, Jason Bourne is something of a legend on the big screen. Able to disarm guards in a single bound, he has ninja-like skills we all dream we could have.
But, instead of becoming Jason Bourne, why not wear the watch he wore in all three of the Bourne Trilogy. It's a TAG Heuer, a Swiss watch that is befitting of a man of his past, stature, and training. And luckily for him, he found it in a safety deposit box in Zurich.
TAG Heuer Formula One Chronograph
(Ref: CAU1114.FT6024)
In his last appearance in the series, Matt Damon wears a slightly different model TAG Heuer to the one he wears in all the other Bourne movies. This time he wears the TAG Heuer Formula One Chronograph, which is perhaps a little less flashy in black. It also comes with a rubber strap, which is far more suited to the life of an action man like Jason.
There are all the trappings you would expect on a mid-range TAG Heuer watch such as an anti-reflective sapphire crystal and 3 sub-dial chronographs. And of course, the movement is quartz, which makes more sense for a man less worried about his watch and just wanting it to work, non-stop.
See Prices On Amazon
Jason Bourne's TAG Heuer Link Chronograph
(Ref: CT1111.BA0550)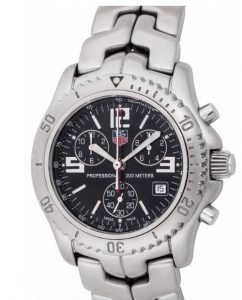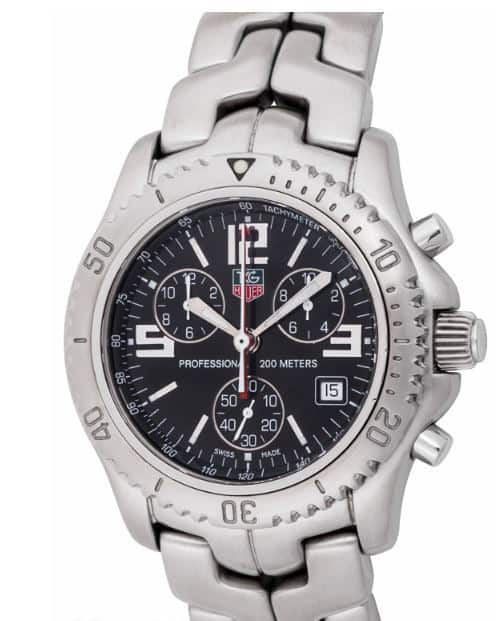 Jason Bourne wears the TAG Heuer Link Chronograph in all of the Bourne movies, but it is most often seen in the first of the trilogy. Jason first finds it in his safety deposit box in a Zurich bank, along with lots of foreign currency, passports, and a handy weapon!
Although not as practical as something you would see on the arms of a Navy SEAL, this watch has enough spy features that you can imagine someone like Bourne wearing it. Even if it is worth way too much money to accidentally break.
It comes with a Swiss Quartz movement, so will surely still be running even after a small period of time in a bank, just sitting there. Unlike a more fancy and expensive automatic, which would need constant winding!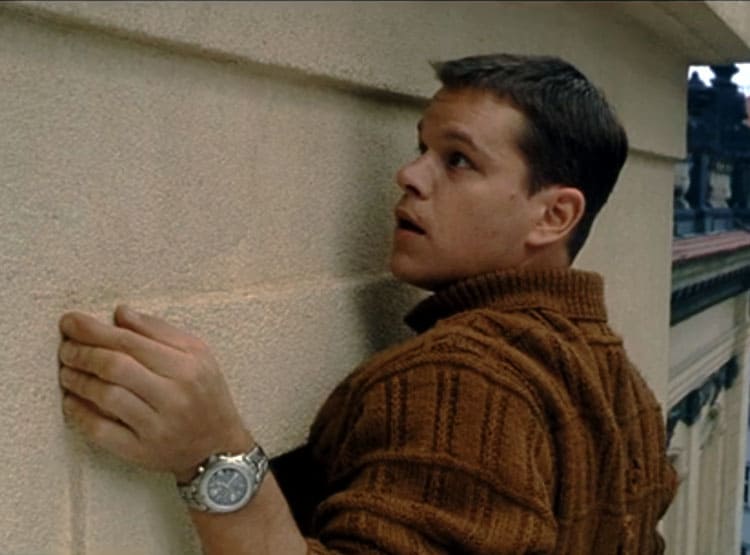 It is also a dive-style watch, so nice and waterproof to 200m. So no problems getting this baby wet! And it has a sapphire crystal, so won't scratch easily during combat. Nor will it just fall of Jason's wrist, as it has a safety deployant clasp to keep it securely on at all times.
Its 3 sub-dial chronographs would be handy for any kind of agent like Jason needing to keep the time of something, and it comes with a date window too. And, it will be easy to read not only because of the high contrast (black and white) dial and numbers, but the lume applied will help anyone using this watch see in low-light.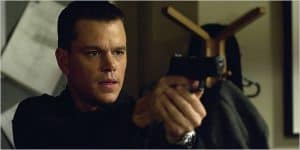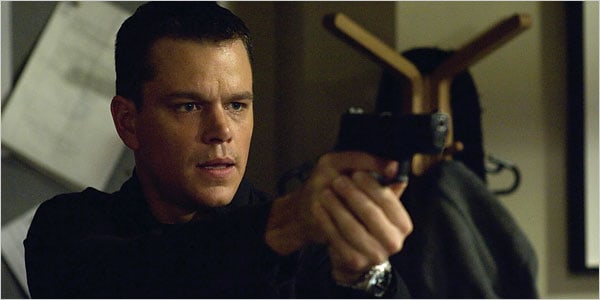 The Link Chronograph from TAG Heuer is actually no longer available, so if you are looking to buy one you will have to get it second-hand. The best option in most cases is to head over to eBay and see if something comes up. There are quite a few on there at the time of writing.
See Prices On Amazon
SEE PRICES ON EBAY