Most of you will know Mike Tyson from his boxing fame, as he was certainly one of the all-time greats of the sport. He competed from 1985 to 2005 and was the youngest heavyweight winner in the world.
He had many nicknames, from "Iron Mike" and "Kid Dynamite" to "The Baddest Man on the Planet" later in his career, many of them perhaps won from his crazy knockout record. Mike Tyson is perhaps one of the greatest boxers of all time.
Mike Tyson was a stunning boxer, but he also likes a lot of bling and extravaganze. From his incredible homes, scattered throughout the USA, and let's not forget his personal tiger (making a cameo in the movie Hangover) to his mind-blowing jewelry. This guy knows how to rock in style!
So, of course, Mike also wore some stunning jewelry and watches, the prices of which will make you fall off your chair. The majority of them were Rolexes, but there are some other stunners in there as well!
Rolex Cosmograph Daytona Reference 116509-0064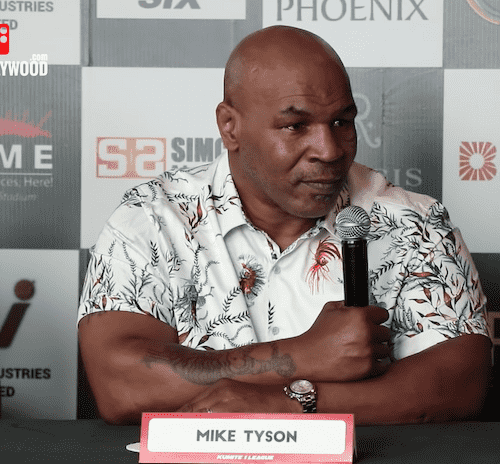 One of Tyson's most incredible Rolexes is the Cosmograph Daytona Reference 116509-0064. It sells for around $50,000 and is made from 18K white gold and has a white mother of pearl dial. It features a COSC-certified 4130 automatic mechanical movement with a power reserve of of 72 hours, which is impressive to say the least.
No products found.
SEE ON AMAZON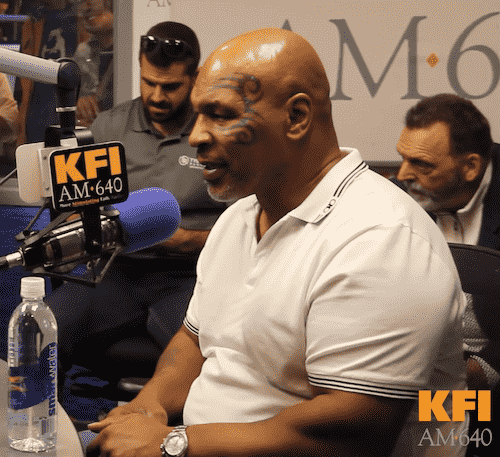 Heading to the simpler end of the Rolex spectrum, Tyson's watch shown above is the Rolex DateJust 36mm. It has a silver dial with an Oyster steel jubilee bracelet. There is a typical Rolex cyclops magnifier on the date window at 3 o'clock.
When many people talk about a classic recognizable Rolex, this is the one!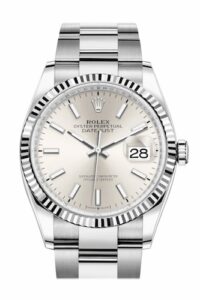 Rolex Day-Date 36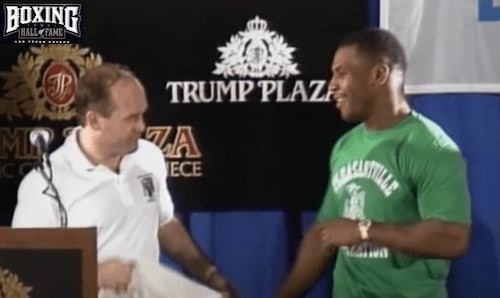 Moving up in terms of bling, the Rolex Day-Date 36 is something you would see on the arm of someone like Donald Trump. It is a watch with pedigree, first appearing in 1956. It is made from 18k gold and has a champagne dial with inset diamonds as hour markers. There is a date window at 3 o'clock, like on the DateJust, but there is a wider day window at 12 o'clock which makes this watch homaged by so many.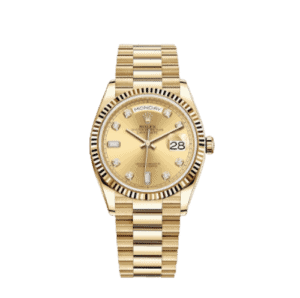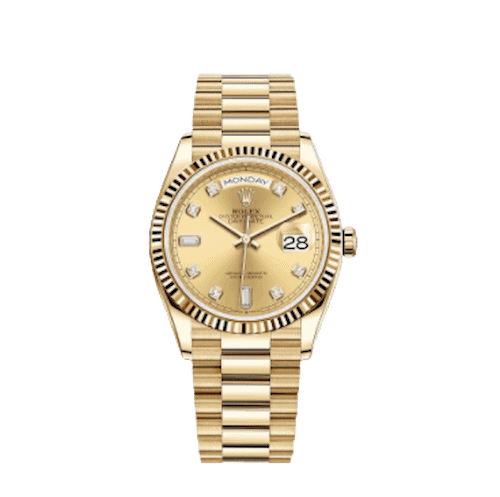 Pavè Diamond Piaget
The story behind this watch is a little crazier than most. Mike Tyson was featured in a boxing match in London in 2000 and decided to go on an insane shopping spree while in town. He went to a top-end jeweler and got himself a diamond watch like no other. One that was never paid for and ended up in a lawsuit.
After procuring the watch, he then wore it to the weigh-in, which is something only Iron Mike would do!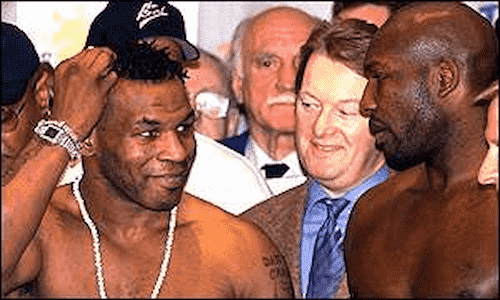 Hublot Big Bang Unico WBC – Ref 411.GX.1189.LR.WBC19
Later in his career, Mike Tyson started to have a closer affinity with Hublot, another Swiss watch brand at the top of the prestige list.
In 2019, Hublot worked together with the WBC to raise over a million dollars for the José Sulaimán Boxers Fund. The event in Las Vegas involved giving all the boxing greats a special edition Hublot Big Bang Unico WBC.
Shown below, Tyson's watch features a green alligator strap, a polished green ceramic case with a matte black skeleton dial, and enough 18k gold to sink a Spanish galleon.
It was limited to 50 pieces.