Best Luminous Watches
To Tell Time In The Dark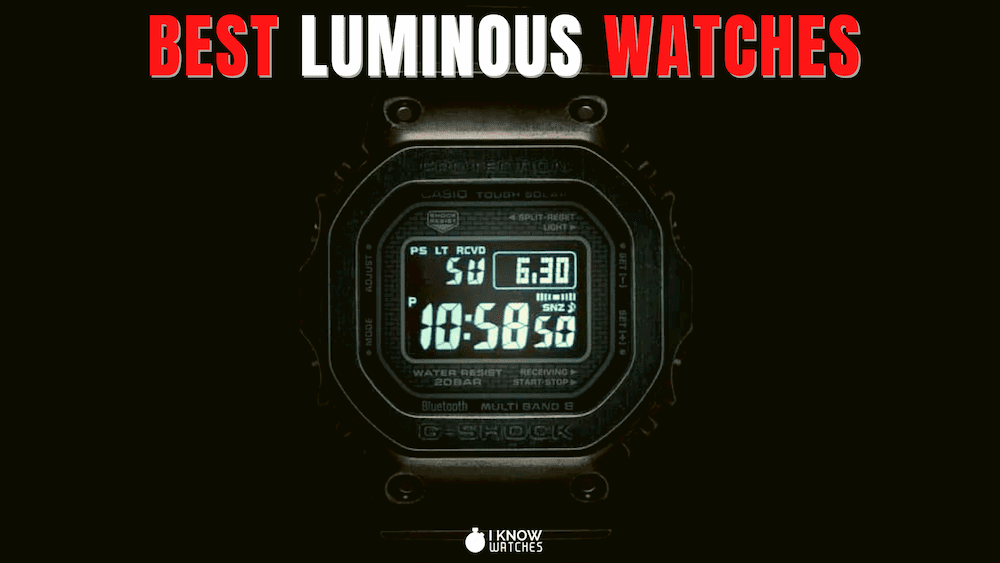 Let's face it. Watches usually don't excel at telling time in the dark.
Sure, there are some watches that have reasonable lume applied to the hands and markers. Lume that can stay bright for a while.
At A Glance: Our Top 3 Picks for Luminous Watches
But still, it's not always easy to read it in very dark conditions, and they usually lose their shine, literally, over years.
That is why I wanted to find the best luminous watches on the market right now. Watches that don't just offer you a luke warm lume that may or may not suffice in difficult conditions.
These are the watches I found…
LUMINOUS WATCHES TO TELL TIME IN THE DARK

Toughest

Toughest

Luminox Navy Seal

Constant Illumination: Borox gas tubes ​
Sapphire crystal
Swiss Quartz movement

VIEW LATEST PRICE →

Cheapest

Cheapest

Casio F105W-1A Illuminator

Illumination: EL backlit with afterglow
Scratch resistant mineral crystal.
Quartz movement

VIEW LATEST PRICE →

Most Stunning

Most Stunning

Ball Hydrocarbon AeroGMT

Constant Illumination: Tritium gas tubes
Automatic caliber BALL RR1201-C
Anti-scratch sapphire crystal

VIEW LATEST PRICE →
This luminous watch has to come in at number 1 because it is designed for night missions by the Navy Seal teams in the USA. That means it's is not only a high quality and lightweight dive watch that is super robust, it is also glow in the dark and is very easy to read, even in the dark.
Luminox have their own specific technology for these watches – Carbonox to make them very lightweight, and borox gas tubes to keep them lighting up for years. Not only do these watches light up in the dark, brightly – especially with their luminous hands. They also do not require charging (ie. sunlight) to do so. Luminox claims the light will last up to 25 years.
This range of watches is also water resistant to 200m, so will stand up to any diving that you do as well.
The model shown here is with green lettering, but Luminox makes it in a range of colors and also with a chronograph if you need a timer.
Luminox are so loved by those working in the military that they have also come up with a dedicated model for aviators as well. The Nighthawk is a little classier than the Navy Seal – mostly because it does not need to endure the same kinds of conditions. 
It is all stainless steel instead of plastic, and comes with a sapphire crystal, that we all know is scratch-resistant which a mineral crystal just cannot match.
Although this luminous watch is not designed for the navy it is still nonetheless 200m water resistant, and comes with a uni-directional dive-bezel, so good to go underwater in any conditions. And it also comes with Luminox's reliably bright gas tubes and luminous hands for ease of use in the dark.
3. Marathon Military Navigator
Another top-notch, easy to read in the dark watch is the Military Navigator from Marathon. Not surprisingly, it is also made to military specifications in Switzerland for use by Nato and the US Government.
It is not as dive ready as the Navy Seal above, but is good to 60m, so can certainly get wet. It is also designed to be shock resistant and easily tolerates sweat. In terms of glow in the dark, it has luminous hands and markers too.
It features constant illumination technology like the Luminoxes above, only this time using an isotope of Hydrogen – Tritium. It should be good to go in any light conditions for at least a decade.
4. Marathon Military Diver's Watch
Another military grade watch worth checking out from Marathon is this Diver's watch also featuring ever-bright Tritium tubes to help see in the dark.
This luminous watch has a stainless steel case, which is a little more robust and to my liking for a dive watch. It is also rated to 300m water resistance, so should be able to take any kind of diving you can throw at it, aside from a jump in the Mariana Trench that is.
This watch is a little pricier than the other Marathon above but has features to match – an automatic self-winding movement and a scratch-resistant sapphire crystal.
5. Timex Expedition Gallatin
Timex are renowned for their top-quality and affordable watches that just keep on ticking. They have created many a classic in the watch world like the Weekender, which you will often see on people's wrists.
But what we are interested in here is Timex's Indiglo backlight system that makes reading a watch in the dark a cinch. You won't find something like on almost any other watch on the market. So, a Timex watch is a great purchase for anyone wanting a watch that is luminous and that you can easily read in the dark.
In particular, their Expedition Gallatin model will suit you if you are looking for something robust, functional and long-lasting. The only area it disappoints is in water resistance. It is ok at 50m, buy you can't take it diving that's for sure!
 While we are on the topic of Timex's and their super-functional sports watches, I thought it was worth mentioning their Triathlon & Ironman ranges.
These are seriously affordable digital watches with loads of functions for anyone who loves sports. Like all Timexs, they also come with Indiglo, so you can easily read them in the dark. And they are built like tanks, made from simple plastics to help last the distance in any race.
7. G-Shock THE 6900 MILITARY
Casio are another staple for those that want long-lasting, rugged and functional all wrapped into a tidy little bundle. Their G-Shock range is renowned for being almost impossible to break – they are water resistant to 200m, and shock resistant as well.
The 2 year battery life is great news as this watch also comes with a powerful backlight that has an afterglow in case you miss the time at first glimpse.
And the list of functions on this model is impressive too: Flash Alert, Flashes with buzzer that sounds for alarms, hourly time signal, countdown timer, 1/100 second stopwatch, and more.
Of course, this is just one of many options from Casio that feature their luminous backlit system, so if you don't like the color or features, just keep digging online and you will find another that meets your needs.
8. Casio F105W-1A Illuminator
My best buddy swears by his Casio that looks just like this model, although I can't be sure it's the same one as there are dozens of them.
It is a simple, robust, long-lasting watch from Casio that is also backlit in case you want to read it in the dark.
It also comes with a stopwatch and alarm, so enough features to keep most people happy. And, did I mention that it's a bargain at under 20 bucks (closer to ten).
Of course, if you don't like this particular style, there are lots of retro Casios making a comeback right now
9. Victorinox Swiss Army Night Vision
This is a great luminous watch from the makers of the original Swiss Army Knife. They have expanded their repertoire a lot over the last years to include travel goods and watches. And they have produced some epic watches in that time like the Maverick and the almost bullet-proof INOX series.
This particular watch is not seen very often in the wild, but for those wanting great illumination, it's worth hunting for. It comes with back/side lighting using a separate battery from the one that runs the quartz movement. So no worries about running out of juice on your watch if you get trigger happy with the LEDs.
This watch also comes with a stunning stainless steel case, 24 hour time markers and a date window at 6 o'clock. And it's Swiss made. What more can you ask for?
10. Ball Hydrocarbon AeroGMT
We are now entering the realms of expensive, but highly-crafted watches with the Ball AeroGMT. This watch uses their own Tritium based tubes which like all others, illuminates without sunlight and for up to 2 years. They are also 10x brighter than standard lume, so easy to read in the dark. There are actually 43 of these tubes on the hour, minute, second time zone hands, dial and bezel.
This particular model is a GMT model, meaning it can keep up to 3 timezones, using the second hour hand and the dual-directional hour marker bezel. Just like the Rolex GMT Master II if you are familiar with it.
Everything about this watch is high end, from the scratch-resistant sapphire crystal, the in-house automatic (self-winding) movement (Caliber: BALL RR1201-C).