Best NATO Straps: All Sizes And Materials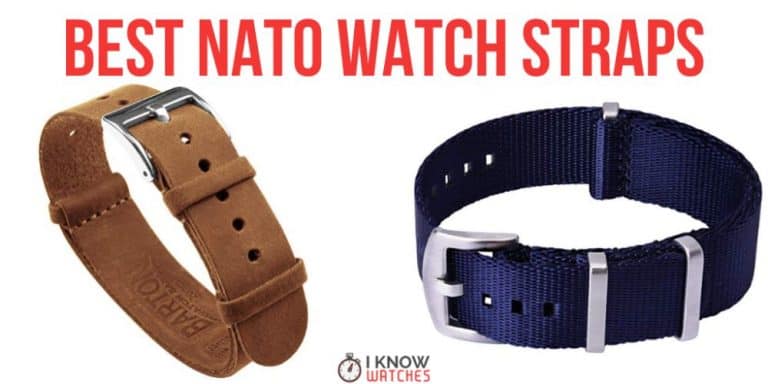 Need a good NATO strap? You're definitely in the right place – I found ten really great ones, and I can't wait to show them to you!
NATO straps are great because they are very durable, easy to put on your watch, and they protect your wrist from the heat of the metal case in the summer. Plus, they allow you to express to your personal style, and that is always a bonus for me!
But with so many different options, it can be hard to find ones that are actually good. You'll be happy to hear I did that work for you – you will only see the best NATO straps in this detailed review!
Pricing And Quality Of NATO Straps
The obvious advantage of a NATO strap is affordability – they are inexpensive, and you can find a good option in every price range.
But as with everything else, you get what you pay for. There are hundreds, if not thousands, of ridiculously cheap NATO straps online. And I will skip most of them – for $6 the strap might look cool, but the material is usually thin, stiff, not durable or comfortable on your wrist. There are also some premium NATO straps that cost well over $100, but I won't be showing you those here.
I've done my best to show you straps with which you have a good mix of quality and pricing. So, none of them will be too expensive, but none of them will be under $9 either. However, you can be sure that all the NATO straps I will show you here are able to withstand some serious torture and will last you a long time. They will also feel comfortable on your wrist and you will be able to adjust them to fit you just right.
These NATO straps from Ritchie tick all the boxes when it comes to replacing your strap. Not only does the kit come with pins and a pin replacement tool, the actual straps are great too.
They are super strong and comfortable to wear and will last you for years and years. Unlike many straps the manufacturers are shipping to us these days.
This black version is a simple option, but Ritchie also has a bunch of other color and striped options, as well as offering various sizes: 18mm, 20mm, 22mm and 24mm.
BluShark is generally a really good brand when it comes to watch straps. They're pretty much a safe bet when it comes to NATO straps, both in terms of quality and design of the strap.
I've featured their Original NATO strap here, which is available in a lot of different colors. But the one you see here should look familiar – after all, it is a pretty accurate replica of the strap James Bond wore its Rolex on. It is made from high quality Nylon, and you can choose from four different widths of the strap. That ensures that you can easily find a strap that fits your favorite watch perfectly.
The tips and buckle holes of the BluShark strap are all heat sealed, which keeps them from fraying. Plus, both the buckle and the strap loops are made from high quality stainless steel, which is very durable. The strap ships without any pins, and that is one small downside.
benchmark make some great leather NATO straps, so if you are not so into Nylon webbing then these make the perfect alternative.
Sure, leather is often less bold than a standard NATO, but Benchmark have included a variety of colors to make sure your watch looks as good on your wrist as possible. They have tan, brown and gray, of course. But they also offer sand, ox blood, navy and green. 
There is also a level of detail on these straps that many of you will appreciate such as the stitching around the rings and the fine buckle holes in the leather.
This is one of the best affordable NATO straps you can buy. It's just under $10, but it is one of the few cheap NATO straps that will actually last you a really long time. You will be able to use it for at least a couple of years, and that's with daily wear.
The Infantry strap is made from Nylon, with stainless steel rings and buckle. The thing I really like about this strap is that the hardware is black on nearly all colors. This looks especially good on the black strap, and the black and gray James Bond one.
You can choose between two widths of the band, which are great for small/medium watches. And the band is pretty long, which means that you can easily tuck away any excess so that it doesn't bother you. If you're on a really tight budget, this is the best strap you get for very little money.
This NATO strap is made from ballistic nylon, which is a very durable material. It's able to withstand pretty much any method of torture you can think of, including daily wear for several years. In addition to that, this is one of the few NATO straps that actually comes with matching spring bars.
You can get this strap in several different colors, including some rather unique options like bright red and orange, but also that classic James Bond stripe.
There are four polished stainless steel rings on this strap, which ensure that your watch stays securely in place. Plus, this strap is quite long, so you can easily tuck away any extra material.
The strap features a stainless steel Pre-V buckle, which allows for a closer and more ergonomic fit on your wrist. However, it is pretty large, so I would recommend this strap only for bigger watches. That way everything will look balanced on your wrist.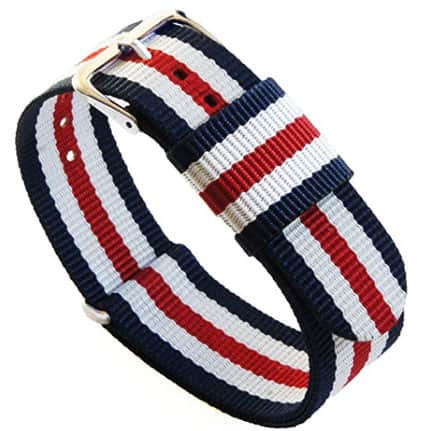 How about an affordable leather NATO strap? This one by Barton is a great option – it's seriously affordable, and it comes in four different colors and widths.
The great thing about this strap is that you can also choose the length. The standard length is 10", and the long version of the strap is 11". Also, this leather strap is thin (1.4mm) and soft; in other words, you can easily tuck away any excess strap into the loop.
The Barton leather strap features a polished stainless steel buckle and leather strap loops that match the color of the rest of the strap. It looks very elegant, and I think it's a really good option for any dress watch. Or any watch that you want to dress up.
It is made from top grain leather, and it is pretty durable. But remember what I told you – you get what you pay for. And for some $20, don't expect to wear this leather strap on your wrist for the next five years.
If you want a leather strap that's a great quality, I suggest you go with Bartons. This particular NATO strap is made from top grain leather, and it's really sturdy. Just keep in mind that for leather it's pretty thin and reasonably soft out of the box. It will get softer once you break it in a little, but it won't stretch out or crack easily.
The strap is available in several color options, and five different width options. It comes in both a 10 and 11 inch length, in case you have a bigger wrist; however, the strap is thin enough so that you can bend it and tuck it in the brushed stainless steel loop.
The thumbnail buckle of this NATO strap is also made from brushed stainless steel. There is no polished steel option, but I actually prefer that it is matte. Throw this NATO strap on your affordable watch to make it look very luxe.
The Carty strap is a great example that you can get really high quality at a low price. It is made from crazy horse leather (cowhide), and it is thicker than all NATO straps I've showed you so far – 2mm. This means two things – it's not going to fit all watches, but it is going to be more durable than some others.
The Carty strap is available in three different widths, and you can also choose between standard and long lengths of the band – 10.5" and 11", respectively. It features a stainless steel Pre-V buckle, which fits ergonomically on your wrist. And there are also three fixed stainless steel loops that keep the watch and the strap in place.
Even though this strap is a bit thick, you can still easily fold over any excess. In addition to that, Carty ships this with spring bars and a removal tool, so it should be really easy to put it on your watch.
Ritche watch straps are usually a safe bet. And this NATO strap is no different – it is made from high quality Ballistic Nylon, with 316L stainless steel loops and buckle. The ends and the buckle holes of the strap are laser heat sealed, which prevents them from fraying with frequent use.
You can get this NATO strap in a lot of different colors, some of which are rather unique. And it's still pretty affordable, with a price tag under $20. There are three widths to choose from, so it should be easy enough to find the right one for your watch.
The Ritche NATO strap is 1.4mm thick, and it easily folds over and tucks into the steel loop. In addition to that, you will get four spring bars with the strap, as well as a removal tool. Which will make it super easy to put this on your watch.
How about some fun NATO straps? In floral, plaid, polka dot and some other crazy patterns? These are just awesome if you want to stand out, or if you want your watch strap to be the accessory that elevates a solid-color outfit.
The HNS straps are made from Ballistic Nylon, with stainless steel buckles and loops. But they are also only 1.2mm thick, which is not that good. Your watch will probably slide around the band when you take it off, and the durability is significantly reduced with every millimeter.
However, there aren't a lot of NATO straps out there that are available in these kinds of prints. So, if you can make a little compromise on the overall quality of the strap, you can really have some fun with them.