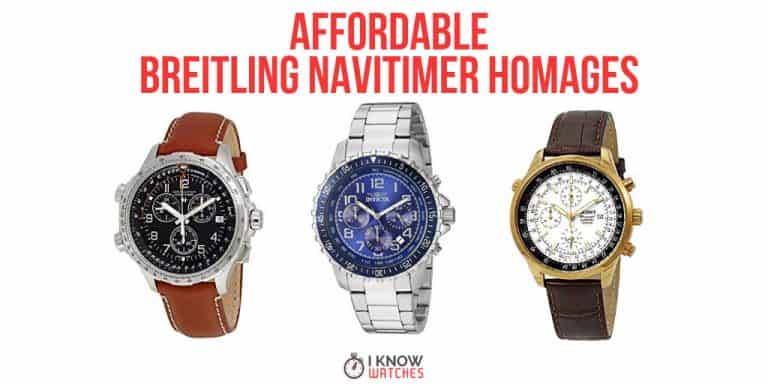 Affordable Breitling Navitimer Homages
The Breitling Navitimer is a highly sought after watch for those who love avionics and highly functional watches. And given Breitlings history in the field, it is certainly no surprise either.
[sc name="breitlingnavitimerhomagestextlinkscodev1″]
Breitling first began producing chronographs for pilots back in 1915, in the very early years of aviation. But it was only in the 1930s that they took their watches to the point of the current Breitling Navitimer with not only a 3 dial chronograph but also a slide rule bezel.
Today the Breitling Navitimer is a staple of their range and an icon in the arena of pilot watches. So much so, that there have been dozens of watches inspired by it. In this article, I want to show you all the options you have to buy such a watch, whether you have a few hundred dollars, or a few thousand. 
There are plenty of alternatives to the original, so let's get started with our list of the best Breitling Navitimer homage watches.
[sc name="breitlingnavitimerhomagestablecodev1"]
1. Gute Classic Multi Functional Automatic
Chinese watches are starting to flood the market, and they are giving us very good copies of many high-end watches like the Breitling Navitimer.
This watch, branded as Gute (or Jaragar if you read the logo) this watch is one of the cheapest on this list, but varies from the original in a number of ways. First, it has a skeleton element where the third sub-dial is, at 6 o'clock. There is also a large crown guard on the side of the watch, and a two part window for the date at 12 o'clock.
Ok, so it's not a perfect Breitling Navitimer homage watch, but for those on a budget it is worth checking out.
2. Invicta Men's 6621 II Chronograph
Invicta has a huge range of watches you can check out online, so finding a Breitling Navitimer homage watch in their collection is also quite easy.
This chronograph is a great alternative to original, but keep in mind that it also varies a little too. The bezel does not have the same array of calculation possibilities as a Breitling Navitimer slide rule, but then again, most of us will never use them all anyway.
It also carries a 60 second, 30 minute and day of the week subdials – where as the original has a 1/4 one instead of the week. There is also a slightly smaller crown guard than the Gute above.
Otherwise, this is a worthy contender for an affordable Breitling Navitimer homage for sure.
Another Invicta worth putting on this list is this Aviator model. Sure, it deviates a lot more from the Breitling Navitimer, but it's a great alternative.
The push buttons and crown are a lot more in line with the original, even if the sub-dials have a different position and look. There is also a compass ring on the bezel, as well as every pilots favorite, the tachymeter.
Just be aware that this is quite a large watch, even more than the above Invicta, at 48mm, so you might want to have a large wrist to wear this baby!
In general though, it's a decent Breitling Navitimer alternative.
4. Casio Edifice EF527D-1AV
Casio is perhaps more well known for the geeky digital watches, or their super-robust G-Shock range. However, they also have a lot of experience with more complex watches and their Edifice range demonstrates this in spades!
Their rotating slide-rule bezel is one of the better alternatives in the budget-end of options, however the sub-dials are more vertical. If you like the style of it though, it's a bargain for sure, like most Casios. And will likely last you for years to come.
Plus it's a decent Breitling Navitimer homage too, so win-win!
5. Orient Dyno Chronograph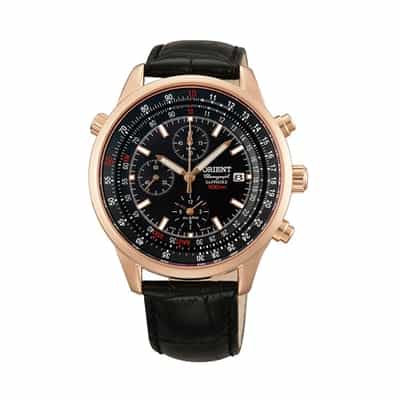 Orient are another brand that just keeps on expanding their range and producing stunning homages to age-old classics like the Breitling Navitimer.
Like the Casio above, this one sports a vertical arrangement of the sub-dials on the chronograph and a fixed slide-rule style bezel. It also has an alarm, which is a nice addition to the otherwise huge range of functions this watch has.
If you prefer a more dress watch style this is also an affordable Breitling Navitimer homage because you won't often find a leather band on this kind of watch.
I have written extensively about the Seiko Flightmaster before – because it is an icon in it's own right. However, there is no doubt that it is inspired by the Breitling Navitimer of old.
The 3 sub-dial chronograph, albeit on the left, along with the complex slide-rule calculations that can be made with the bezel, are all hallmarks of the original.
Seiko have of course added a few of their own marks on this Breitling Navitimer homage with the crown guard, and all stainless steel design.
7. Stuhrling Original Pilots Chronograph
Stuhrling offers value for money with this Breitling Navitimer homage. It ticks all the boxes in terms of the original with the 3 sub-dials in the bottom half of the dial. 
Easy to push buttons on the side. A detailed slide-rule/tachymeter around the edge of the bezel and a style that speaks volumes.
There are also some stunning additions that most of the homages in this list don't offer such as a sunburst dial and chrome machined sub-dials.
This is one truly worth checking out if you love the Breitling Navitimer.
8. Citizen Eco-Drive Chronograph
Not a brand that many people think of when buying top-class watches, but Citizen have been around for decades.
Their focus of late has been on their Eco-Drive technology, which is fundamentally a way of using light to charge your watch. Yes, a solar watch. Seiko has similar tech too, but Citizen have gone all in on it.
This Breitling homage using this technology is a worthy alternative to the original Navitimer. It mimics it in most ways, with the standard sub-dial positions, the complex bezel and big chrono pushers either side of the crown.
The only obvious deviation from the original Breitling Navitimer is the fourth button at 8 o'clock and a perpetual calendar.
9. Hamilton Khaki X-Wind GMT
On the more pricey end of the spectrum, but still under one thousand dollars, is this Hamilton Khaki model.
It pays great homage to the Navitimer in numerous ways, from the 3 sub-dial chronograph, to the bezel. However, Hamilton have added their own flair with squared pushers for the chronograph, and a small marker window at 12 o'clock for the slide-rule.
The lush, stitched leather band is also a stunning addition to this watch, giving it a classic, yet sporty touch so you can wear this classy watch almost anywhere.
10. Reactor Valkrye (81003)

Reactor is a relatively newcomer to the market having been founded in 2003. Their focus is on sports watches, especially ones that can handle water.
They lack the finesse of a Hamilton, but their functionality maybe makes up for it. They are bold, all metal, with 200m of water resistance (the highest on this list) and still scream Navitimer alternative, when you look at it.
It is also the largest watch in this article, at 49.5mm, and is obviously designed for men with large wrists. I would fail dismally if I wore this watch on my tiny wrist!