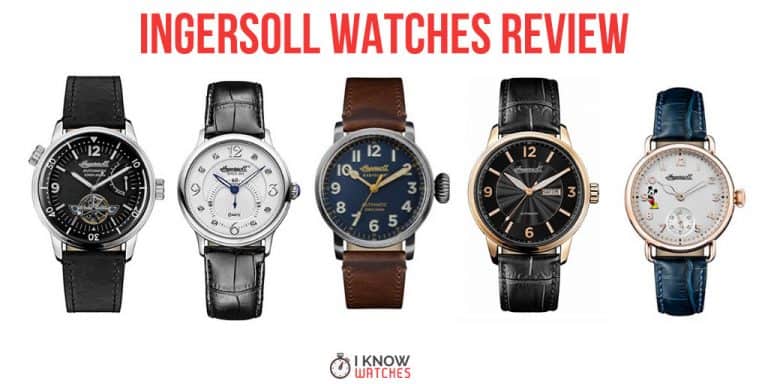 Ingersoll are one of the oldest American watch producers still around today. They began hand-building watches way back in 1892, but soon moved to a production line with thanks to good ol' Henry Ford.
Ingersoll had many firsts along their path to where they are today including the first glow in the dark pocket watch, used in the First World War, and they later become synonymous with the Micky Mouse watch which many will remember from their childhood.
Today, they make a wide range of designer style watches at reasonable prices. So, in this detailed review, I thought I would take a look at what they have to offer.
1. Ingersoll Discovery Linden Automatic
Based very much on all things practical, the Linden is a cross between a field and a pilots watch. This means the dial is super easy to ready, with the large, white Arabic numerals around the dial and big off-white hands to watch. 
There is also an outer ring of minutes like on many pilot watches, where minutes are of the utmost importance (or were back in the 1930s). An oversized onion crown is another such trademark, which gives the watch a truly stylistic element.
This is all complemented by a stitched leather strap hooked onto large protruding stainless steel lugs, giving the watch a timeless look.
Just be aware that the case size on this watch is 46mm, so quite large, and will only really suit anyone with a big wrist.
2. Ingersoll New Orleans Automatic
Moving to something a little more modern. the New Orleans is a cross between a skeleton watch and a pilot's watch, at least with the markings. 
The dial is a simple black affari with clear white markings and both an hour and minute train. Additionally, there is a meter at around 2 o'clock, keeping you up to date on the automatic movements stored power. And, a hard to miss skeleton aspect at 6 o'clock in gold, silver and blue.
This model is a little busy on the dial for my liking, but for those who like the pilot style dial with a little something extra, it could be a good buy.
The New Haven is more for those looking for a dress watch. At 40mm, it is on the large side, but still works well for most people.
There are a few styles of the New Haven, but this particular model has the "open heart" look you see on some dress watches, like the Bambino from Orient. It adds something unique to the otherwise clean (or some would say, plain) dial of a dress watch.
Overall, the rest of the watch is typical to the style, with a white dial, long gold hour markers and hands, as well as a matching plated case. The alligator leather gives it that final touch of class.
4. Ingersoll 1892 Regent Automatic
Another great dress watch option from Ingersoll is this one from their more recent 1892 collection. 
The dial has a stunning black dial with an inner guilloche wave pattern, where the day/date window is also placed. The hour markers are bold and in Arabic, every third hour only. There is also a finely marked minute train around the edge, and large super luminova hands to help tell the time in the dark.
The only thing I find a little odd about this model is that for a dress watch at 47mm, it is a little large. Also, with an automatic movement inside, it is also quite thick, so won't slide under a shirt as easily as a quartz model.
5. Ingersoll Regent Chronograph
Ingersoll's take on the modern racing watch with a three sub-dial chronograph and a tachymeter around the case edge.
This watch is however a little different to the standard chrono, with the pushers being quite flush with the case, to the point of being almost invisible. Ingersoll have also chosen to make this watch a little more dressy, with the heavy use of gold and an alligator leather strap.
This watch could sit on anyone's wrist at work, out on the town, but I would not use it while sweating on a run – it would ruin the leather. In that case, you can go with the all stainless steel option shown below.
6. Ingersoll Women's Regent Quartz
Ingersoll have certainly not ignored the ladies, and the Regent Quartz is a stylish option for sure. 
The dial is pure white, with a recessed inner that is also guilloched with a unique seconds sub-dial at 6 o'clock. The hour markers are also creatively done using crystals, with Arabic numerals every 3 hours.
The rest of the watch is pure dress in style, with a stainless steel case and black alligator leather band. And smartly, this dress watch uses a quartz movement to allow easy hiding under a shirt sleeve!
6. Ingersoll Women's Micky Mouse
Ingersoll are actually famous for their Micky Mouse watch, so it is perhaps no surprise that the last watch on this list is one with Micky casually placed at 9 o'clock. 
The rest of the watch is a clean dress style with Arabic numerals for the hours and a gold colored case. The straps is quite a unique dark blue alligator, which is not very often seen.
Ingersoll actually have a large range of watches with Micky on them somewhere, so if this one does not suit you, then check out their other options