Invicta 8926OB Pro Diver Review
The Invicta 8926 is a dive watch that is on a lot of Rolex lovers radars because it is so affordable but still ticks most of the boxes. It looks great, like the Rolex Submariner it takes inspiration from, it is simple to use and has a water resistant down to 200m, which makes it dive worthy.
A lot of people are not fans of homage watches, whether they are Rolex or Omega based. However, given that most people can't afford a Rolex, they are a great option for the less rich, like me and you!
Like many other dive watches in this class, the Invicta Pro Diver has a lot of common features which make them a great buy:
Automatic winding
Day display with a cyclops window
Water resistance of 200m (660ft)
Protected screw-down crown
Durable steel case and bracelet with safety
Single direction bezel for use with diving
So, there is a lot to love. And all that for under 200 bucks, it's hard not to want one of these. And this one specifically, with it's all black face and bezel, has a ninja-like look that many of you will love.
The Face/Dial & Bezel
Being a Submariner homage, most of you will know what to expect from the dial on this watch. It is very simple in terms of markers, the minute train around the edge and the date window.
Invicta have stamped their own brand on it by adding part of their logo to the tail of the second hand. The hour and minute hands are very Rolex-like though.
The date window magnifier is rounded on the sides just like the Submariner too.
Where this watch of course differs is in the quality of the application of the markers and the lume. If you want the full review video below, you will see how weak the lume is and how quickly it fades. Rolex has their own, and it lasts significantly longer, of course
The bezel is big and clear, however some reviewers have said that it is very stiff and hard to grab due to the machining of the edge. However, given most of you won't be diving with it, I don't see this as a big issue.
The Case
The case is again very much like the rolex, but of course there are some big Invicta branding differences that might put some people off.
The first is on the crown, there is a big Invicta logo cross. And below that on the lip of the case back is the brand name, a little too large for life.
You can see in the second image they have also branded the side of the case in huge letters. Again, a little crass in my opinion, but this is not actually a Rolex, right?
The Back
Although I am not a fan of the large metal ring on the back with all the branding and letter (it could have been a lot more subtle) it is nice to have an exhibition back with the yellow flywheel making for a nice touch.
Just be aware that although this watch is rated to 200m/660ft such additions might make for less water resistance than stated. I would not go diving with this watch.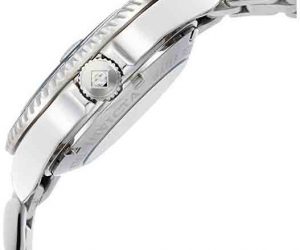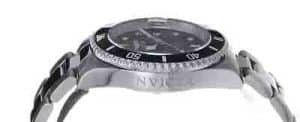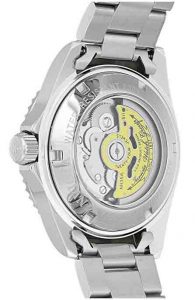 The Bracelet
The bracelet is decent for the price tag of the watch, but let's take a closer look. The links are polished in the centered and brushed on the outside. 
The folding clasp is relatively thin but has a few saving graces like the micro-adjustment points (4 of them) and the safety, which helps ensure it does not catch on something and suddenly come undone.
For the rest, it is a standard stainless steel bracelet.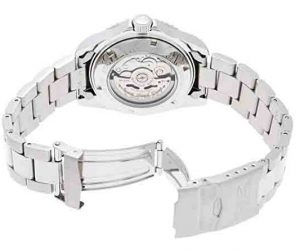 For a watch that usually retails below 100 dollars, the features on this Invicta Pro Diver are impressive. Especially if you are looking for a Rolex homage without spending thousands of dollars.
It has an automatic movement (from Seiko I believe) that includes a date function as well as hacking.
It is quite water resistant at 200m, however I would take that with a grain of salt with something this low budget. If you dive with it, prepare yourself to replace it is my opinion.
The specs of this watch are great for the price and I have listed them all below:
At under 100 bucks it is kind of a done deal with a watch this good looking. It is based on a classic Rolex Submariner after all.
Sure, there are some things that could be improved (or removed like the excess branding) but in the end you get a lot for the price of this watch and by all accounts on Amazon reviews, they do deliver.
Click the button below to check it out in detail on Amazon, and see what you think.