Ever since I went through college watching Seinfeld, I have always looked up to and admired Jerry Seinfeld's watch collection.
Although many people do not realise it, he actually wore many of his most famous watches on Seinfeld. Sure, he has since expanded his watch collection, and has become known for wearing Breitling watches since.
However, his collection is far older and broader than many people think.
The following are some of the many watches Jerry Seinfeld owns and wears and I have selected screenshots of him wearing them in his many shows: Seinfeld, Comedians in Cars Getting Coffee, and even his Netflix comedy special.
Of course, if you watch the Comedians in Cars Getting Coffee series yourself, not only will you spot Seinfeld's many watches, you will also get to celebrity watch spot at the same time!
Breitling Aerospace EVO Titanium in White (Ref, E79362)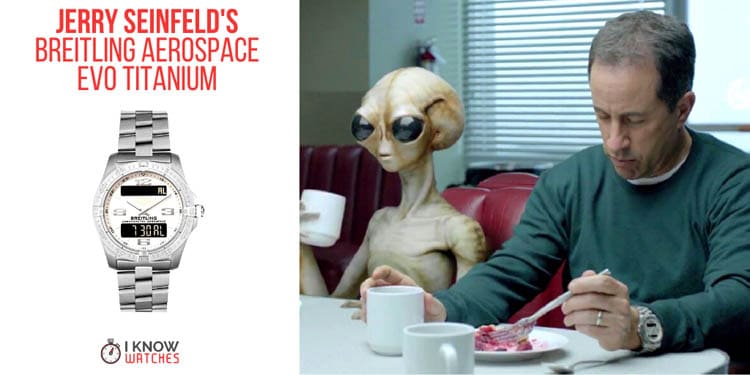 The Breitling Aerospace EVO Titanium in White is one of the watches I have actually seen Jerry Seinfeld wearing a lot. Perhaps because it's dial is so distinctive in white, with the dual digital displays – top and bottom.
It is actually a quite unusually designed watch with both an analog and digital display combined with a classic stainless steel oyster bracelet.
Breitling Navitimer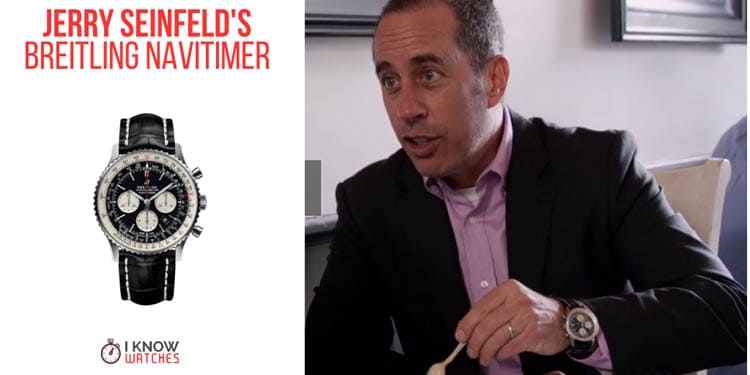 One of the other more famous watches Seinfeld has been known to wear over the years is a 1990s Breitling Navitimer. I do not know the exact reference (maybe someone can tell me in the comments). And, I don't think I got the right model in the above picture because the sub-dials are all wrong.
However, you get the point.
Breitling Cosmonaute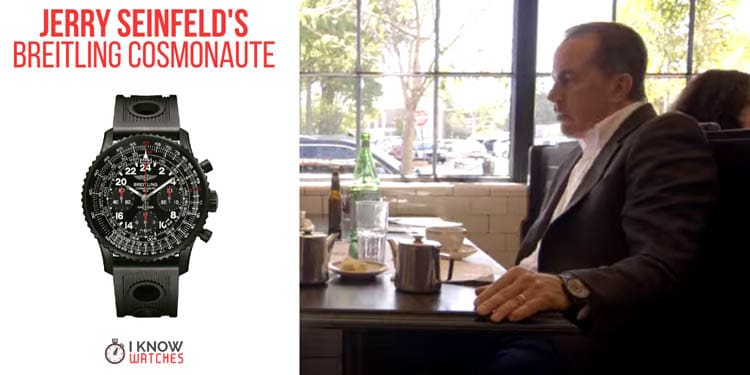 Another in Jerry Seinfeld's extensive Breitling watch collection is the Cosmonaute. This one was a lot harder to spot and get a screenshot of, however, I managed to grab one while he was having coffee with Tracy Morgan.
The Breitling Cosmonaute is a far busier watch on the dial, which if you know aviator watches is entirely understandable. They offer so many functions, they are dying for space to cram them all in.
This one has a functional silicone band with big pushers and a crown, all in matching black.
1968 Rolex Daytona (Ref. 6239)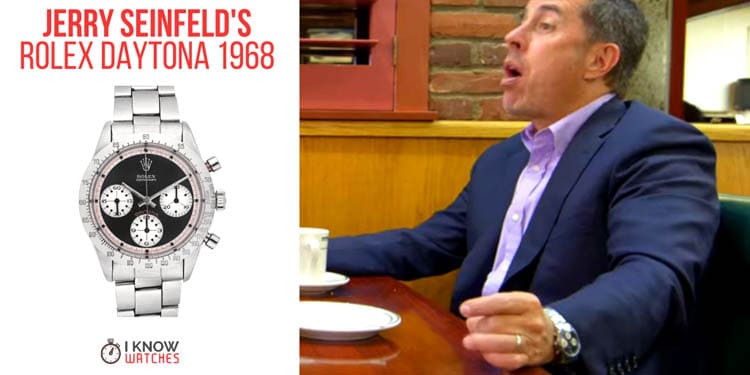 The first watch that is not a Breitling is Seinfeld's 1968 Rolex Daytona. Distinctive in it's reverse Panda style – black dial with white sub-dials. This is a classic vintage Rolex that is highly sought after!
Again, being a chronograph, it has the dial and classic layout you would expect – 3 subdials for seconds, minutes and hours arranged at 3, 6 and 9 o'clock. Otherwise, it is a very clean and stylish example from Rolex.
Heuer Autavia (Ref. 1163T "Jo Siffert")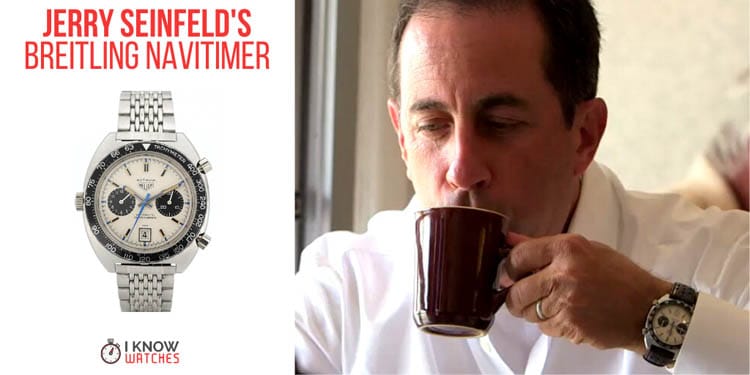 So, by now you know that Jerry Seinfeld does love his vintage watches and this is a Heuer model from before TAG and Heuer combined.
I believe it is the Reference 1163 Heuer Autavia.
He seems to love chronographs, but this one is a 2-dial Panda-esque style with stunning blue accents and second hand.
G-Shock Rangeman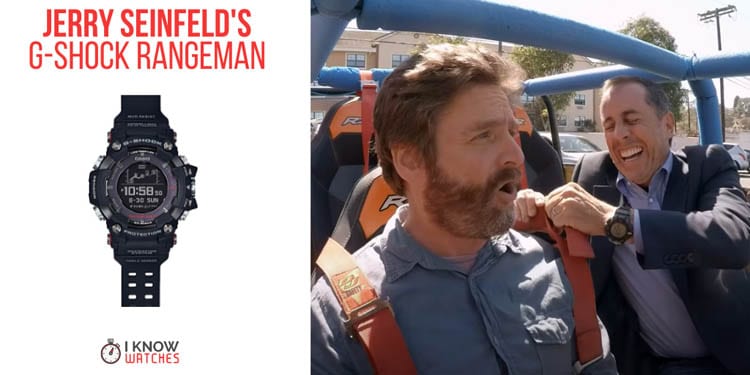 Now, this one is a bit of an anomaly from Seinfeld – the G-Shock Rangeman.
Don't get me wrong, I love and have reviewed a huge range of G-Shocks before. I was just surprised to see Jerry hanging around with Zach Galifianakis in one. However, given how laid back the guy is, and the open-topped Jeep they are driving around in, I guess it all makes sense!
Cartier Santos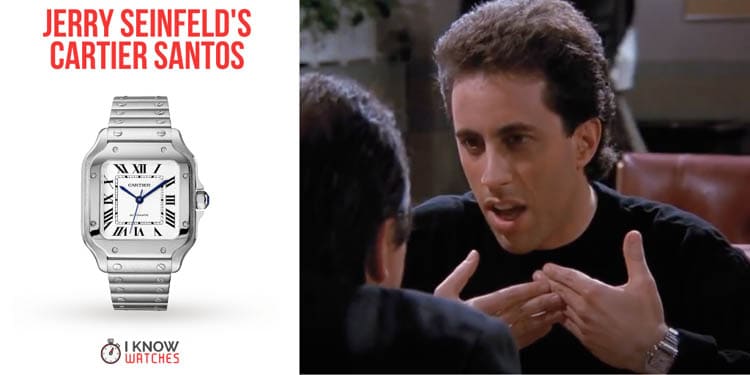 Last but not least is a watch that is far more dress oriented than the others, a Cartier Santos with their signature square "tank" style case.
He can be seen wearing this watch way back during the original Seinfeld series, so he has obviously had this one for a while. I have not seen him wearing it anywhere since though.