SEIKO Prospex Shogun SBDC029 Automatic Diving Watch Review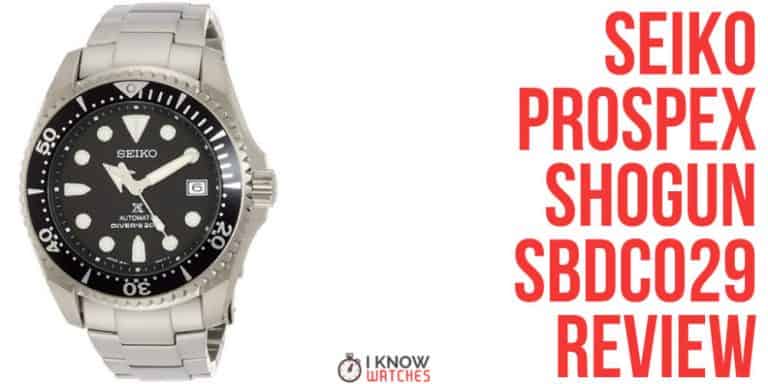 If you're here because you're looking for an outstanding diving watch, you're definitely in the right spot – Seiko's Prospex Shogun is one of the best diver's watches money can buy.
And if you are here because you're looking for Seiko SBDC007, we have some good news – that's this watch! Seiko changed the code to SBDC029 a couple years ago, but it is still the same watch!
But it doesn't really matter why you are here. What matters is that you can find out everything about the Prospex Shogun right here in our review. Spoiler alert – we mostly have words of praise for it.
Seiko Prospex Shogun SBDC029 Specifications
Seiko's Prospex Shogun is a high-end diving watch, and it bears the specs to prove it. You might remember it actually – it previously bore the code SBDC007. A couple of years ago, they changed this to SBDC029, along with some other things. 
The Shogun features Seiko's in-house staples – the 6R15 movement and Seiko's in-house Hardlex crystal glass. Here are some other features this watch comes equipped with: 
Seiko Automatic 6R15 with 50-hour power reserve
Hardlex (mineral) crystal glass
44mm titanium case
Scratch-proof (dia-shield) titanium bracelet with deployment clasp
200m / 660ft water resistance
Date window at 3 o'clock position
12-hour time markings filled with lume
Screw down crown at 3 o'clock  
If you already love it, save yourself 10 minutes and head straight over to Amazon. But if you're still not convinced, you'll find an in-depth review of the Shogun's features below!
The Dial
The Prospex Shogun features a black dial with applied time markers filled with lumi brite. There are actually no numbers on the dial – apart from the 200m water resistance indicator. 
There are three types of time markers on the dial – an arrow at the 12 o'clock position, sword tips at the 6 and 9 o'clock position, and circles for the rest. The sword and the arrow perfectly correspond to the shape of the minute and hour hands, respectively. 
If you like a cohesive dial, then I think you will absolutely adore this one.  All the time markers and the hands are fairly thick, to accommodate for Seiko's lumi brite. Which sines very bright – I think Rihanna was probably thinking about this watch when she sang "shine bright like a diamond". But more details on this later. 
There is also a date window on the dial, at the 3 o'clock position. One thing I really like about it is that the frame of the window is actually white, which really helps it stand out against the dial. And it also helps you spot the date as soon as you glance at the dial. 
Since all the markers and the hands are light in color, they contrast nicely with the dial. And even the minute markers on the bevelled chapter ring are pretty light, so the entire face of the watch is very easily legible.  
And then there's the Hardlex crystal glass that protects this dial. There's a lot of debate about Hardlex – some people love it, and others are quite unimpressed with it. I guess it depends on whether or not you're used to sapphire. Hardlex is very prone to scratches when you compare it to sapphire crystal, but even when you compare it to regular mineral glass used by other manufacturers. 
I think this is because of lack of anti-scratch coating on Seiko's Hardlex. Therefore, you need to be careful not to bump your Shogun on anything, if you want to avoid scratching the glass. 
But, Hardlex does have one advantage over sapphire – it will not shatter or break as easily. Which is very important considering that this is a diving watch – you might get a nasty scratch underwater, but it will be almost impossible to completely shatter the glass. And that means that no water will get inside, and the mechanism will stay untouched. 
Currently Available On Ebay
The Case & Strap
Both the case and the bracelet of the watch are made from titanium. Which you probably expected, considering its price point. 
Titanium is used in high end watches more often than stainless steel because it is the more expensive material. It is lighter than steel, so the watch won't really feel heavy on your wrist. The Shogun actually weighs only 110 grams or so (depending on how you adjust the bracelet), which is pretty amazing considering just how big and bulky it is at first glance. 
Whether or not this is a good thing depends on your personal preference. I myself like watches that are lightweight and that don't weigh down my wrists too much. But then again, I know that a lot of people like it when a watch has a certain presence – the Shogun does not have that. If you prefer a heft watch, you will probably want to skip this one.
But there is the issue of durability – stainless steel is much more scratch resistant than titanium. Which is great for watches that you will wear on a daily basis. However, this particular Seiko Shogun has scratch-proof coating, so that really isn't an issue. In addition to that, titanium is generally more rust-proof than stainless steel. And I think that is more important for a watch that will be underwater quite often. 
If you want to keep your watch looking brand new, you need to be careful not to scratch it. The coating will protect it from some light scuffs, but it will not protect the case or the bracelet from nasty, deep scratches. It is virtually impossible to get those out of titanium, so if you do get a nasty scratch on your watch, you are pretty much stuck with it. Just like you're stuck with scars on your body.sub
The case of the Shogun is pretty large. It is 44mm wide (without the crown), and 13.3mm thick, with a lug-to-lug distance of 50.75mm. The width of the lugs is 22mm, and the bracelet is only slightly narrower. It is a pretty large watch, but it doesn't wear like one, thanks to the lightness of titanium. 
The case and the bracelet are both brushed at the top and polished at the sides. I personally love the overall appearance of the watch – the matte finish makes it look very sophisticated, while the shiny sides add another dimension to the Shogun. 
The crown is polished and signed with a simple S. It is a screw down crown, which is expected of a high end diving watch like this. 
The screw in case back is both polished and brushed. The inner part of it, with the Seiko Divers Tsunami logo has a shiny finish, while the rest of the case is more matte. You will also find some specs there – the usual 200 meter water resistance, movement indicator etc.   
The titanium bracelet features a double push button deployment clasp with a diver's extension. The clasp has an engraved Seiko logo, but it is very discreet and not too noticeable. 
One more thing to note is that you will get a rubber bracelet in the box. So, in case your titanium bracelet gets damaged, or you simply don't want to wear it just yet, you do have an alternative.  
The Automatic Movement
The Prospex Shogun features Seiko's in house 6R15 movement, which is one of the most used movements in Seiko watches. It operates with 23 jewels, and beats at 21,600 vph. That, in addition to the 50-hour power reserve, make this a favorite among watch enthusiasts like myself. 
What makes this movement even more attractive is that it supports manual winding and hacking. Something you don't often find on cheaper watches, but there is no surprise that a Prospex level watch has this.
One downside to the Shogun is that there is no power reserve indicator on the dial – you don't really have any way of knowing just long the watch will keep ticking after you've taken it off. Of course, if it's been worn all day, that is like over 48hours (2 days). And experience will certainly help you there. But, if you don't wear it that often, you might want to consider a watch winder. 
As for accuracy, the 6R15 is fairly accurate at +25/-15 seconds per day. And that is when you just take it out of the box. When the movement settles, most people report that it is only 3-4 seconds fast a day, and even less over time, which if I am honest, is pretty darn good for an automatic! 
Oh, and with so many beats per second, the seconds hand sweeps gracefully across the dial – but you already knew that.  
Water Resistance

And Dive Watch Specs

This Seiko Prospex watch is water resistant up to 200 meters / 660 feet, which is great for those of you who love the water. It's farily standard water resistance for diving watches, but non-divers always worry me around water because you just can't be sure they are manufactured to get wet. This one can for sure!

Another thing that is standard for diving watches like this – is the screw down crown. They are much more secure than push pull crowns, because you can't really unscrew it by accident under water. And it seals a lot better. So, you can be sure it won't let any water in if you spend a lot of time swimming, snorkelling or even low-depth diving.

Then, there's lume, which is Seiko's proprietary Lumi Brite. This luminous material stands out from others because it does not rely on radioactive material for that beautiful afterglow. This means that it is not only perfectly safe for prolonged use, but also very environmentally friendly. 

And not to mention just how bright it is – as long as you charge up the lume before diving, you will have zero issues telling time underwater. Lumi Brite is also brighter than most other luminous materials, and it even lasts longer. It shines the brightest for the first 10 minutes in the dark, but it will continue to shine for the next 3-5 hours, depending on how long it was exposed to light.  

There is also the unidirectional diver's bezel with lume at the 12 o'clock position – a staple on diving watches. It does stand out a bit, thanks to the ribbed edges. This allows you to easily adjust the bezel without even looking at it, which is very convenient. 
Final Impressions Of The Seiko Prospex Shogun SBDC029
If you are looking for a proper diving watch, then you will not regret getting this one. The lume quality and duration are outstanding, the unidirectional bezel is very easy to rotate, and the water resistance is superb.
But what really makes the Seiko Prospex Shogun stand out is the attention to detail. The fact that the shape of the hands matches the shape of the time markers is reason alone to add this watch to your collection.
And the quality is there – the Hardlex crystal glass might not be very resistant to scratches, but it is to cracks. And the titanium bracelet and case make the entire watch feel weightless on your arm.
If you would like to save some money, you can always buy a cheaper diving watch. Seiko Save The Ocean Samurai and Bulova Marine Star are both much cheaper alternatives.
But if you are looking for a premium diving watch, one that you will proudly wear even on land (and money is no object), then the Prospex Shogun is just the right choice for you.
Currently Available On Ebay