Seiko SRPC93K Save The Ocean Samurai Review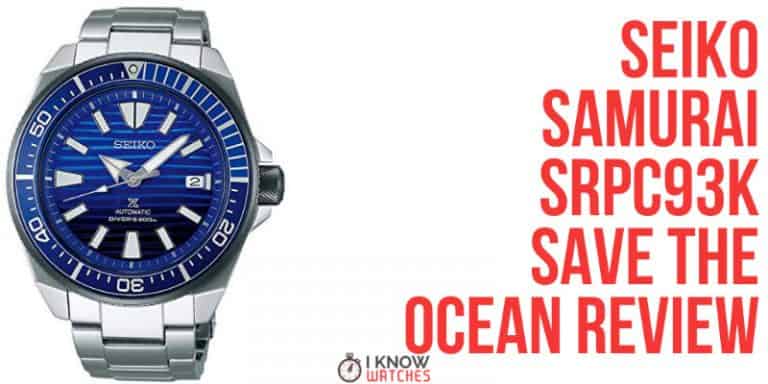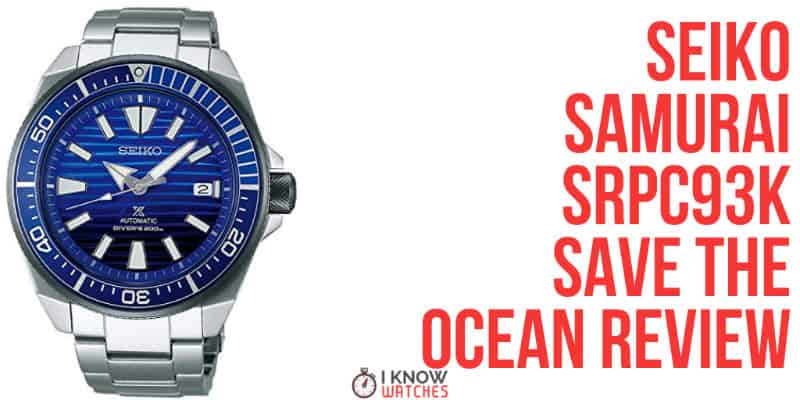 If you're looking for a good and reliable diver's watch, you can always turn to Seiko. All of their watches are well made, durable and stylish – the SRPC93K is no different. 
Seiko Save The Ocean Samurai is a reboot of the previous collection. The SRPC93K is quite similar to its predecessor, but with some improved features and a much more stylish design. 
So, what exactly can you expect from this high-end diver's watch? Find out in our detailed review!
Seiko Save The Ocean Samurai Features
Seiko's Save The Ocean series of watches has two new addition – the Samurai and the Turtle. In this review, we will talk in detail about the Samurai variant (SPRC93K). One thing stays the same as last year – the watches are socially responsible, and aim to raise awareness about healthy and unhealthy maritime environments.
Which is reason along to consider getting the Samurai. But if that doesn't fully convince you, maybe the features of the watch can help:
Automatic movement (4R35 by Seiko) with 41-hour power reserve
Mineral crystal glass
43.8 mm brushed stainless steel case
Brushed stainless steel bracelet with double locking deployant clasp
200m / 660ft water resistance
Date window at 3 o'clock marking
12-hour time markings
Screw down crown at 3 o'clock
Keep in mind that this is diving watch – it's supposed to be big and easily legible. And it's not exactly affordable – if you're in the market for a cheap diving watch, you've stumbled onto the wrong review. I suggest you check out the Victorinox Maverick – it's a much cheaper alternative. But if it's quality and style you're looking for, and you're willing to pay a little more for it, then this might just be the perfect diving watch for you. 
The Dial
The dial of Seiko Samurai tells you a lot about the watch's function. The color of the dial is an aquatic blue, which attempts to mimic the color of the ocean – the deeper it goes, the darker it gets. Perhaps a bit subtler are the streaks of lighter color that interrupt the blue of the dial – most likely meant to suggest the presence of waves in the ocean.
But actually these streaks resemble the skin of the blue whale. They have vertical streaks that run from their jaw down to their bellies, and they expand when the whale is eating. These are called ventral pleats – and they can provide you with an excellent conversation starter.
The time markings are applied on the face of the dial, and there are no numbers at all. They are quite thick, to make space for Seiko's in-house Lumibrite (more on that later), and so they are very easy to read.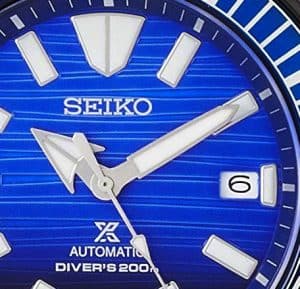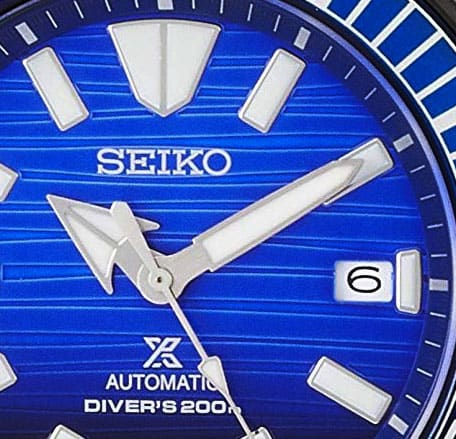 Oh, actually I lied – there are numbers on the dial, in the form of a date window. It is right at the three o'clock position, and it's pretty easy to spot. However, the plongeur minute hand is so thick that it blocks your view of the date whenever it gets 15 minutes past. Not a big deal, but it can be a little annoying on occasion.
The hour hand is very short and it is shaped like an arrow. It is fairly large and thick, so it's super easy to spot. And even the second hand has lume – it is hidden in the small arrow that's in the middle of the hand.
The dial includes a bevelled outer ring with additional hour and minute markings – useful, since there are no minute markings on the face of the dial.
Seiko also included their logo on the dial, at the twelve o'clock position, as well as an indication of its water resistance at the 6 o'clock position. Overall, the dial is not too busy, it is fairly easy to read and looks very stylish in my opinion.
The Case & Bracelet
 Seiko's Save The Ocean Samurai features a round case with sharp edges. It is 43.8mm wide and 12.82mm thick, with a 48mm lug to lug distance. Since it's a men's watch, it's an okay size – perhaps a bit too big for people with dainty wrists. But definitely large enough to be easily legible at glance underwater and in the dark, which is kind of the whole point. 
The case is actually the main difference between Samurai and Turtle versions of this watch – the outer part of the case on the Samurai has sharper edges that look sleeker and more elegant. The Turtle, on the other hand, features a round case that looks much bigger, and in my opinion makes the entire watch look a bit clunky. 
The Samurai has a knurled crown. It's a screw-down crown, which is standard for diving watches – you can't accidentally bump it and take it out, so no water can seep inside when you're underwater. 
The stainless-steel case and 22mm bracelet are both brushed. Whether or not that's a good thing is a matter of personal preference – I for one prefer the matte appearance of a watch as opposed to high shine, and find it look more sophisticated.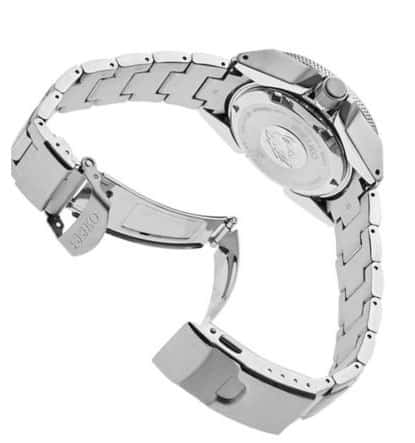 The bracelet is secured by a two-stage deployant clasp, so it's extra secure on your wrist. Perfect for this type of watch, as these don't come undone that easily. It also features a dive extension clasp, that helps keep the watch secure when you're actually wearing it over a wetsuit.  
As for the glass, the Samurai watch features mineral crystal glass. It has good scratch resistance, but it's nowhere near as impervious to scuffs as sapphire is. However, mineral crystal is better than sapphire in one aspect, and that is impact resistance. When sapphire glass breaks, it breaks into about a million different pieces. And you need to replace it immediately. 
Mineral crystal might crack into larger chunks, or it might just crack on the inside. The glass won't fall apart immediately, allowing you some time to repair your watch. However, if you notice a crack in your Samurai, don't go diving with it – there's a good chance some water will get inside, which could just ruin your fine watch. 
The Automatic Movement
This watch is equipped with Seiko's in-house automatic movement with 23 jewels – 4R35. It supports hacking and hand winding, which is what the crown is for. The second hand sweeps smoothly, and it's quite mesmerizing to watch it in action. 
 This particular movement was based on Seiko 4R15/6R15 movements, but it is the cost reduced version. Hence the lower price tag on this particular watch. But, the reduced cost also accounts for worse accuracy, which is about +45 to -35 seconds per day – according to Seiko. You'll find in real life that that's actually pretty conservative, and the difference is a bit bigger. 
The watch has a 41-power reserve, meaning that you can take it off and it will keep ticking for 41 hours when you're not wearing it. It winds automatically when you're wearing it, so the longer you wear it the more power it has. However, there is no indicator that tells you how much power is left in the reserve, and that's one thing we would change. 
Water Resistance & Dive Watch Specs
The Samurai Save The Ocean is a diver's watch, and it has the specs to back up that claim. All the time markings and hands are filled with lume, and quite a bit of it. The lume shines very bright, making the watch extremely easy to read underwater. Which is kind of the point of a diver's watch, so full points for that. 
In terms of water resistance, the Samurai exceeds our expectations. It is water-resistant up to 200 meters (660 feet), which is perfectly fine for a diving watch. 
It also features a unidirectional diver's bezel – the outer ring that helps you keep track of how much time you've been underwater. The bezel follows the pattern of the dial – it is bright blue at the very beginning, and it gets darker towards the end. And since the bezel is unidirectional, you can't accidently bump it and deduct time. Additionally, there is a spot filled with lume on the bezel, so it's pretty easy to read underwater. 
In general, the Samurai meets all of our expectations for a diver's watch. As it should – we wouldn't expect anything less from Seiko. 
Final Impressions Of The Save The Ocean Watch
Overall, I really like the Seiko Samurai SRPC93K Save The Ocean. The blue dial is really the centrepiece – the amount of detail and thought that went into its design is amazing. It's not a dress watch but it looks just as good as one. And it's a bit of a conversation starter – the design of the dial lets you smoothly educate people about ventral pleats. 
No, this is a diver's watch. And a really good one at that – the lume shines bright, the hands and time markings are large and easily legible underwater, the crown screws down and the unidirectional rotating bezel is smooth and easy to work. Plus, it's water resistant up to 200 meters, just like a good diving watch should be. 
The one thing I would change is the power reserve indicator – I would add one. You can't tell just by looking at the watch how much power is left in the reserve, and I can't deal with not knowing. 
But considering all the other features, I can look past that. And I would definitely recommend this to anyone who's looking for a reliable, durable and well-made diving watch.