The Mission Impossible franchise has never been more popular. Tom Cruise with all his charm, and let's face it, action taking ability is stunning as the lead in these movies. He actually does almost all the stunts in the movie, which has lead to some unfortunate incidents, but gives us an even better result to watch.
His often quite humorous side-kick, played by Simon Pegg, is also starting to come into his own and one of the ways he is doing that is with the gear he wears.
A lot of people have been looking for his Tissot watch ever since Mission Impossible 5 – Rogue Nation was first seen in cinemas back in 2015. (The best scene to see it is the underwater break-in scene which I have in a Youtube video down the bottom).
So, the big question is, which Tissot watch was he wearing, and wear can you get it?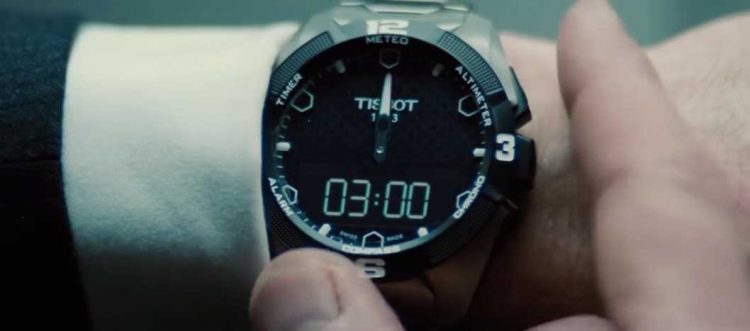 Simon Pegg's (Benji Dunn) Watch
Tissot T0914204405100 T-Touch Expert Solar
Simon Pegg playing Benji in Mission Impossible sometimes seems like a bit of a bumbling fool. But when it comes to tech and watches in particular he has great taste. The Tissot T-Touch is a unique analog / digital combination watch with a very modern look.
The all black face and bezel along with the sharp edges on the crown guard give this watch a look like no other.
The features Tissot have packed into the Expert Solar watch are also impressive with:
 Swiss Made Quartz movement featuring solar charging.
Anti-reflective Sapphire crystal
Multiple functions: Altimeter, compass, 2 time-zones, stopwatch, countdown, backlit, etc
All titanium – gives it a super-light weight
100m water resistance
45 x 13mm case
Alternative Colors - Tissot T-Touch
The model above is the exact one Simon Pegg wears in Mission Impossible, but if you prefer to get a slightly different model (some of which are a little cheaper, depending on deals) there are a few options: