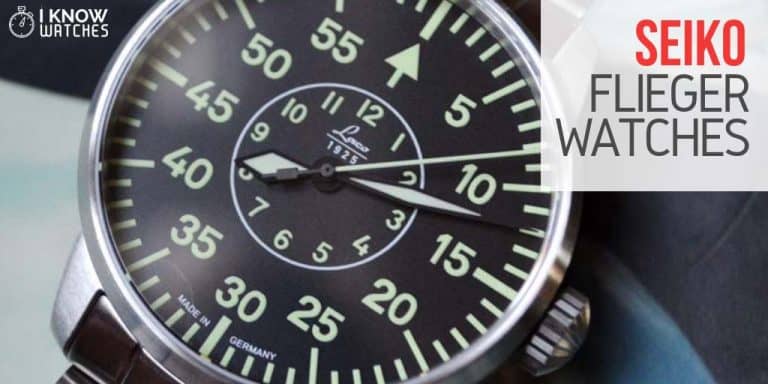 Best Seiko Flieger Watches
Fliegers are all the rage these days. Their original minimalistic, almost bauhaus look, along with their very specific characteristics have made them very popular.
A lot of watch makers use many of the elements of a flieger as inspiration, even if you don't realise it when you see a modern watch.
The original German made Flieger watches had two main types, back in the day.
Type A had hours in arabaic numerals around the dial.
Type B had minutes, with a second inner ring with hours.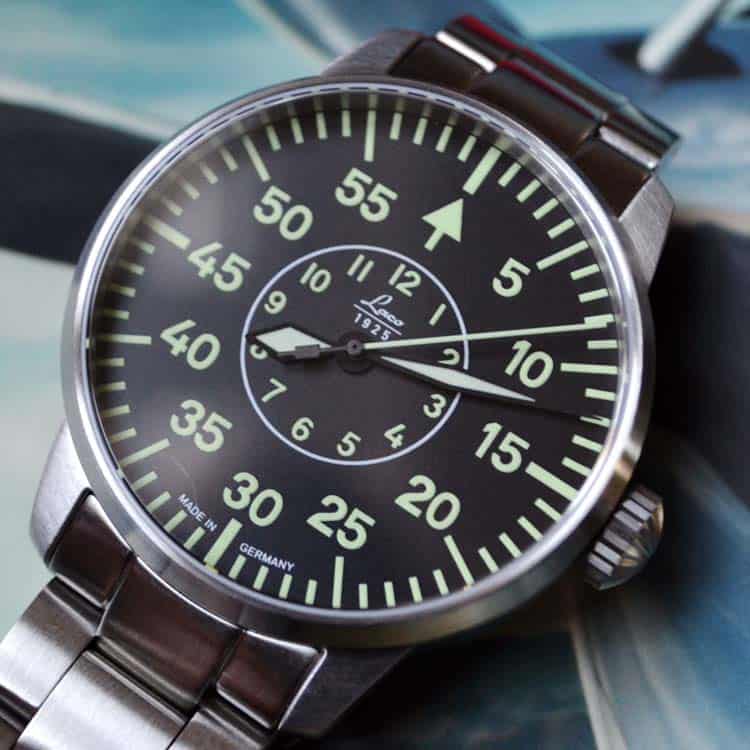 Some of the other common characteristics included:
A simple round metal case and dial
Clear, large numbers with a high contrast in the dial (black and white)
Large lumed hands for easy ready in low light
Large rectangular markers for the hours (or minutes in type B) which were also lumed
A crown that was often large and tapered for easy grabbing with a glove
An arrow pointing to 12 o'clock, often with 2 dots (but not always) to help orientate the pilot (during flips? perhaps)
Many of the watches I have included in this post are Seiko watches that have many of these characteristics.
Some of the later watches in the review, follow the trends that came after the original fliegers including things like chronographs.
It is then debatable if they are "true" fliegers in the historic sense, but what they hey! They were used by pilots and made by the military not long after WW2.
The Seiko 5 is legendary in the Seiko world because these watches are built to last and include features on watches many times their price.
The SNK models are perhaps the most popular because of their simplicity, their price and their ease of use. But, whether most people realise it or not, they are very much inspired by the original German Flieger (pilot) watches. You can see if you compare this watch, with the image of the Original Laco Flieger above! Snap, it's a match.
With the orientation's arrow pointing up at 12 o'clock, along with the dominant minutes around the dial, and an inner hour marker ring. They are all things the original pilots needed.
Of course, over the years, Seiko have added to these basic needs and gives us things like decent waterproofing, a day/date complication, and a basic old school Nato strap. Many of you will change this strap, because it is not the most comfortable, but it matches the watch right out of the box, that's for sure.
There is another added surprise on this watch and that is the exhibition back on the case. You can see it on the image where it gives you a nice peek at how an automatic movement works via the swinging rotor, constantly charging your watch as you move.
There are lots of variations including the SNK805, 807 and 809 (which are the blue shown here, the black and the khaki green) which are the most renowned. But there are quite a few more as well. I have included some image/links below so you can check them all out.
A worthy Flieger-like series of watches from Seiko are the SNZGs. They are very similar to the SNKs above, but the dial is a little different.
Again, it has the arrow at 12 o'clock but it is not pointing up/north like in the original flieger Type A. There is also no dots on either side of the arrow. Of course, it does not need to be an exact copy, this watch is just influenced by the flieger watches. And that is good enough for most.
There are also clear and large arabic numerals on the outside of the dial, just like the Type A, but this model has the addition of an inner 24hr ring. So again, not a true flieger, but then again, there are not that many on the market these days.
One thing a lot of bigger wrist watch wearers will love about this Seiko 5 over the SNKs above is the size. It's a far bigger 42mm versus the 37mm. So, if you like the SNK style, but can't stand the small size, this is another great option.
And as with the SNKs there are also 3 or 4 color and style options, which you can scroll down and see below.
3. Seiko SNN235 Pilot Chronograph
Seiko SNN235 Chronograph Flieger
In the 1950s, the first fliegers with the additional chronograph started appearing. They still had the arabic numerals but they were now starting to get a little more sophisticated. One of the true military fliegers with a chronograph of this era was the Hanhart 417. It had two chronograph sub-dials, one on the left and right.
This model SNN235 varies a little from that of course, with top and bottom sub-dials, but the essence is still there. That includes the arrow, although it points down, and the clear arabic numbering around the dial. The hour markers are also large and rectangular, which is easy to read. And, the hands are nice and lumedm and red, so double points for reading those!
You also get a date complication, located at 6 o'clock, and Seiko's usual 100m water-resistance. So, all in all, good value for less than a few hundred bucks.
4. Seiko SSC435 Prospex Solar Chronograph
Later on in the life of the Flieger, manufacturers starting adding chronographs and other useful functions to the watch.
This model SSC435 from Seiko's Prosprex line of watches is a homage to that flieger chronographs of the 50s. It has the clear markings of a Flieger at the top, with the upwards arrow and a dot either side.
Of course, the original minimalistic, easy to read nature of the Flieger is lost with this type of watch, but we no longer need to know the time to understand where we are (in terms of longitude) so I guess it slowly went out of fashion.
You get a lot more with this watch though like a date function between 4-5 o'clock, lots of calculation goodness with the tachymeter and bezel and solar power, so no need to worry about an automatic movement or battery.
Seiko SSA295J1 Chronograph Flieger
I had to include this watch even though it does not have many specific flieger elements to it. It is just so clean and minimalistic, it caught my eye. Then I noticed the large, protruding crown. This was one of the original flieger "must haves" because the pilots wore gloves. But these days, only the true flieger wanna be companies seem to bother adding one. Seiko only seems to use the other influences in their watches.
Until I saw this. It is also very easy to read with large numbers, clear hands, and high contrast to the dial. And it has that stunning crown, that is indeed very fleiger-esque. Ok, the actual crowns they used also had a cut in towards the case, but still, it's sexy, right?
And it has a nice sub-dial  for 24 hour time, at 10 o'clock, also making it a little unusual. It's also a Japanese import, so you won't see many of them on the street, that's for sure!
6. Seiko Flightmaster (SNA411, SND255)
The Seiko Flightmaster is a very unique watch in the aviation category because it can do, and show so much information. It is however quite far from a true flieger, but it's so popular in the "aviator" category I thought I might as well throw it in this post.
It has is a chronograph, a date window at 3 o'clock, a slide rule with tonnes of calculation possibilities as well. It's like the kitchen sink of pilot's watches.
The SNA411 is the most common and popular, but the blue models seen below is also a stunning color worth checking out and has a slightly different set up and model designation.