The Vostok Amphibia is a unique and historical watch that is on many people's must have list for dive watches.
Unlike most dive watches on the market, this one is Russian through and through. They started making them back in 1967 in a factory that was originally making military equipment.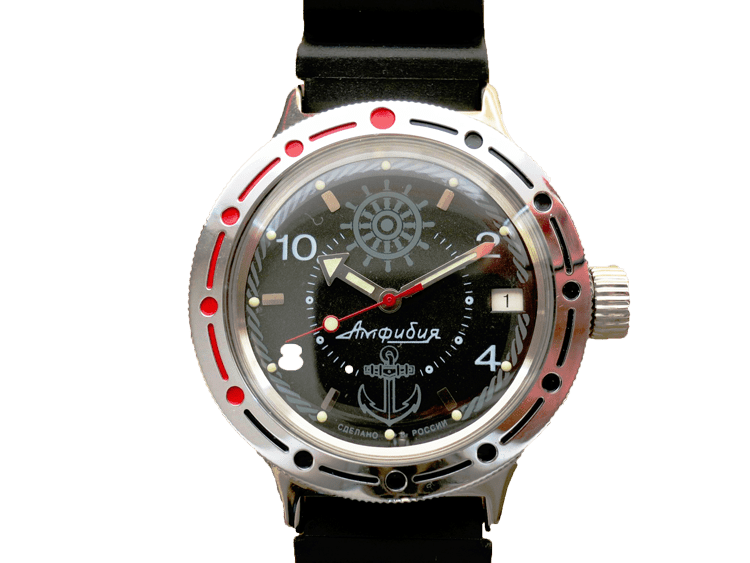 They had to completely re-invent the way dive watches keep waterproof as they were unable to copy the Rolex methodology, which was becoming standard at that time.
How The Vostok Amphibia Zissou Came To Be
Since the, the Amphibia has become a bit of an underdog, or cult classic among watch collectors. It's cheap (often under $100), quirky and very unique in the watch world.
You can see below an Amphibia 1967 and Scuba Dude compared with a Zissou below where you can see the main visual difference between these Amphibia watches. There are actually quite a few different styles in the Amphibia collection, so depending on which one you get, they can vary significantly.
Unique Features Of The Zissou
Mechanically, the Amphibia Zissou is the same as all other Vostok Amphibias. The real differences lie in the face:
Amphibia Zissou Specifications
The visual differences are not the only thing you care about, so I have also listed the specs below:
This watch is a real cult classic and a great collectors item, but that does not mean it is perfect. Remember, this is a cheap dive watch that is made in Russia, not Switzerland. So, it comes with some issues.
Many owners of this watch report that the strap it ships with is very uncomfortable. So, be prepared to swap it out when you get it for something more stylish like a Nato or Perlon, that is also comfortable to wear.
Also, the bezel is not the most accurately machined in the world, so quite a few people have said it is difficult to turn and use. Although, for most of you this will not be a big issue because you won't be diving or timing anything with it.
Where To Buy The Amphibia Zissou