Best Russian Watches
(On The Market Right Now)
Russian watches are not the first thing that come to people's minds when they think of top-notch time pieces. Instead, most people will think of Swiss brands like Rolex and Omega or even day to day brands like Seiko or Timex.
But Russian brands have been making watches for decades, and some of them even before the Second World War. Yes, that long. We just rarely hear about them!
There are seven Russian watches listed below, all of them quite unique and eye-catching in a variety of different ways. By grabbing one of these Russian watches, which quite honestly are usually a bargain, you will not only be getting a piece of watchmaking history but something you can boast about to your friends and family as well!
So, without further ado, let's take a look at the best Russian watches on the market right now…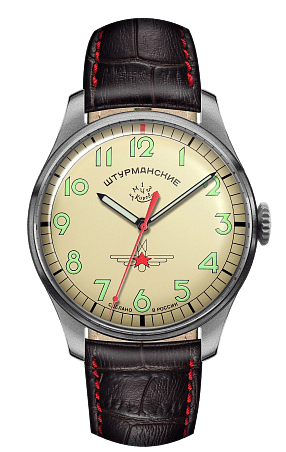 When the space race was a hot topic back in the 60s, a lot of watch companies were seriously trying to get their watches to space on the first missions from NASA. Meanwhile, on the other side of the globe in Russia, Gagarin had already made the first trip around the earth in a spacecraft wearing the Sturmanskie Gagarin watch.
Of course, it not possible to wear the exact Soviet watch that Yuri Gagarin wore back in 1961, but you can get either a vintage version from Ebay, or a similar watch on Amazon.
There are quite a few variations of dial color, strap and even the layout of the dial, but the one you can see here is the "classic".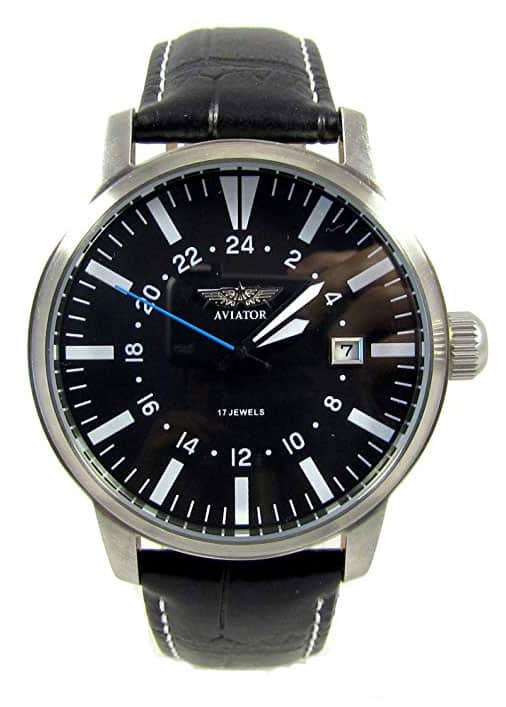 Poljot are one of the oldest Russian watch brands from the former Soviet Union and are credited as being the "First Moscow Watch Factory" back in 1927. Their creation was actually ordered by Joseph Stalin!
The Aviator is one of the most popular models that bears the Poljot name and is not so difficult to come by. Ebay is always one of the best places to find these Russian watches, but because this watch is a little more popular, you can also get it on Amazon.
It is clean looking aviator style watch that has simple hour markers with an inner ring of 24hr markers, typical of military watches.
This particular Soviet watch is also a hand-wound mechanical watch with a date window at the 3 o'clock position.
Dive watch lovers may already know about the Vostok Ampibia. It is a somewhat iconic watch amongst unusual watch collectors for a number of reasons.
First, it is one of the lesser-known dive watch brands from the former Soviet Union. But more interesting is the way that it is made water-proof. Rather than try to keep the water out from the outset, Vostok re-engineered their watch to get more waterproof the more pressure there is. A fantastic idea for a dive watch, right?
Vostok watches used to be hard Soviet watches to get, but nowadays you can easily order the modern versions of their watches from Vostok America or via Amazon. If you want one of the original vintage Soviet watches, of course you are better off on Ebay, but you don't have to bother with that to get an Amphibian. There is also a special edition Vostok Amphibia that was used on a comedy movie, Zissou that is also worth checking out.
Staying with the Vostok watches for a minute, another model worth checking out is one of their military watches called the Komandirskie.
Because it is intended as a watch for the Russian military, it sports a 24 hour dial, but in this case literally. There are actually 24 hour markers on the dial, quite a rare beast in the watch world. 
It's still 200m water resistant and has an automatic movement. Of course, also being a Russian watch it is not of the same quality as a Swiss watch, but that is why people love them! They are truly unique.
Now this one is worth checking out because it has only one hand! Honestly, you can read a watch with only one hand, but it requires a little more practice. After all, we are brought up by our parents on the two-handed variety, right?
Luch is based in the former Soviet-Union country of Belarus, in the capital of Minsk (read more about them here). So, technically not Russian (anymore) however they are a worthy watch to include in this list.
The dial is a clean and simple white, with Arabic hour markers and smaller minute markers in between, to help use the long, single hand more accurately. The case is also a simple stainless steel with steel crown, and a clean black leather band to match. Being 20mm, you can easily change the band, but it works well as a dress watch straight out of the box.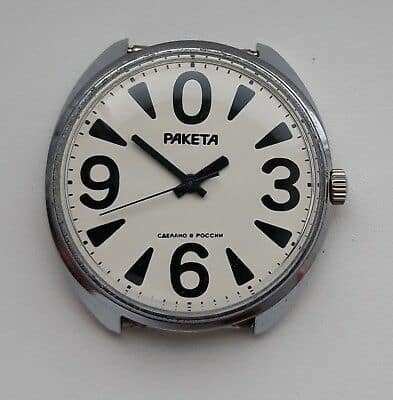 I have been lusting after this watch for a while, but sometimes I just have to hold off expanding my collection. I mean look at it, it's just so…unique.
My girlfriend thinks it is meant for old-people who have trouble reading, and maybe she is right, but I love the huge numbers on the dial.
This watch is quite popular, so there have been a whole lot of fakes on the market, so be careful what you buy. It can't be found on the regular watch sites, so Ebay is where I would head. Just do a little research upfront and make sure you get a genuine one (more on that below). 
Note: 
This post
from the Broken Watch Snobs is where you want to look to get all the details before buying. But the things to watch for include:
Consistent Russian or English brand/made in text (not a mix) – in the 90s it changed to English as the brand modernised to an international audience
Applied markers, not printed (so the numbers and markers should be raised above the dial)
Square, short hands with slight tip
Slight fan end to the second hand (ie. tapered)
Case that is like a shield with a round dial (ie. longer case, not round)
The image I have included looks to me to match all the criteria (all Russian text, applied markers, stubby hands and tapered second hand, long case).
7. Raketa Kopernik (Copernicus)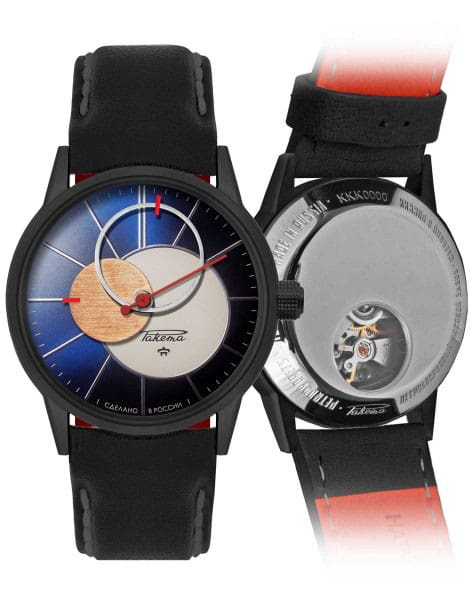 Ok, so Raketa (which also means Rocket in Russian) have been busy creating some really fun watches, and this one takes the cake.
Created in the 1980s to commemorate the genius of the scientist Copernicus, this watch has (again) some really unique features. It has two large circles for the hour and minute hands, which are meant to signify the sun and the moon (Copernicus was the one to first theorise that the sun was at the center of our universe). Those alone are quite unique, but once an hour they come together to form an ellipse making this even more special.
This is again not an easy watch to buy, but it is worth it if you find one that is in great condition. There are a few versions, as Raketa appear to still be (or recently) making them, but most people want the original.
Below are the specs for the latest model.
8. Sturmanskie Poljot Okean Chronograph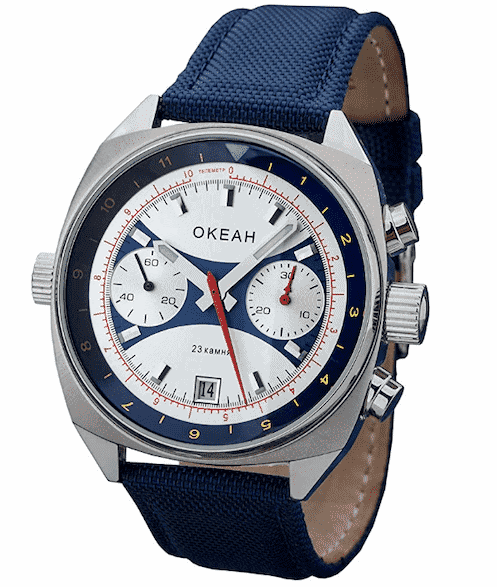 This chronograph from Poljot is an extremely rare beast, so if you find one, let me know!
It was one of those Russian watches originally made for the the Soviet Navy during the 1970s and 80s. In fact, it uses the Poljot 3133 movement, and was one of the first to do so. This movement is actually a version of the Valjoux 7734 from Switzerland.
In terms of style, it has a striking dial with a split blue section in the middle where the two sub-dials are located. They have also placed an inconspicuous date window at 6 o'clock.
The red second hands stand out nicely, and complement the minute train around the dial. The case also has a look that reminds me a little of the Panerai or even a Seiko Turtle to some extent. Unique indeed!