Walter White's Watches In Breaking Bad
Walter White is one of the most iconic television characters of the last decade and it is perhaps fitting to know what kind of watch this man wears.
Starting out as an innocent school teacher and ending as a soulless drug kingpin, it is no surprise what we have two watches to look at – the one he wore at the beginning of the show, and the one he started wearing once he become a drug lord.
Walter's First Watch - The Ca­sio CA-53W
Befitting of a nerdy school teacher, the Casio CA-53W is a typical calculator watch from the 80s.
Featuring a small screen at the top, and dominated by the calculator buttons on the bottom, this watch is anything but classy. It's practical instead.
And to match the cheap looking nature of the watch, it also normally goes for less than 20 dollars on Amazon too.
You can see Walter in the car with Jesse below, clearly wearing the Casio CA-53W on his left wrist.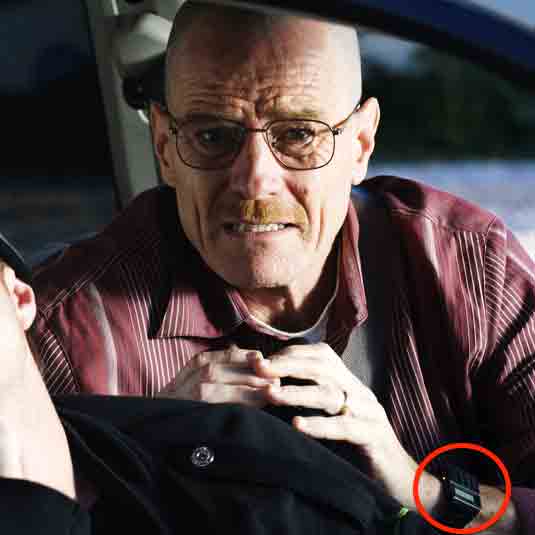 Ca­sio CA-53W Specifications
Walter's (Heisenberg's) Second Watch
TAG Heuer Monaco Chronograph
In series 5 of Breaking Bad Jesse gave Walter a watch for his birthday. It turns out that it was quite a special watch – the TAG Heuer Monaco Chronograph, the same one that was worn by Steve McQueen in the 1971 Le Mans film. This exact watch fetched nearly $800,000 at auction in 2012. Not only is this watch famous for being worn by a movie star, it was also one of the first automatic chronographs of the time.
Note: You can get similar watches online for hundreds of dollars. Check out these TAG Heuer Monaco Homages.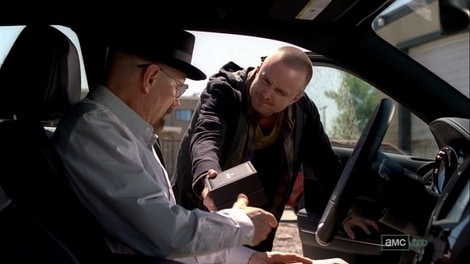 Unlike the Casio, this watch costs over four thousand dollars, so is certainly a keeper. Although, later on in the series Walter White leaves it on top of a phone booth for a reason he never fully discloses. Even though he was apparently proud of it and showed it to his wife declaring that a man that once wanted to kill him had given it to him (Jesse).
No matter how long Walter wore it for, this watch is a one of a kind in terms of price, shape and it's square chronograph dials.
The distinctive blue dials is also a stand out feature of this TAG Heuer along with the date window which is at 6 o'clock instead of the typical 3 o'clock seen on most watches.
The Monaco Chronograph is powered by TAG Heuer's own Calibre 12 automatic movement. It is a high-quality movement that has a date function as well as 40 hours power reserve. It has also received the Official Swiss Chronometer Control (C.O.S.C.) Certificate for precision, not something you find on every watch.
TAG Heuer Monaco Specifications