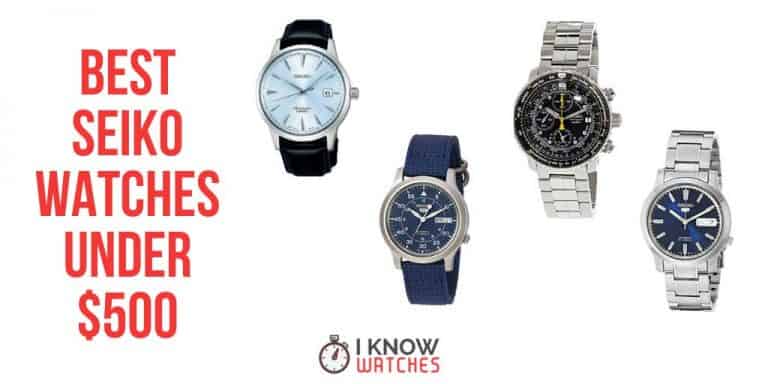 The Best Seiko Watches Under $500
Seiko have a huge range of watches for almost every price and taste. The problem is not finding a Seiko, it is deciding which one is best, cheapest and under $500.
Of course, we have to avoid their top of the line watches like the Seiko Grande and other expensive models, but under $500 we still have a lot of choice.
So, in this post I am going to give you the best one or two for each kind of watch (diver, dress, solar, etc). That way, you can quickly find the best Seiko's around and choose a watch without wasting hours.
1. Seiko SARB065 Cocktail Time
The Seiko SARB065 Cocktail Time is one of Seiko's most iconic watches today. It is a stunning and unique dress watch that will make anyone look the part when heading out on the town.
It is a classic dress watch, that is still reasonably priced, but when you dive a bit deeper you will notice the subtle and stunning additions Seiko have made to this classic style watch. First, there is a magnificant guilloche sunburst dial which radiates around the watch. 
A Guilloche cut is an undulating that is carved into the material and gives a look that few watches on the market have. Just be aware that this image appears a little blue, but in reality it is actually more of a silver color. 
The hour markers and watch hands are a simple triangle that fits a dress watch to a tee. And the white date window matches it all well too. There is yet another surprise with the Cocktail Time and that is the display back. 
If you have never seen one, it is a clear caseback that allows you (and others) to see the inner workings of the watch movement. A sight to behold, especially given this is an automatic/self-winding watch.
Seiko have also added the ability to hand-wind this watch, which is handy if you don't wear it everyday and want to keep it running. It is also hackable, which stops the second hand and makes correcting the time a lot easier.
And all of these stunning features come at a very affordable price under $500..
2. Seiko Stainless Steel Dress Watch (H38455751)
Another great dress watch option from Seiko are the SGF204 and 206 below.
Also coming in way under the $500 limit, they are still great quality and have lots of the usual Seiko features. There is a Japanese Quartz movement that will run like clockwork (until the battery runs out in a few years). This also makes the watch thing (8mm) which is perfect for a dress watch to fit under a shirt.
The materials used are top-notch with stainless steel all-round and Seiko's own Hardlex scratch-resistant glass.
It comes in both a two-tone silver gold, or all gold-tone version, so you can choose the style that fits you.
3. Seiko 5 Dress Watch (SNK793, SNK789, SNKK71)
If you really want to find the most affordable Seiko in any given category, the Seiko 5 range is the way to go. They provide great functionality in a very low-priced package, no matter what the watch.
These 3 Seiko 5s are stainless steel dress watches with simple dials. They also have a day/date window at 3 o'clock and the Seiko 5 trademark of the crown at 4 o'clock. They also have an automatic self-winding movement, which is a little crazy when you take a look at the price of the watch.
See which of the three models below, blue, white and black, suit your style.
4. Seiko SKX0007 & SKX009 Automatic Diver
One of Seiko's most popular models is the SKX007. It is the black bezel watch below. It's cousin, the SKX009 is almost as popular and comes with the so-called "Pepsi" blue and red dive bezel also seen below.
These are classic diver watches from Seiko and for a reason. They are significantly below $500 and still have an amazing range of features.
First, there is the automatic movement, that is self-winding. Something you rarely get at this price-point. Then, it is 200m water-resistant, so usable in water for swimming, snorkelling and even shallow dives.
Seiko has also included the scratch-resistant Hardlex crystal and the signature style on the face – which is simple, yet recognisable as a Seiko.
Check out the prices below on these watches and you will be stunned how cheap they are given the amazing quality.
Note: If you have a smaller wrist, Seiko also has the SKX013 which is the same but smaller. (38mm)
5. Seiko Pospex Turtle Divers (SRP773 etc)
The Prospex line was developed by Seiko to provide professional level watches to the average consumer. In many ways, they were Seiko's answer to the likes of Rolex. But way cheaper.
Prospex actually stands for "professional specifications" and you can see that in these nicknamed "turtle" watches (because of the shape of the case).
These models are not at the top end of the Prospex range, but are great quality nonetheless. They come with many similar features to the SKXs above like 200m water resistance, an automatic self-winding movement and scratch-resistant Hardlex glass.
Unlike the SKXs though, there are a lot more colors choices and you will find the case makes them stand out as quite unique – that is why they are called Turtles.
6. Seiko 5 Field Watch (SNK805, SNK807, SNK809)
The Seiko 5 SNK805-9 are great example of field (or pilot) style watches that are super affordable.
The dial on these watches has two levels of numbers, typical of WW2 watches where minutes were more important for timing. So, those are on the outside, and hours on the inside. And there is a large white arrow for orientation at 12 o'clock.
The rest of the dial and surrounds is clean and functional, which is certainly the field style watch we expect.
Again, this is a Seiko 5 so we expect reasonable water resistance, an automatic movement and a good build that will last.
7. Seiko Flightmaster (SNA411, SND255)
The Seiko Flightmaster is a very unique watch in the aviation category because it can do, and show so much information at a glance. You are either gonna love it or hate it.
There is a chronograph on the centre/left of the dial, a date window at 3 o'clock, a compass bezel along with other calculation options (including a sliderule). This watch has it all and is inspired by watches that a modern aviator would need.
Again, these two watches are super affordable and way below our $500 limit in this post. All stainless steel with a quartz movement, 100m water resistance and all the functions.
Check out the current prices and you will be pleasantly surprised.