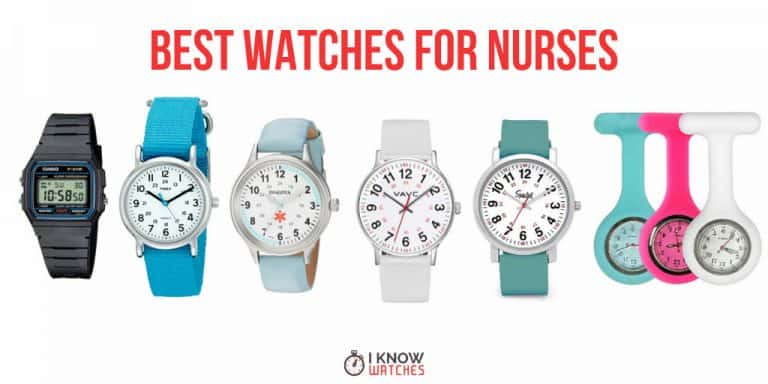 The Best Watches For Nurses
(Practical, Simple, Affordable)
If you are in the medical or nursing profession and need a good watch for work, then you have come to the right place.
The following are nine of the best watches for nurses and medical professionals who needs a simple, reliable, and easy to read what they can wear on the job. The main characteristics I looked for in these watches was
Simple to read (clear, fast to read)
Easy to clean (water resistant, good materials)
Affordable (all under $100 or way less)
Great for taking pulses (counting seconds in general)
Some of these watches are very simple and clean in design, others are more practical (digital watches) or have a better design. So, there is a range of them to choose from.
The first section is specific medical/nursing watches that are designed for purpose, while the ones further down are also great options. You can jump to each using the Table of Contents below.
Nurses Watches with a Sweeping Second Hand
The first question to answer is – what is a sweeping second hand?
Technically it is a normal watch where the second hand sweeps across the whole dial. This is what you know and are used to when a watch has a seconds hand.
Historically, the second hand used to be in a separate sub-dial and was a lot smaller harder to read.
Do nurses need a watch with a sweeping second hand?
For nurses, being able to easily count the seconds while measuring a patients pulse, for example, is extremely important. That means reading the second hand easily and accurately.
So, it makes sense to have a highly visible second hand that is a large, sweeping second hand. 
All of the analog (non-digital) watches below have a sweeping second hand, except for the last one from Casio. It only has an hour and minute hand. So, if you choose one of the first watches with a seconds hand, you don't have to worry about that at all.
1. VAVC Scrub Medical Watch
One of the first watches for nurses that was designed for the job is this Scrub watch from VAVC. Like all good medical watches it is very fast to read with large black hour markers against a white face. There are also 24 hour markers (ie. military time) on the inner circle, and a red second hand that is nice and easy to see for taking pulses and the like.
VAVC have also made this watch super-practical with 50m water resistance (so it can get wet while washing your hands) a sapphire coated crystal to protect against scratches and an easy to clean leather band.
All in all this watches ticks all the boxes for a nurses watch and it's super affordable too. The only thing some people may not like is that it is on the large side for a ladies watch at 40mm. There are some smaller options below in the Speidel offerings.a
2. Speidel Original Scrub Watch
Speidel are renowned for their medical watches and the Original Scrub has to be one of their most popular models. And in many ways, it is almost the perfect silicone watch for nurses.
Like the VAVC above, the Speidel scrub watch has a super-easy to read face with large hour markers using black on a white dial. The red second hand is easy to read, and there are minute/second markers all around the edge of the face to help count seconds easily. Military time has been added in a second ring on the inside too, which is helpful if you use that at work.
There are a few key differences with the Speidel scrub watch over the VAVC though, some good, some bad. First, they use an easy to wash silicone band. But the water resistance of this watch is only 30m, so it can get wet, but it's not as good as the VAVC. Although either work well for medical professionals.
And this watch is also a tad smaller at 38mm, which is great for ladies or people with smaller wrists. Or someone who just doesn't want a huge watch on their wrist while working.
The other notable thing about the Speidel scrub watch is that you can get a variety of band colors, which means you can choose your favorite, rather than just black!

3. Speidel Women's Scrub Petite
There is not too much to say about this smaller model of the Speidel that I haven't said above. Only that it is a far smaller model and might work better for those wanting a slimmer watch.
The case is a 28mm (compared to a 38mm on the original) and the strap is also about 20% thinner at 14mm compared to 18mm. So, all in all it's a very slim model.
It also comes in a variety of colors like the original too!
4. Groupcow Silicone Nurses Watch
If you need to check your watch at short notice, or just don't want to go fumbling around with your sleeves while you work, then this brooch style hanging watch is the perfect solution. It is a simple option, and perhaps one of the best for nurses.
You just pin it to your scrubs and it is ready to go at a moments notice. You just have to slip your hand under it and flip it up to read, then let it go when you are done!
They come in packs of three, in case you lose one. They are super affordable and easy to clean, which is great for medical professionals . The silicone is easy to clean and the face easy to read with black markers and a long red second hand for taking vitals. The hands also have lume so are easy to read in the dark, another plus for those working night shift.
Oh, and the watch is water resistant. Very in fact. All the way to 100m! So, it's a very practical silicone watch for nurses.
Dakota also have a watch specifically designed for nurses with a unique feature I have not seen on any other. Fifteen second dividers around the border of the watch to help keep close track of the seconds when counting. A handy idea for sure!
The black numbers on a white dial is a standard in the industry as you can see, so the face is also easy to read. Although it does not have the actual numbers for seconds/minutes so you have to work that out yourself, which is a shame.
They have added a 24-hour inner ring of numbers though, which is handy for those using military time at work. And it comes with 50m water resistance, which is great as it protects it well when washing your hands.
Every Day Watches Great For Nurses
6. Timex Women's Weekender
Timex make super-affordable and reliable watches that have been a top seller for decades. So, it's no surprise they appear in this list of practical watches for nurses with the ever-popular Timex Weekender (which I have reviewed in detail before).
They have been made with a simple design, easy to read face and second hand, and a robust case that will last for years. That is what Timex are renowned for.
Timex produce the weekender watch in a huge range of colors and styles, so if you don't like this blue one – no worries, just pop over to Amazon and choose another. Either way, you won't be disappointed with your purchase.
Oh, and one last thing. Timex give all their watches their signature Indiglo which lights it up like a Christmas tree at the push of a button – so it's ideal for low light / night shift.
7. Casio Women's Classic
(Ref: MQ24-7B3LL)
Casio are another brand that has been making highly functional and reliable watches that anyone can afford – for decades. They are renowned for their old-school digital watches and their G Shock range, but this simple analog watch is a great purchase for anyone in the medical or nursing profession.
This simple watch is an all-plastic affair, with a resin strap. So, easy to clean and great for getting wet – unlike leather straps.
The only thing I would like to see more obvious is the hands, they are perhaps a little thin for counting seconds compared to some of the watches above (with the stand-out red hand).
8. Casio F91W Classic Digital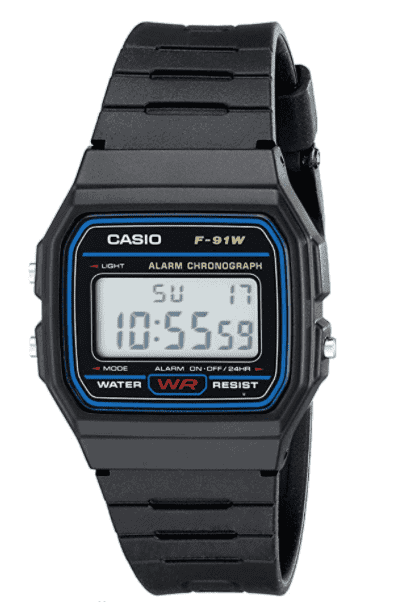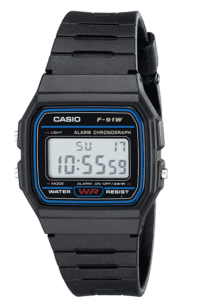 If you just want to be able to tell the time and count seconds at a glance, or even run a stop watch, then a digital watch might be a far better choice.
Casio have been making the F-91W forever, and it has been seen on all kinds of weird and wonderful wrists around the world, including Obama's back in college.
Why? Because it is simple, easy to read, cheap and has multiple alarms and a stopwatch. It's also usually way under twenty bucks, so you can almost afford to throw them out once a year!
Below are the main watch features:
9. Timex Women's Ironman Transit
Another option if you are looking for a digital display is Timex's Ironman series. The transit is a simple women's model, but they have a huge range to choose from.
I like this model because the display is wide and easy to read, it is 100m water resistance, which most of the watches above can't claim. And, it has a stop watch that is super easy to use, as well as a built in calendar which is great for checking your schedule. 
And, of course, it's a Timex, so reliable, affordable and it has Indiglo – so is a cinch to read at night.
Things To Look For In The Best Nursing Watch
There are a number of things I believe you should look for if you want to find the perfect nursing watch, and I have listed them below with reasons why to help you make the right choice.
Like all great technology, the easier your nursing watch is to use, the more you are going to love it. So, what makes a nurses watch easy for your day at work?
Easy to read: You want the watch to have large numbers and also potentially military time so that you can get the information you want fast. 
Clear seconds: If you use your watch to count seconds while taking someones pulse or administering medication, then a simple to see second hand is also an absolute must.
There is no point buying a watch that is not going to last, that is obvious. But what elements of your new nursing watch make it so?
First, it needs to be waterproof in my opinion, because after all, you never know when you are going to get it wet while on the job. Even just washing your hands.
Second, it should be make of a sturdy and long-lasting plastic, including the band. So watch out for things like a silicon strap. They are also super-easy to clean.
Wrist Watch or Broach Style
Unlike most other watch types, watches for nurses are made either to be wrist watches or hanging style watches which can be worn on the outside of your nursing uniform. This also means it's great for nursing students who may have a schedule to meet.
There is nothing worse than a watch that is too large that flops around on your wrist. So, look for something with a size below 40mm if you have small wrists, which most women do. And even closer to 30mm if you have really petite arms.
If you are a male nurse, the opposite is true of course. The smallest you may want to go is in the mid-high 30mm, with 40mm being more common for men.
And last, but certainly not least, this is a watch you wear to work. One that could easily get broken too!
So, don't spend a fortune on it, unless you know it is not going to get battered and will last. Only you can say how much of an issue this is.