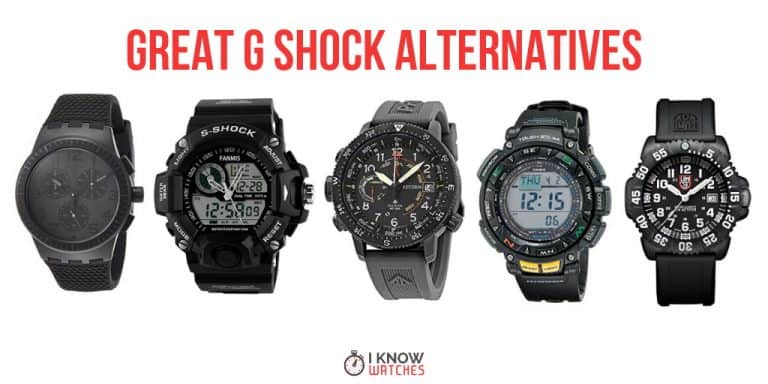 The Best G Shock Alternatives
(From Afforable to Top-Notch)
Casio G Shock are renowned as super tough, affordable watches that you can wear anywhere, and frankly treat like dirt. No matter what you do to them, they always seem to keep running. Back in the day, Casio used to make a lot cheaper and less robust watches like these retro options you can still get today. And with the craze of Stranger Things on Netflix, they have only become more popular.

At A Glance: Our Top 5 Picks for G Shock Alternatives
However, if you want something truly "tough" like the Navy Seals wear, then a G Shock is always a great option. But, not everyone likes how much they cost, or how they look. After all, they have a very distinctive look that you just might not like.
Note: Of course, if you are looking for something for kids instead, then this is the post to check out on G Shocks for kids.
So, with that in mind, what are the best Casio G Shock alternatives out there right now?
Let's take a look….
G Shock Alternatives

Our Top Pick

Our Top Pick

Skmei S Shock - Multi Function

Japanese Quartz Movement
Stop watch, military time, dual time zones, LED backlight
ABS plastic case and resin band

VIEW LATEST PRICE →

Timex Ironman Rugged 30

Japanese automatic movement
Sports stopwatch with 30 lap memory countdown timer, alarm and calendar
Resin case and band

VIEW LATEST PRICE →

Luminox EVO Navy SEAL

Japanese Quartz
Mineral crystal
Day/Date function at 3 o'clock

VIEW LATEST PRICE →

Casio Men's Pathfinder

Japanese Solar Powered Quartz movement
Mineral crystal
Multi-function digital watch

VIEW LATEST PRICE →

Citizen Watches Promaster Altichron

Eco-drive quartz movement
Mineral crystal
Analog with date function

VIEW LATEST PRICE →

SUUNTO Core All Black Military

Digital watch
Mineral or Sapphire crystal available
Various outdoor and standard digital functions

VIEW LATEST PRICE →

Timex Expedition Rugged

Japanese Quartz
Mineral crystal
Brass case with stitched leather band

VIEW LATEST PRICE →

Swatch Chronograph

Swiss Quartz movement
Plastic case, with silicon band
Water resistant to 30m (99ft)

VIEW LATEST PRICE →
1. Skmei S Shock - Multi Function
If cheap and cheerful is your thing then Skmei's S Shock series, perhaps an obvious hat tip to G Shock, is a great option. Most of the watches are under twenty dollars, and come with a whole host of functions you are going to love.
This model for example has shock resistance, 50m water resistance, a stop watch, military  time, and an LED back light.
Of course, at this low price point, with a Chinese watch, you can sometimes get a great watch, and sometimes have to send it back. That is the roll of the dice with low-end watches.
2. Timex Ironman Rugged 30
Timex are renowned for producing high quality, affordable watches and their Ironman series is very popular with athletes. They are of course focused more on the ironman or triathlete than trying to copy Casio, but they have a few great options nonetheless.
As you can see from this model, it is similar to the G Shocks with its rugged design, decent water resistance (100m) and easy to read digital face.
And if you don't like the rugged look, and want something more futuristic, the rest of the Ironman series might just be your thing.
If you need to read your watch in low-light, or just want something that was designed to be worn by Navy SEALs, then the Luminox Navy SEAL is the watch to check out.
You can learn more about this watch, and others the SEALs have worn in this post, but this was one of the first that was truly designed with their collaboration. It is no longer the only watch they wear, but it is certainly a great alternative to a G Shock.
First thing to note is that it is Swiss Made, which cannot be said for most watches in this post. Second, it has an insanely luminous dial because it uses a unique tritium technology that glows in the dark up to 100 times brighter than standard lume used on watches.
This watch is also designed to be treated roughly, by the SEALs, and is tested to 200m water resistance, so a true dive watch.
4. Casio Men's Pathfinder
Casio themselves also have some alternatives that are worth exploring. Their Pathfinder watch is a little more outdoors oriented that a standard G Shock, but has many of the same robust features.
For example, it comes with a stop watch, world time zones, alarms and all those standard kinds of features, along with also Altimeter/Barometer, Thermometer, and a Digital Compass. It also has solar power, which means you won't be changing the batter as often as you normally would. And although it doesn't have dive level water resistance, the 100m it does have means it can certainly go in the water.
All in all, this is a great option for anyone who spends significant time in the great outdoors.
5. Citizen Watches Promaster Altichron
(Ref: BN5058-07E)
Citizen are certainly not synonymous with tough, outdoorsman style watches, but this Promaster model is a great contender for a G Shock alternative.
Like almost all Citizen watches these days, it comes with a solar powered Eco-Drive system, that keeps it ticking for years. It is also a more stylish watch with an analog dial, date window at 3 o'clock and various other useful functions like: compass ring, altimeter and 200m water resistance.
It seems like a great compromise between a daily beater, that you can wear anywhere, and a watch that you can use in the outdoors.
6. SUUNTO Core All Black Military
If a rugged outdoor watch is what you are looking for, then Suunto from Scandinavia has been making these kinds of watches for years!
The classic and perhaps most popular is the Core Military. It is one of the most affordable in their range, and also the one that the Equalizer wore in both of the movies (albeit with a little digital alteration on the screen color!).
The focus with such a watch is on things you want to know when in the outdoors, or mountains. Which means you get an altimeter, barometer, compass and all the functions that go with it (weather prediction, temperature, sunrise/sunset etc). But it also has the typical digital watch functions too: alarm, stopwatch, time etc.
It might not be as bullet proof as a G Shock though, and it will require a fair bit more charging – which is done by USB. But the data you can get in the outdoors and then back at home, is what this watch (or any other from Suunto) is all about!
7. Timex Expedition Rugged
This rugged edition of the Timex Expedition is a tougher version of the original and more useful for those looking for a stronger watch.
Timex knows how to put quality products together for a reasonable price and this watch is no exception. It's usually way under one hundred dollars, and comes with a basic 50m water resistance (so not for swimming), 24 hour time markers and a small date window at 3 o'clock. 
This is certainly not a watch for anyone wanting a huge range of functions, but is a great alternative in terms of style as it doubles more as a dress watch than something you would wear in the mountains.
8. Swatch Chronograph
(Ref: SUSB104)
Swatch is known for their slim, cheap, plastic watches. And the great thing about them is that they are cheap, and seem to always run forever. I was also surprised to learn recently that they replace batteries for free in their shop, which my girlfriend had to do at the airport.
But I digress. I wanted to show you this more sporty and robust chronograph from Swatch as it is a little more like a G Shock, and a great compromise as well. It is an analog watch with a 3 sub-dial chronograph, so has a stopwatch. 
It also has Swatch's usual robust plastic case with a silicon strap and standard 30m water resistance, so is splash resistant only.
It may however suit anyone looking for something a little more stylish but still reminiscent of the standard Casio G Shock.