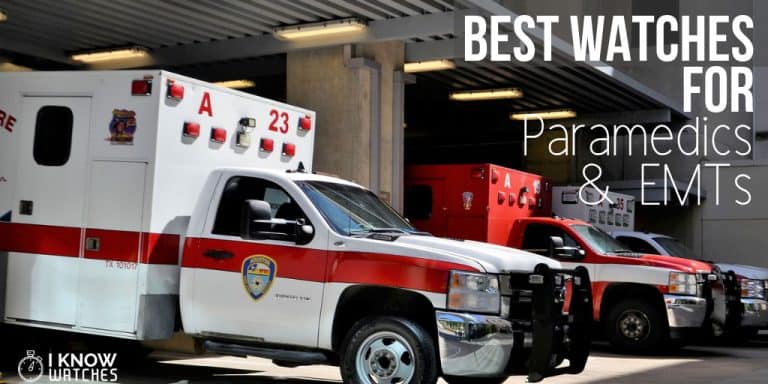 The Best Watches For Paramedics & EMTs
Finding a watch that is practical, durable and also very affordable is always a challenge. And for paramedics or EMTs who rely on their watches, but don't want to spend a fortune, it can sometimes be an even bigger challenge.

At A Glance: Our Top 5 Picks for Watches for Paramedics & EMTs
That is why in this detailed review I have found 7 watches for EMTs you can wear to work on a daily basis that won't break the bank.
They are easy to wear, easy to read the time and seconds on, won't break in 5 minutes, can get wet and most of them are under $50.
Ready to find out what kinds of options you have? Let's jump right in…
1. Casio G-Shock DW9052-1V
G-Shock is my go to brand from Casio when looking for a durable, easy to read (dark or not) and function-filled watch. Not only that, but they are usually super-cheap for what you get and not a big deal to fix (replace a band) or replace entirely – because it didn't cost much.
This model DW9052-1V is one of the most popular out there and for good reason. It's super-durable construction with protection all around, is going to last you a very long time. Add to the its built-in shock resistance and 200m water resistance (you can dive with it) and you almost can't break this thing.
If you need to count the seconds, say when taking someone's pulse by hand, you can easily read them, even when it's dark – it has a great backlight. On top of that, it has a countdown timer and stopwatch, in case you want to accurately count time. And 24 hour time for those needing to use that at work.
And finally, you can usually get this EMT watch for under $50, so it's a bargain to boot!
2. Casio G-shock DW5600E-1V
Another slightly simpler and more old-school G-Shock, this one will appeal to those that don't want to wear such a chunky watch on their wrists.
It still comes with all the great features you expect from a G-Shock, only in a simpler format. Yes, it's shock resistant, 200m water resistant, and is built with mainly plastic, so is easy to clean after a hard and messy day at work.
It also comes with enough built-in functions to make it useful: Countdown Timer, Auto-repeat function, Hourly Time Signal, Auto Calendar. And also comes with that oh so handy EL backlight, so you can read the time, or count the seconds in a dim lighting or dark situation.
It's also very affordably priced, so even if it breaks, which is unlikely, it's not a big issue to replace.
3. Luminox 3067 EVO Navy SEAL
If it's good enough for Navy Seals…then it is going to kick ass for anyone who has a tough job to do each day!
Not only is it made to last with a polyurethane case and mineral glass, it is also made in Switzerland. Something of a surprise for an EMT watch like this, right? Certainly not a pretty boy Rolex :>
It's also super-durable and water resistant (200m) so you can throw almost anything at it (otherwise what good would it be to Navy Seals right?). Luminox are also known for their super bright lume which is 100 times brighter than most of their competitors, so you can easily read this bad boy in the dark!
It comes in a variety of models and colors, three of which I have displayed below – you can click on each to see current prices on Amazon. They are a little more expensive than a Casio, but then again – it's still an affordable Swiss watch.
4. Timex Expedition Scout 40
Timex is another brand that knows how to make affordable and durable EMT watches that just last. And their Expedition range is more in line with what someone in the field needs as an every day wear kind of watch.
It has a very easy to read watch face with it's clear white arabic hour markers on a dark black background. The hands are large and the second hand nice and yellow to make it simple to count seconds.
On top of this, Timex has their patented Indiglo technology that makes this watch insanely easy to read in the dark. Just press the button on the side and it lights up like a beacon! And, it has an inner 24 hour ring to help you tell 24 hour time if you need it for work.
The band on this model is also a great choice for anyone who just might get this thing dirty.  It's a 20mm nylon slip-thru (or leather if you prefer), so easy to get on and off, and to clean. You can also easily replace it should it just become too used or dirty.
All in all a super-affordable and durable choice for an EMT watch.EMT 
5. Seiko 5 Field Watch (SNK805, SNK807, SNK809)
The Seiko 5 SNK805-9 are very similar to the Timex Expedition above – simple, durable, and cheap as can be.
They have all the elements of a no-fuss watch you might want for your daily job. A stainless steel case, water resistance, an easy to read time and seconds, with a day/date function to help you remember whether it is your shift today, or not!
The band on these EMT watches are known to be durable, but not that comfortable, so you might want to be prepared for this if you buy one, and swap it out for a more simple nylon Nato band.
It is also great news that this watch is battery-free. It's an automatic, self-winding watch that won't just die on you mid-task. Another plus in my eyes.
There are three colors to choose from too, which is always nice. 
6. Timex Ironman Rugged 30
Timex makes a lot of Ironman style watches, but this one is designed to be ultra-rugged, which is important for someone in your job.
It's comfortably lightweight, with a durable resin strap and plastic case. It is also 100m (330ft) water resistant, so should not suffer if it gets wet.
With a large, easy to read display this digital watch has functions that are easy to get to via the large buttons on the side. Timex has put a lot of thought into this watch for Ironmen and women, so it should be a cinch for you to use as a daily work watch too.
Just keep in mind that this is a 100% digital watch and has no analog display – so no second hand either.
Another alternative to the above Ironman model is the shock-proof version of the expedition. It is very much like a G-Shock, only from Timex.
The plastic case is very rugged and protects the display well. The band is rubber, so comfy to wear and easy to clean.
It also comes with a chronograph, with simple to reach start and stop buttons on the side, as you would expect. And, in the center/bottom is Timex's much-loved Indiglo button to light this baby up in the dark.
It's also super-affordable, like most of the watches on this list, at way under $50.