Casio G-Shock GWM5610-1 Review

The Casio G-Shock GWM5610-1 collection is yet another home run from Casio.
This is a feature-packed, super-robust G-Shock that you can take anywhere and has so many functions you can do almost anything with it, bar deep sea diving (and it would probably survive that too.
Sure, it looks like a retro Casio with just a basic digital watch functions, but it has almost the full range of features that they offer on any single watch I have reviewed.
Not convinved, read on and find out more.
Casio G-Shock GWM5610-1 Features
The G-Shock GWM5610-1 has so many features, I am not sure I will be able to mention them all. But I will do my best, along with the standard specs, here we go…
Japanese Tough Solar movement 
Mineral crystal glass
Resin Band & case
Mud-resistant case and buttons
Shock & Temperature resistance
Multi band 6 – Atomic timekeeping
Triple sensor: digital compass, barometer/altimeter, thermometer
Auto LED with super illuminator
World time, 31 time zones, sunrise/sunset, full auto calendar
Stopwatch, countdown timer, 5 alarms
Hourly signal, calendar, 12/24hr time,
40 recording memory (measurements)
200m / 660ft water resistance
Case size: 43.2 x 12.7 mm
Weight: 1.8oz / 51g
So in essence, it is a more affordable and somewhat simpler version of something like the G-Shock Mudman or Rangeman. However, it comes in the unassuming case of the square old-school Casio G-Shock original.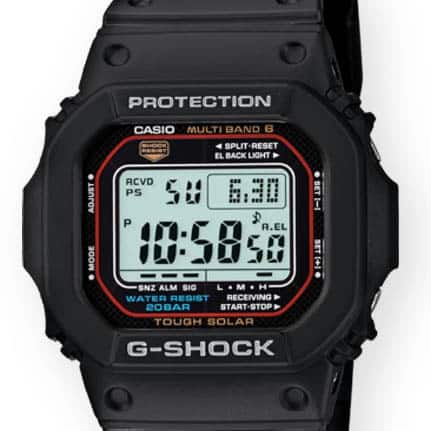 The Dial, Case & Strap
As you can see, this is simple G-Shock Casio in a nutshell. The Square retro style case, albeit it with a little more oompf in terms of thicknes and protection. Afterall, it has to have 200m water resistance, mud resistance and shock resistance, right?
There are the standard 4 buttons for the mode, settings, reset etc.
Around the crystal is a large amount of distracting writing showing you the various features, and yes admittedly helpfully – where some functions are.
The overall layout on the digital display is ultra-functional as you would expect. With the time taking the lion's share of the real estate. And the day/date are the top, with various alarm notes and settings displayed in small digital goodness.
Just keep in mind that this is a fully plastic/resin model, so it is not as comfortable on the wrist as say a silicon or leather strap would be. It will certainly sweat a lot more on a hot summer's day or while doing aerobic exercise.
Having said that, it is certainly durable and will handle most things you can throw at it. The G-shocks are renowned for that, and this model has mud and temperature resistance added on!
Casio G-Shock GWM5610-1 Colors
As usual, Casio does not rest with just one color and style option when they make a winner like this model. 
So, not only do they have the more colorful writing on the black option above. The also have a black-out option with negative display.
There is also a more recent Japanese release with a white strap and black case. It screams Japan in terms of its modern style if you ask me!