Timex Harborside Review: Is It Really Good?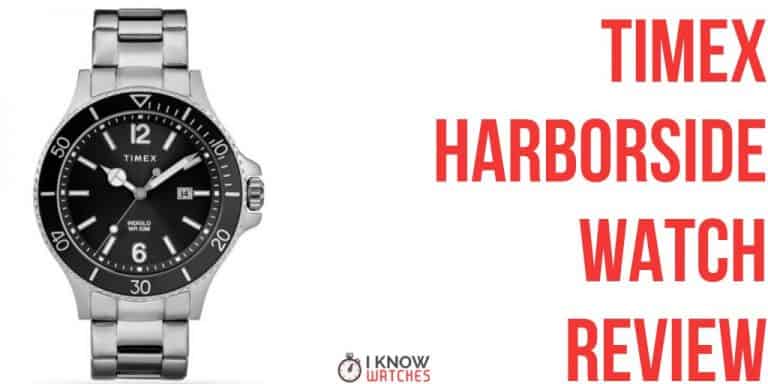 Want to know more about the Timex Harborside? Then this is the perfect review for you! I will tell you about all of the specs and features of this watch in great detail. And I won't sugar-coat anything.
At first glance, this is an elegant, sleek diving watch. And it looks a little familiar, doesn't it? Don't worry if you can't remember why it's so familiar – I will refresh your memory soon enough.
It's affordable, and it's a great choice if you're on a budget. But is it really a good diving watch? Spoiler alert – it's not my favorite option. Read this detailed review to find out exactly why!
Timex Harborside Specifications
The Harborside by Timex is a popular watch. It is simple and good looking, and it has an insanely affordable price tag. Here are some of its basic specifications:
Analog quartz movement
Mineral crystal glass
42mm wide brass case
Stainless steel bracelet (+ other options) with deployment clasp
50m / 165ft water resistance
Date window at 3 o'clock position
12-hour time markings, Arabic numerals and batons
Crown at 3 o'clock  
The silver watch is the best-looking option, in my opinion. But it's definitely not your only option – this watch is available in a couple of version with leather bracelets, as well as a few more versions with a steel bracelets. The specs are all the same, but the prices are not.
The Harborside with a black leather bracelet is the most affordable option, while the most expensive version of the watch includes both steel and leather bracelets. And even the most expensive version is not more than $100, which is why this watch is such an amazing buy if you're on a tight budget.
So, let's start talking about all the features of this attractive and affordable wristwatch!
The Dial
There are two dial styles for the Harborside watch – one is black with silver accents, and the other is blue with gold/silver accents. I prefer the black one, since I am not a fan of gold color. But to each their own – both dials are minimalistic, with 12-hour time markings.
There are Arabic numerals for two out of the 12 hours, and the rest are batons. Both the numerals and the batons are fairly thick, to accommodate for the lume inside them. However, the lume in them is fairly disappointing. But more about that later.
The dial features very little inscriptions – there's the Timex logo below the 12 o'clock position, and the Indiglo 50m WR indication above the 6 o'clock position. I actually like that they kept the dial simple – I'm not a huge fan of really busy dials, since they can be a bit too much.  
The hands of this watch are… well quite interesting. Take a look at these two images:
Very similar, right? But of course there are some differences – the hour hand of the Harborside is not a true Mercedes hand, but it's very close to one. The minute hand is somewhere between a syringe hand and a plongeur hand, and much flatter than the minute hand on the Rolex Explorer. And the second hand is pretty much the same.
The dial of the Harborside also features a date window at the three o'clock position. I actually really like that it does not interfere with the 3 o'clock baton – most brands will either replace the time marking with the date window or do them half-and-half.
To me, this looks much neater and more beautiful. The interior of the date window is either white or black, depending on where you purchase the watch. And the Arabic numerals inside are contrasted with the background. The outer rim of the window is polished, and it is silver on both dial colors. And that's another thing I truly dislike – on the blue watch, every detail is gold except this one. The silver date window draws attention to itself because it stands out, and not in a good way.
There is an outer chapter ring surrounding the dial, which features time markings for every minute of the hour. The ring is black/blue, and the batons are white on both dials.
The Case & Bracelet
The case of the Harborside watch is made from brass, with a brushed/polished finish. Which is a bit disappointing – brass is less durable and scratch resistant than stainless steel, so you will need to be careful how you handle your watch. But brass is a little heavier than steel, so the case does have a presence.
It is 42mm wide and 11mm thick. The lug width is about 20mm, and any strap of that width should fit on the case.
There is a crown at three o'clock position, which is used to set the time and adjust the date. The case has crown guards here, which is pretty useful. They protect the crown from scratches and any damage, and they ensure that you can't accidentally bump it and pull it out. This is especially useful if you plan to swim with the watch, since water can cause some serious damage if it gets inside the mechanism.
The case is covered with mineral crystal glass. It is not as scratch resistant as sapphire, but it is much less expensive – hence that attractive price tag on this watch. Additionally, mineral crystal glass won't shatter into thousands little pieces if you break it, which is pretty great. And in case you ever need to replace it, it won't cost you a lot of money.
There are actually quite a few options when it come to the bracelets of the Harborside. There are two stainless steel variants – one is entirely silver (polished and brushed), and the other one is a mixture of gold and silver. I have to say I prefer the silver one, as the mixture of gold and silver rarely looks good on anyone. And is a little tacky, in my opinion.
The links on both stainless steel bracelets are folded sheet metal. In other words, hollow links. Because of that, the watch will feel rather lightweight on your wrist. Not a good thing if you like a watch with a presence.
You can also get this watch in a version with a leather bracelet. The black dial comes with a black bracelet, and it looks elegant, stylish and just great. The blue dial comes with a brown leather bracelet, which looks okay. The silver case is a little bit out of place, since every other accent of the watch is gold. But whether or not that's an issue is completely a matter of personal taste and preference.
The stainless steel bracelets feature deployment clasps, while the leather straps have classic buckles. The steel versions are less adjustable – you might be able to take out some links on your own if the bracelet is too big, but it's recommended you take it to the jeweller. You shouldn't have any issues adjusting the leather straps, since they feature multiple needle holes.
The Analog Quartz Movement
The Harborside is a battery powered watch with quartz movement. Quartz movement is most accurate out of the bunch, so you will like this watch if you really need something precise to keep track of time.
But quartz is also the cheapest and least interesting of the movements. I'm always a little sad when I don't get to see that second hand sweeping effortlessly across the dial. Instead, you will see it ticking on this watch.
Another thing worth noting is that you will need to replace the battery eventually. It does have a pretty long life, but it's not rechargeable and it will run out of juice at one point. Luckily, that's neither complicated nor expensive to do.
Water Resistance

And Dive Watch Specs

I know that most of you who are looking at dive watches aren't really big scuba divers, but some of you are. And for those, I need to be detailed about all the dive watch specs of the Timex Harborside.

It is water resistance, but only up to 50 meters. That is very disappointing for me – the best diving watches that I've had the pleasure of reviewing are usually water resistant up to 200 meters. And some are water resistant up to 100 meters.

Because of that, I don't think the Harborside is a good choice if you're really passionate about scuba diving. There are plenty of other options out there that are not a lot more expensive than this watch, and that have much better water resistance.

But if you're not really a scuba diver, then 50 meters is just fine. It can handle the occasional swim and shower, which is pretty much all you're looking for.

Then there's the issue of the bezel. You would expect a unidirectional rotating bezel on a diving watch, right? Well, you would be wrong, at least in this case. The bezel on the Timex Harborside is fixed, and it can't be turned. Which begs the question – what's the point?

It's a pretty useless feature if you can't actually use it to track time underwater. Maybe it's there so that everyone would think you have a nice and functional diving watch, but you actually don't? Beats me. 

Anyway, if you're looking for a functional rotating bezel, you won't get one on this watch. I suggest you check out the Citizen Promaster Diver or the Seiko Save The Ocean Samurai. Honestly, the Harborside might be an actual hazard if you're a scuba diver.

And then there's the Indiglo. This is what threw me off the most – you see those thick time markings and those accents on the hands, and you think they're there to accommodate for the lume. And again, you're wrong.

Timex's Inidiglo is a night light feature that you have to manually turn on by pressing the crown. This makes the entire dial light up. Technically, there is some lume in the hands and time markings, but it's very weak and it wears off in seconds. And I'm not counting that as proper lume.  

The Harborside tries to look like a diving watch, but it fails miserably in its functionality. If you were to actually go diving and solely rely on this watch, I'm not sure if you would make it out the water. So, skip it if you need a real diving watch. And if you don't, then feel free to disregard everything I've just said, since it does not apply to you.
Final Impressions Of The Timex Harborside Watch
This is a hard one. The Harborside is a pretty watch, I have to give them that. It looks very elegant, especially when you put that silver case on a black leather bracelet. It's accurate, very easy to read thanks to the large time markings and hands, and the black version is very sleek.
If you're looking for a nice-looking watch and you're on a really tight budget, then I think you will love the Harborisde.
However, if you need a dive watch, then don't go anywhere near this. The lume is disappointing, the bezel is just there for decoration and the water resistance is so underwhelming I nearly cried. It's kind of like buying a knock-off iPhone – it looks great on the outside, but then you turn it on and you regret your decision instantly.  
There are other alternatives out there that won't break the bank, and that are much more efficient than the Harborside. You can find awesome dive watches under $200, and there's also the affordable Invicta Dive Watch.